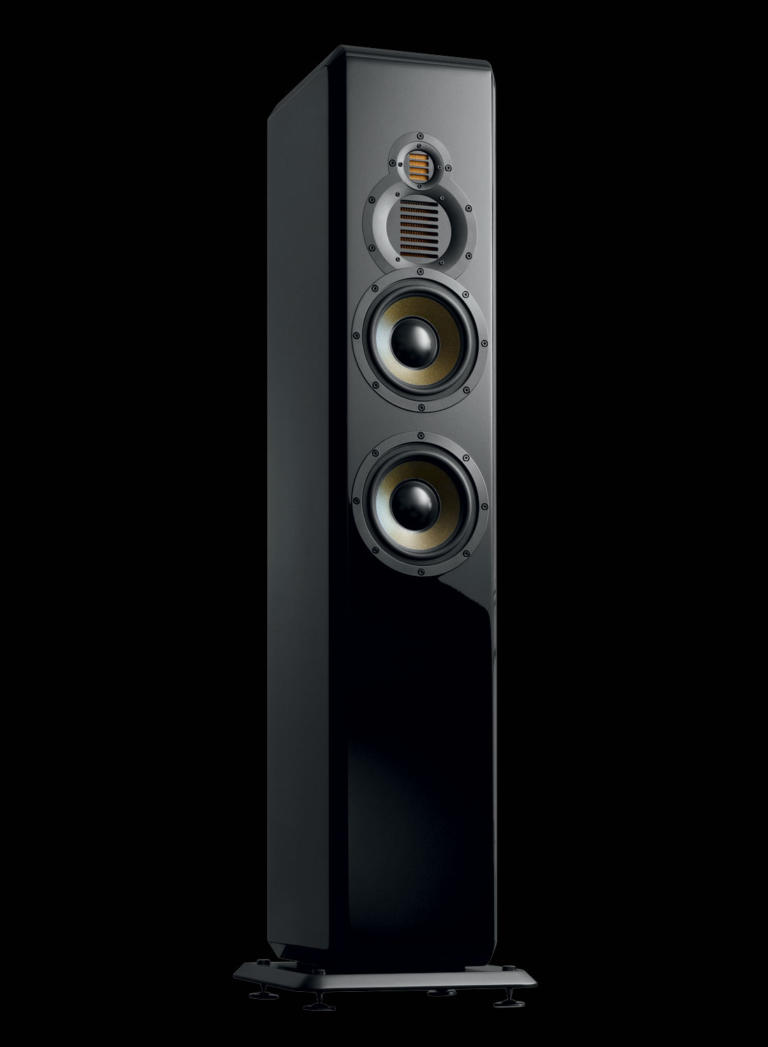 ADAM Classic Column MK3
With a height of well over 120 cm (48″), the Column is the towering model of the Classic range. Designed with the new X-ART midrange the Column MK3 now has better resolution than the previous model using the outstanding ART midrange.
Also, the Column features the X-ART tweeter combination with the brand new ADAM designed A/B amplifier. This truly unique 'motor/driver-combination' is nothing less but a guarantee of the best possible resolution and airiness in the high frequencies.
Furthermore, the Column carries two new HexaCone woofers, each driven by a 200 W PWM amplifier. The extremely light and stiff material of these woofers prevent break up resonances and thus contribute to the precision of the bass.
German Handmade Precision X-ART Tweeter
2x 7.5 "Woofers (HexaCone)
Frequency Response: 30 Hz - 50 kHz
Crossover frequencies: 150 / 800 / 2800 Hz
Approved BY OUR PROFESSIONAL COMMUNITY
"The Classic Column Mk3 is a splash of cool water in the face and a kick in the butt. It gave me an alternate and entirely refreshing depiction of everything I threw at it. ADAM Audio may be a name new to the American high end, but my hat's off to them: The Colum2n Mk3 is aptly named a Classic.
Stereophile
Technical Data - Active Version
Woofer
| | |
| --- | --- |
| Number | 2 |
| Basket Ø | 7.5" (186 mm) |
| Cone Material | HexaCone |
Midrange
| | |
| --- | --- |
| Number | 1 |
| Type | X-ART |
| Velocity Transform Ratio | 3.5:1 |
| Diaphragm Weight | 0.7 g |
Tweeter
| | |
| --- | --- |
| Number | 1 |
| Type | X-ART |
| Velocity Transform Ratio | 4:1 |
| Diaphragm Weight | 0.17 g |
Built-in Amplifiers
| | |
| --- | --- |
| Woofer | 3 |
| Type | PWM |
| Amp. Power RMS / Music | 200 W / 300 W |
| Tweeter | 1 |
| Type | A/B |
| Amp. Power RMS / Music | 50 W / 100 W |
General Data
| | |
| --- | --- |
| Frequency Response | 30 Hz - 50 kHz |
| Crossover Frequencies | 150 / 800 / 2800 Hz |
| Input Impedance | 10 kOhm |
| Weight | 70.5 lb (32 kg) |
| Height x Width x Depth | 47.5" (1205 mm) x 9" (230 mm) x 12" (300 mm) |
| Finish | Black glossy, Cherry, Walnut |
| Warranty | 5 years |
| Delivery Contents | Front cover, spikes, plates, hex key, manual, power cord |
Technical Data - Passive Version
Woofer
| | |
| --- | --- |
| Number | 2 |
| Basket Ø | 7.5" (186 mm) |
| Cone Material | HexaCone |
Midrange
| | |
| --- | --- |
| Number | 1 |
| Type | X-ART |
| Velocity Transform Ratio | 3.5:1 |
| Diaphragm Weight | 0.7 g |
Tweeter
| | |
| --- | --- |
| Number | 1 |
| Type | X-ART |
| Velocity transform ratio | 4:1 |
| Diaphragm Weight | 0.17 g |
General data
| | |
| --- | --- |
| Power Handling | 200 W / 300 W |
| Efficiency | ≥90 dB / W / m |
| Frequency Response | 33 Hz - 50 kHz |
| Crossover Frequencies | 150 / 800 / 2800 Hz |
| Impedance | 4 Ohm |
| Weight | 70.5 lb (32 kg) |
| Height x Width x Depth | 47.5" (1205 mm) x 9" (230 mm) x 12" (300 mm) |
| Finish | Black glossy, Cherry, Walnut |
| Warranty | 10 years |
| Delivery Contents | Front cover, spikes, plates, hex key, manual, power cord (Active), Bi-wiring terminal (Passive) |