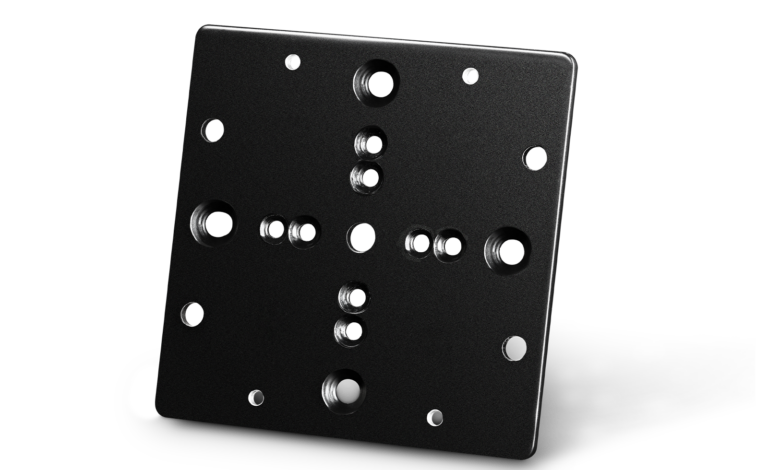 BUILT TO REVEAL
Mounting Plate
The first step in mounting your A Series studio monitors.
Buy now
MOUNTING PLATE
The A Series was designed with mounting in mind. All models in the series (A4V, A44H, A7V, A77H and A8H) feature an underside mounting interface that allows for professional mounting solutions in any environment. This mounting interface is compatible with a comprehensive range of third-party mounting solutions by using the A Series Mounting Plate, which forms a secure bridge between speaker and mounting solution.
MADE IN GERMANY
The A Series Mounting Plate was designed and made in Germany in conjunction with our colleagues at König & Meyer. It complements König & Meyer's high-quality range of wall, ceiling, and speaker pole mounts, but is also compatible with solutions from other manufacturers. The Mounting Hardware Matrix below provides a complete overview of all products that are compatible with the A Series Mounting Plate. In every case, the Mounting Plate should be connected to the third-party mounting solution before the speaker is secured.
Heavy-duty metal plate designed to attach A Series monitors to third-party mounting solutions
Compatible with A4V, A44H, A7V, A77H and A8H models
Third-party mounting solutions should be purchased separately from your local dealer
GALLERY
Beautiful from every angle
IN THE DETAILS
Technical Data
View the specifications of the A Series Mounting Plate by clicking the drop-down section.
General Data

Weight: 0.825 kg (1 lbs 13 oz)
Dimensions (Height x Width x Depth): 150 x 150 x 5 mm (5 7/8" x 5 7/8" x 3/16")
Max. load: 40 kg (88 lbs 2 oz)
Delivery Contents: Mounting plate, screws, washers, spacers, user manual
MORE TO DISCOVER
Additional Information
Read up on the user manual, the quick start guide or take a look at the product sheet.