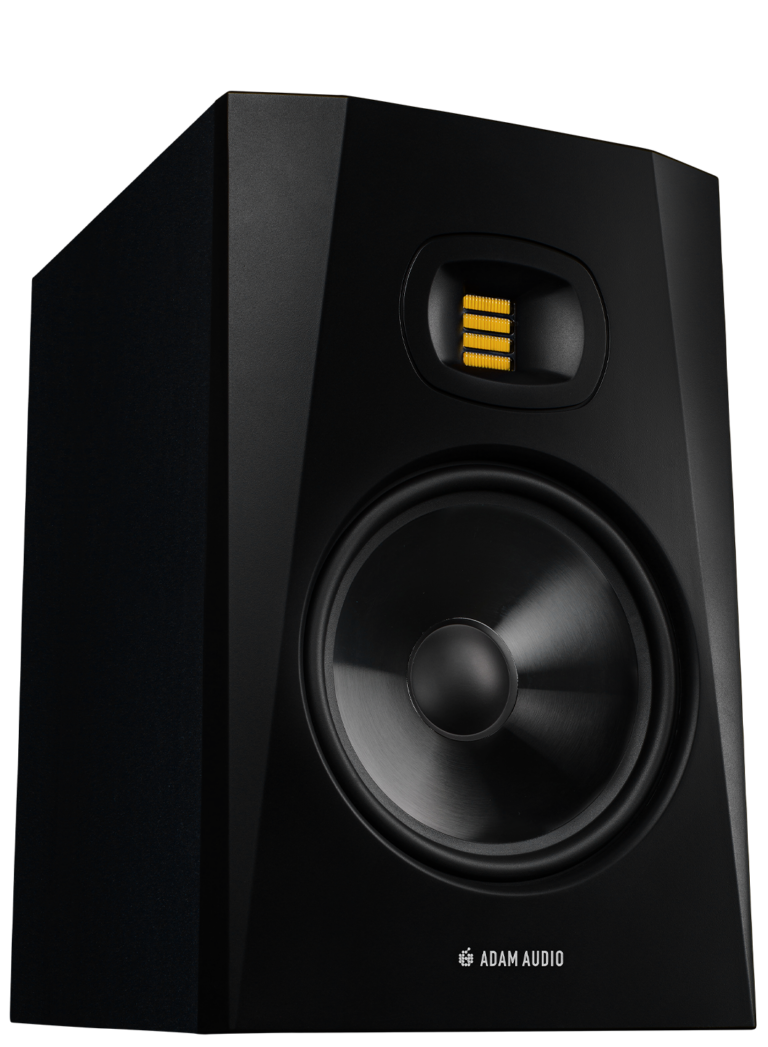 Clarity. Precision. Honesty. Detail.
T8V
Designed around the same technology, features and build quality as its smaller siblings, the T8V provides best-in-class characteristics and sound performance.
Buy now
ADAM Audio T8V
The T8V is an affordable, professional 2-way powered studio monitor with an 8˝ woofer and ADAM Audio's latest addition to the T Series.
The T8V impresses with a multitude of features that bring real benefits to the user: The U-ART tweeter's 4:1 velocity transfer ratio, in combination with the new Class D amplifiers' high dynamic range, yield respective max. peak SPL of 118 dB per pair. The tweeter, which extends up to 25 kHz, works as a team with the HPS Waveguide. This allows an optimal radiation of the high frequencies, which means the advantage of a more controlled, larger usable sweet spot during monitoring. With a bass extension down to 33 Hz, the T8V is especially suitable for users who produce bass-heavy music.
The T8V is the perfect studio speaker for those who have always wanted to work with an 8" monitor from ADAM Audio, but where budgets have been insufficient. The 5-year warranty gives users additional security and the certainty of having purchased a quality product.
U-ART 1.9" Accelerated Ribbon Tweeter with HPS Waveguide
Polypropylene 8" woofer and rear-firing bass-reflex port
Total RMS Amp. Power: 90 W
Frequency Response: 33 Hz - 25 kHz (-6dB)
Max. SPL Per Pair at 1 m: ≥118 dB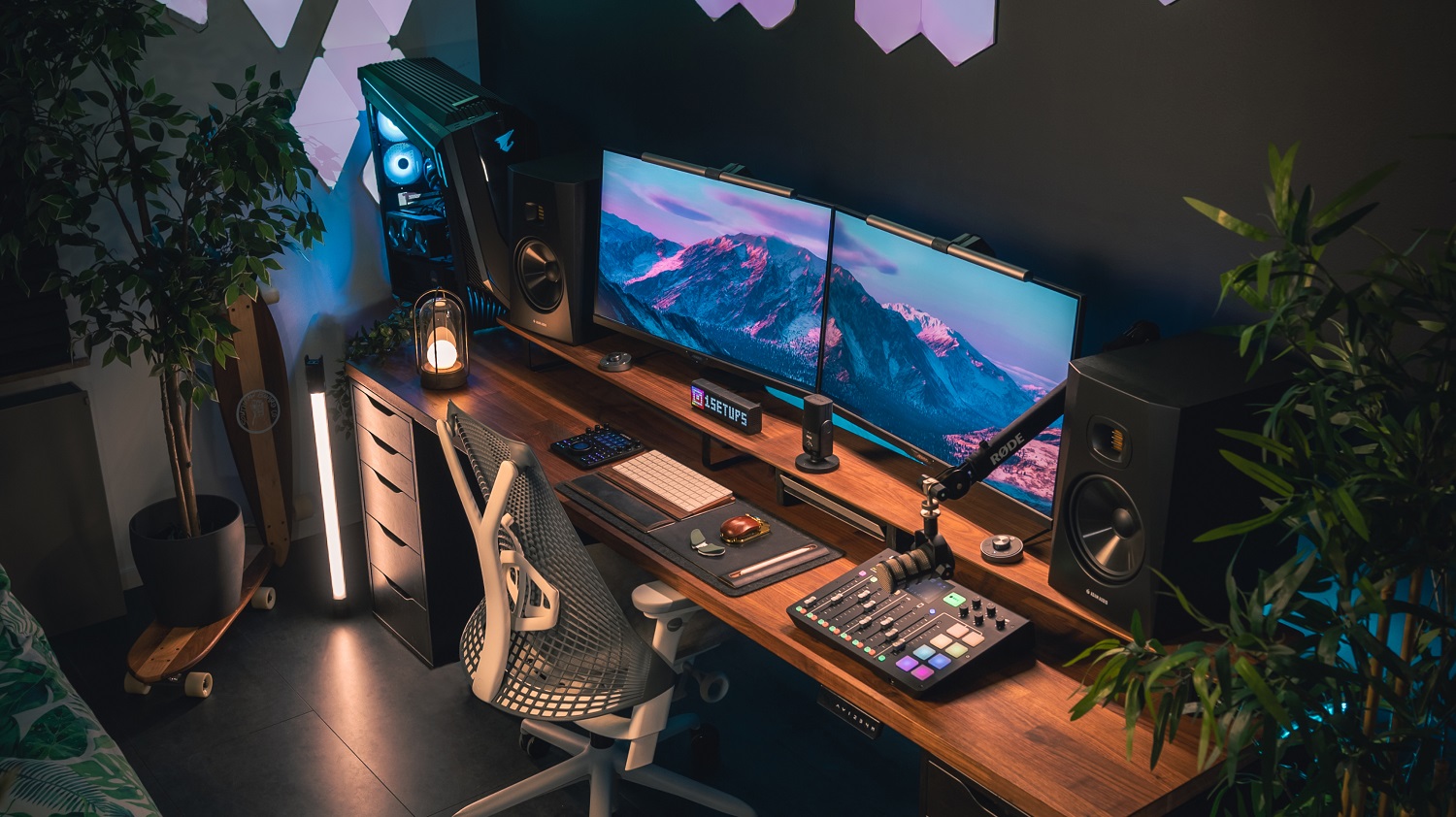 APPROVED BY OUR PROFESSIONAL COMMUNITY
"The precision achieved by this tweeter is astonishing and unparalleled within this price range. More and more manufacturers are using AMT technology, but ADAM Audio is still the top of the range. With the T Series, ADAM Audio has now made this technology truly affordable for everyone."
Peter Könemann
bonedo
"For about 600 Euros you get a pair of nearfield monitors that shine with a good and well-founded bass response on the one hand, but also with a precise reproduction of the stereo image."
Simon Kramer
Professional Audio
"Stellar performance for the money. Lovely ribbon highs and smooth punchy deep bass. Pleasing to listen to and a reliable reference for translation to other playback systems."
Arthur Stone
Gearslutz
"The precision and definition of this tweeter is amazing and unequaled within this price range. More and more manufacturers use AMT technology, but ADAM Audio is still in the top class. With the T-Series this technology is finally affordable."
Marnix Bosman
Interface Magazin
"The T8V monitors provide enough bass to feel in your chest—the SPL here is quite impressive. If you have a larger room that requires a loud and clean output, these deliver just that."
Alex Hawley
Recording Magazine
IN THE DETAILS
Technical Data
View the specifications of the ADAM Audio T8V by clicking each drop-down section.
General Data

Panel: Rear
Max. Power Consumption: 150 W
Weight: 21.6 lb (9.8 kg)
Height x Width x Depth: 15.8″ x 9.8″ x 13.2″ (400 mm x 250 mm x 335 mm)
Warranty: 5 years (2 years warranty plus 3 years optional with product registration)
Delivery Contents: Power cord, Quick Start Guide

Audio Input Connectors

Analog: XLR / RCA
Input Impedance: 10 kOhm / 20 kOhm

Amplification

Woofer

Amplifier Type: PWM
Amp. Power RMS: 70 W

Tweeter

Amplifier Type: PWM
Amp. Power RMS: 20 W
Acoustics

Frequency Response: 33 Hz – 25 kHz (-6 dB)
THD > 80 Hz: 0.5 %
Max. SPL per pair at 1 m: ≥118 dB
Crossover Frequency: 2.6 kHz

Drivers

Woofer

Basket Diameter: 8″
Voice Coil Diameter: 1″
Cone Material: Polypropylene

Tweeter

Type: U-ART
Diaphragm Area: 4 inch² (2420 mm²)
Equiv. Diaphragm Diameter: 1.9″ (48 mm)
Velocity Transform Ratio: 4 to 1
Diaphragm Weight: 0.17 g
Waveguide: HPS

Control Options

Input Sensitivity: -10 to +4 dB
Gain: Yes
High Shelf EQ > 5 kHz: -2 dB, 0 dB, +2 dB
Low Shelf EQ < 300 Hz: -2 dB, 0 dB, +2 dB
SEE WHAT YOU HEAR
MEASUREMENT DATA
Here you can view the results of common loudspeaker measurements for the ADAM Audio T8V.
MORE TO DISCOVER
Additional information
Read up on the user manual, the quick start guide or take a look at the product sheet.