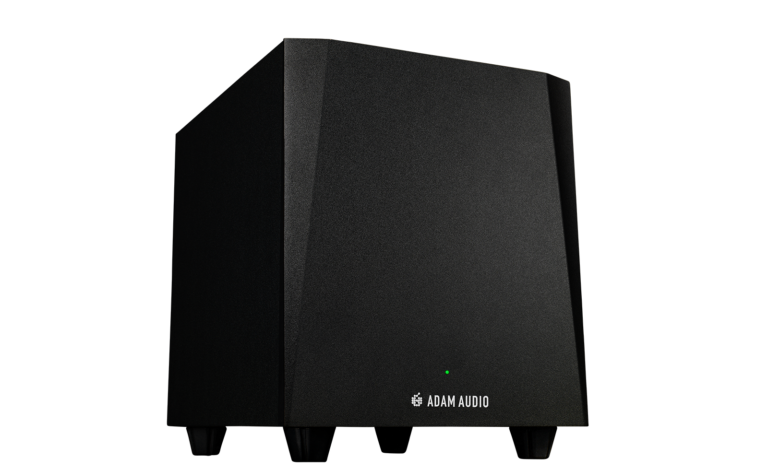 Clarity. Precision. Honesty. Detail.
T10S
The T10S is a powerful yet compact active subwoofer, designed to extend the bass response of any nearfield studio monitor.
Buy now
ADAM Audio T10S
The subwoofer's performance, features and connectivity are engineered specifically to complement ADAM Audio's T5V and T7V speakers.
Equipped with a down-firing 10˝ woofer and a 130 W Class-D amplifier, the T10S' frequency response ranges from 28 Hz to 120 Hz and offers an impressive max. SPL of 104 dB. An internal adjustable two-channel crossover allows calibration of the bass signal and provides optimal performance of the total system. The options at the rear of the subwoofer allow for varied adjustments which compensate for room acoustics or they offer more control for satellites attached.
While reciting the T Series design language, the T10S is one of the most compact subwoofers in its class, which allows it to be easily integrated in any studio environment. The acoustic performance was optimized by four high grade flexible rubber feet that prevent the sound from exciting the floor and a spacious rear facing bass reflex port for an optimized airflow.
Frequency Response: 28 Hz - 120 Hz (-6 dB)
Optimized for T Series studio monitors
APPROVED BY OUR PROFESSIONAL COMMUNITY
"The T5V and T7V are great speakers in their own right, but the T10S sub brings them to life."
Lewis Noke-Edwards
MIXDOWN Magazine
"The Adam Audio T10s is a solid and powerful subwoofer, which is more than able to extend the low-end of smaller and middle-sized monitoring setups."
Felix Klostermann
bonedo.de
"In terms of size and performance, the compact and affordable T10S is sized to match and perfectly complements the T5V and T7V monitors".
Anselm Goertz
Sound & Recording
IN THE DETAILS
Technical Data
View the specifications of the ADAM Audio T10S by clicking each drop-down section.
General Data

Max. Power Consumption: 190 W
Input Sensitivity : +4 dBu / -10 dBV
Panel: Rear
Bypass: Yes, via footswitch (not included)
Standby: Yes, activates after 15 minutes with no incoming signal
Weight: 27 lb (12.2 kg)
Height x Width x Depth: 15.4″ (390 mm) x 12.5″ (318 mm) x 16.25″ (413 mm)
Warranty: 5 years (2 years warranty plus 3 years optional with product registration) (2 years warranty plus 3 years optional with product registration)
Delivery Contents: Power cord, Quick Start Guide, Welcome Card

Audio Input Connectors

Analog Inputs: XLR / RCA
Analog Outputs: XLR / RCA

Amplification

Type: PWM
Amp. Power RMS: 130 W
Acoustics

Frequency Response: 28 Hz – 120 Hz (-6 dB)
THD > 60 Hz: 0.6 %
Max. SPL at 1 m (hemisphere): ≥104 dB

Driver

Basket Diameter: 10″ (260 mm)
Voice Coil Diameter: 1.5″ (38 mm)
Cone Material: Paper

Control Options

Crossover Frequency: 80 Hz / 120 Hz / Bypass
Phase Inversion: 0° / 180°
MORE TO DISCOVER
Additional information
Read up on the user manual, the quick start guide or take a look at the product sheet.