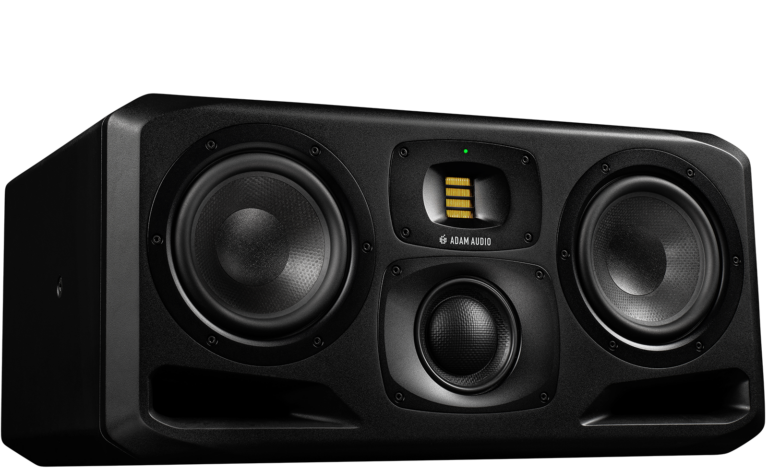 High End Precision Studio Monitors
S3H
The S3H builds on the successes of ADAM Audio's most popular studio monitors, the S3A and S3X-H, and, like its predecessors, sets new standards in terms of technical innovation and design.
Buy now
ADAM Audio S3H
The dual 7-inch bass drivers, powered by a 500 W Class D amplifier, offer flawless reproduction of frequencies all the way down to 30 Hz. ADAM Audio's newly developed DCH, a 4-inch hybrid dome/cone mid-range driver, is powered by a 300 W Class D amplifier and handles audio above 250 Hz and below 3 kHz, its leading-edge hybrid design offering the sonic advantages of both cone and soft-dome drivers in a single, one-piece unit. Frequencies above 3 kHz are routed to the innovative combination of the S-ART treble driver (each handmade at ADAM Audio's Berlin factory), the new precision HPS waveguide, and a 50 W Class A/B amplifier. The result of all this innovation is a beautifully transparent three-dimensional soundscape, with an extensive sweet spot.
The S Series' custom-designed DSP optimizes the loudspeaker crossovers to create linear responses for the entire range, as well as providing user equalization and in-room tuning/voicing functions. A unique feature of the S3H's DSP options is a built-in factory EQ preset that emulates the response of ADAM Audio's legendary S3A monitor. The DSP also handles the limiter-based high-frequency driver protection, processes the signals from the AES3 digital inputs, and will in time facilitate various expansion options. Software updates can be carried out with ease via the associated USB port, which also allows users to connect computers and control the speakers' DSP functions via a software front-end.
With its massively powerful amplification and three-way design (optimally configured for use horizontally), the S3H was conceived as a midfield monitor, but can be employed equally well in more compact listening environments. As with all ADAM Audio designs, the sound is punchy but musical, with crystal-clear reproduction of the all-important mid-range.
The S3H's wide-ranging frequency response, its power amps' instantly available, plentiful headroom, and the lack of need for additional subwoofers should appeal to any audio professional looking for a stand-alone, full-frequency active solution for their recording studio, one which provides equally detailed audio information at any volume setting, loud or quiet. Whatever your preferred output level, the S3H's vibrant authenticity is a spur to creativity for producers, engineers and musicians everywhere, and its sound remains remarkably unfatiguing, even when working uninterrupted for extended periods.
German Handmade Precision S-ART Tweeter with HPS Waveguide
4" Dome / Cone Hybrid (Carbon Composite)
Total RMS Amp. Power: 1350 W
Frequency Response: 30 Hz - 50 kHz (-20 dB)
Max. SPL Per Pair at 1 m: ≥126 dB
AES3 Digital Inputs And Various Expansion Options
APPROVED BY OUR PROFESSIONAL COMMUNITY
"I just unboxed a pair last week and they offer a spectacular listening experience. They are a mid-field, but I had them comfortably atop an SSL console's meter bridge and I couldn't help being impressed. (…) These are a 'buy'."
Kevin Becka
MIX Magazine
"With the S3H ADAM Audio did everything right! Good mixes sound great, mistakes are disclosed without a hint of mercy […]. The impressive sound reproduction capabilities do not have to hide from any monitor in this price range (and above) that I know of and with the extensive EQ options every taste and requirement should be satisfied and fulfilled."
Peter Könemann
bonedo.de
"Extremely modern, high-class sound impact and precision with an excellent construction […], essential for the success of the S3H. […] The new reference in this segment."
Luca Pilla
audiofader.com
"So what's to dislike about the ADAM S3H? Nothing, I'm convinced. "
Brad Watts
Audio Technology
"There are details I could discern on the ADAMs that I couldn't hear on other monitors anywhere near their price. And the real miracle to me is that the ADAMs provide all that detail without being at all harsh, "forward" or fatiguing at all – they are exceptionally well balanced all across the spectrum."
Jim Daneker
Composer/Producer/Arranger
"The S3H combines musicality and precision harmoniously. These speakers are fun to listen to and will play back music without covering up any of the details, neither coloring nor imbalancing them. […] I am happy to state that the S3H is the best ADAM speaker I have heard so far."
Fritz Fey
Studio Magazin
"ADAM Audio's S3H is a first-class, extremely well-designed, flexible and versatile studio monitor. Particularly impressive are its sonic accuracy and impulse response, which trump those of its predecessor (N.B. this refers to one of ADAM's previous loudspeakers, the S3X-H). Quite simply, the S3H relieves the earlier speaker of its title as the dependable reference monitor to choose."
Sylvie Frei
Professional Audio
IN THE DETAILS
Technical Data
View the specifications of the ADAM Audio S3H by clicking each drop-down section.
General Data

Panel: Rear
Max. Power Consumption: 550 W
Weight: 58.6 lb (26.6 kg)
Height x Width x Depth: 11.0″ (280 mm ) x 23.0″ (585 mm) x 15.0" (380 mm)
Warranty: 5 years (2 years warranty plus 3 years optional with product registration)
Delivery Contents: Power cord, manual

Audio Input Connectors

Analog: XLR
Input Impedance: 48 kOhm
Max. Input Level: +24 dBu
Digital: AES3

Amplification

Woofer

Amplifier Type: 2 x PWM
Amp. Power RMS: 2 x 500 W

Midrange

Amplifier Type: PWM
Amp. Power RMS: 300 W

Tweeter

Amplifier Type: Class A/B
Amp. Power RMS: 50 W
Acoustics

Frequency Response: 30 Hz – 50 kHz (-20 dB)
THD > 100 Hz: ≤0.4 %
Max. SPL per pair at 1 m: ≥126 dB
Crossover Frequencies: 250 Hz, 3 kHz

Drivers

Woofer

Basket Diameter: 2 x 7″
Voice Coil Diameter: 1.5″ (39 mm)
Cone Material: HexaCone

Midrange

Type: Dome/Cone Hybrid
Basket Diameter: 4″
Voice Coil Diameter: 2.4″ (60 mm)
Cone Material: Carbon Composite

Tweeter

Type: S-ART
Diaphragm Area: 4 inch² (2420 mm²)
Equivalent Diaphragm Diameter: 2″ (56 mm)
Velocity Transform Ratio: 4 to 1
Diaphragm Weight: 0.17 g
Waveguide: HPS

Control Options

Input Sensitivity: Adjustable
Parametric EQs: 6
Room Compensation High-Shelf EQ: 1
Room Compensation Low-Shelf EQ: 1
Preset Memories: 5
Delay: 0 ms to 5 ms
SEE WHAT YOU HEAR
Measurement Data
Here you can view the results of common loudspeaker measurements for the ADAM Audio S3H.
MORE TO DISCOVER
Additional information
Read up on the user manual, the quick start guide or take a look at the product sheet.