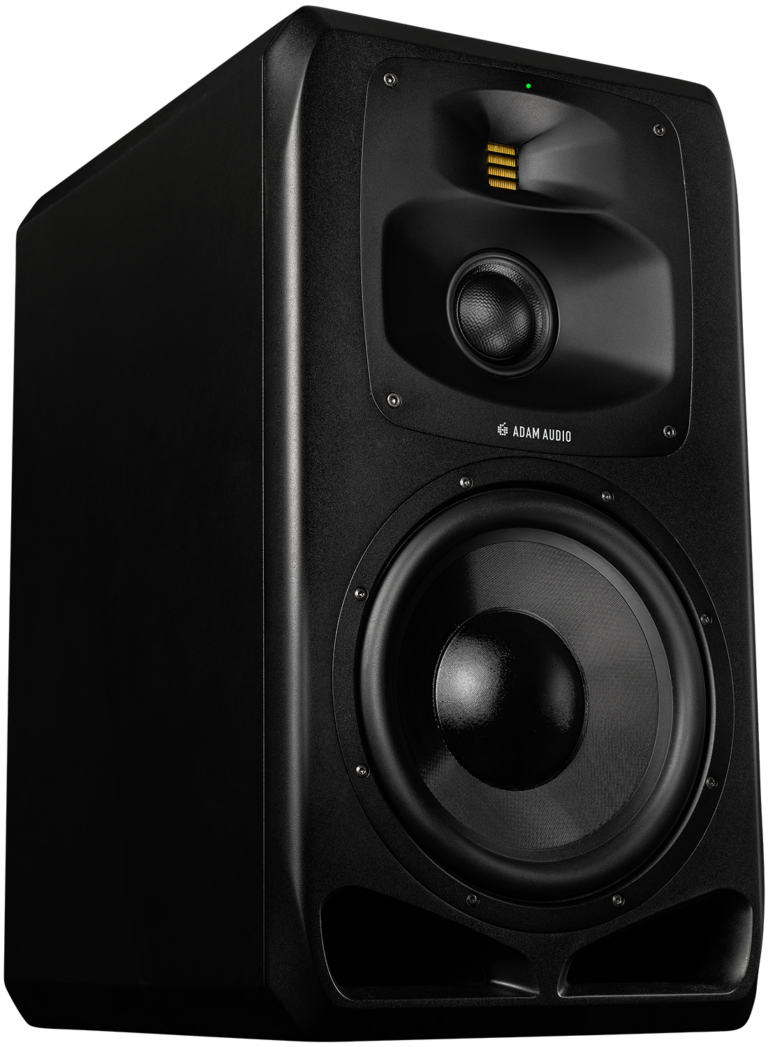 High End Precision Studio Monitors
S5V
Designed for medium-sized and larger studio control rooms, the S5V main monitor offers all the raw power studio professionals would expect from a reference speaker of its class, but also reproduces full-bandwidth, high-resolution audio with complete
Buy now
ADAM Audio S5V
ADAM Audio's Extended Linear Excursion (ELE) bass drivers and Symmetrical Magnet Assembly (SMA) technology were developed especially for the S Series, and the 12-inch bass driver on the S5V benefits from both concepts, offering a quality of reproduction without equal in terms of accuracy, dynamic range and freedom from coloration. The 4-inch DCH MF driver, with its unique hybrid dome/cone construction, handles the important mid-range information with extreme precision, while ADAM Audio's S-ART folded-ribbon tweeter, handmade in Berlin to the tightest possible tolerances, produces breathtaking highs and ensures the soundfield is presented in all of its most delicate, filigree detail.
The off-axis responses of the treble and mid drivers remain extremely accurate thanks to the addition of high- and mid-frequency waveguides milled from solid aluminum: ADAM Audio's newly developed Mid-range and High-frequency Propagation Systems (MPS and HPS). The resultant stable, wide-ranging dispersion ensures that teams of more than one person can work in the loudspeakers' sweet spot simultaneously, as is often necessary in larger control rooms.
The S Series' custom-designed DSP optimizes the loudspeaker crossovers to create linear responses for the entire range, as well as providing user equalization and in-room tuning/voicing functions. The DSP also handles the limiter-based high-frequency driver protection, processes the signals from the AES3 digital inputs, and will in time facilitate various expansion options. Software updates can be carried out with ease via the associated USB port, which also allows users to connect computers and control the speakers' DSP functions via a software front-end.
A Class D 700 W amplifier drives the S5V's bass unit, with further Class D designs providing 300 W and 100 W to the DCH mid and S-ART treble drivers respectively.
Combining the legendary precision of ADAM Audio's proprietary drivers with the power of the company's amplification, the S5V is a reference monitor for truly discerning audio professionals at work in the most expansive listening environments.
German Handmade Precision S-ART Tweeter with HPS Waveguide
4" Dome / Cone Hybrid (Carbon Composite) with MPS Waveguide
Total RMS Amp. Power: 1100 W
Frequency Response: 25 Hz - 50 kHz (-20 dB)
Max. SPL Per Pair at 1 m: ≥128 dB
AES3 Digital Inputs And Various Expansion Options
APPROVED BY OUR PROFESSIONAL COMMUNITY
"Overall, we are once again impressed by the creation ADAM has dished up. Listening to classical music and our favorite genre, the Blues, the ADAMs don't add an own tone and behave as analytically as a surgical scalpel."
Alex Röser and Stefan Goedecke
AUDIO TEST
IN THE DETAILS
Technical Data
View the specifications of the ADAM Audio S5V by clicking each drop-down section.
General Data

Panel: Rear
Max. Power Consumption: 650 W
Weight: 114.5 lb (52 kg)
Height x Width x Depth: 27.5″ (698 mm) x 15.4″ (390 mm) x 20.5″ (520 mm)
Warranty: 5 years (2 years warranty plus 3 years optional with product registration)
Delivery Contents: Power cord, manual

Audio Input Connectors

Analog: XLR
Input Impedance: 48 kOhm
Max. Input Level: +24 dBu
Digital: AES3

Amplification

Woofer

Amplifier Type: PWM
Amp. Power RMS: 700 W

Midrange

Amplifier Type: PWM
Amp. Power RMS: 300 W

Tweeter

Amplifier Type: PWM
Amp. Power RMS: 100 W
Acoustics

Frequency Response: 25 Hz – 50 kHz (-20 dB)
THD > 100 Hz: ≤0.3 %
Max. SPL per pair at 1 m: ≥128 dB
Crossover Frequencies: 250 Hz, 3 kHz

Drivers

Woofer

Basket Diameter: 12″
Voice Coil Diameter: 3″ (76 mm)
Cone Material: HexaCone

Midrange

Type: Dome/Cone Hybrid
Basket Diameter: 4″
Voice Coil Diameter: 2.4″ (60 mm)
Cone Material: Carbon Composite
Waveguide: MPS

Tweeter

Type: S-ART
Diaphragm Area: 4 inch² (2420 mm²)
Equivalent Diaphragm Diameter: 2″ (56 mm)
Velocity Transform Ratio: 4 to 1
Diaphragm Weight: 0.17 g
Waveguide: HPS

Control Options

Input Sensitivity: Adjustable
Parametric EQs: 6
Room Compensation High-Shelf EQ: 1
Room Compensation Low-Shelf EQ: 1
Preset Memories: 5
Delay: 0 ms to 5 ms
MORE TO DISCOVER
Additional information
Read up on the user manual, the quick start guide or take a look at the product sheet.