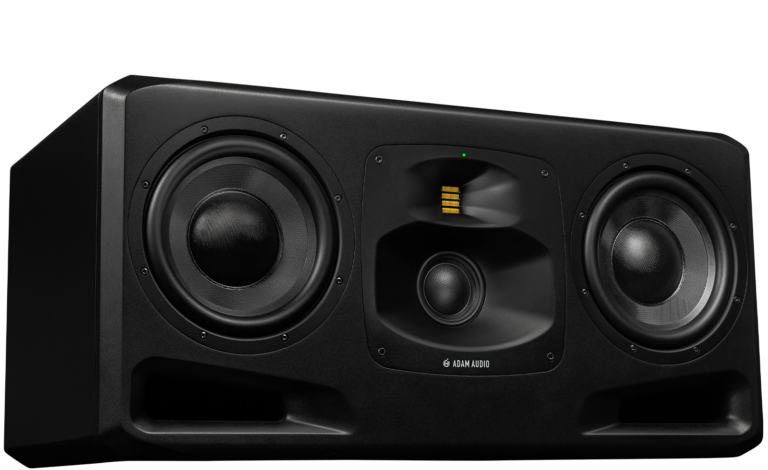 High End Precision Studio Monitors
S5H
The S5H is a powerful main monitor custom-designed for the demanding rigours of reference listening in the world's most expansive studios and control rooms.
Buy now
ADAM Audio S5H
The three-way S5H was conceived, as its name suggests, to be used in a horizontal orientation and features two 10-inch Extended Linear Excursion (ELE) bass drivers, newly designed by ADAM Audio expressly for the S Series. Like the LF ELE units on all the other members of the range, the S5H's woofers feature ADAM Audio's proprietary Symmetrical Magnet Assembly (SMA) guaranteeing that low-frequency audio remains tightly controlled and free of distortion at all times. The all-important mid-range frequencies are handled by ADAM Audio's new hybrid DCH. This innovative 4-inch MF driver was also newly developed by ADAM Audio exclusively for the S Series and combines the sonic advantages of cone and dome drivers in a single, one-piece unit.
Together with the S-ART treble driver — the latest iteration of ADAM Audio's widely respected folded-ribbon tweeter, now produced to tighter tolerances than ever before — the resulting combination produces a powerful but unfatiguing sound, with a palpable sense of depth: the last word in high-resolution, natural-sounding audio reproduction.
The off-axis responses of the treble and mid drivers remain extremely accurate thanks to the addition of high- and mid-frequency waveguides milled from solid aluminum: ADAM Audio's newly developed Mid-range and High-frequency Propagation Systems (MPS and HPS). The resultant stable, wide-ranging dispersion ensures that teams of more than one person can work in the loudspeakers' sweet spot simultaneously, as is often necessary in larger control rooms.
The S Series' custom-designed DSP optimizes the loudspeaker crossovers to create linear responses for the entire range, as well as providing user equalization and in-room tuning/voicing functions. The DSP also handles the limiter-based high-frequency driver protection, processes the signals from the AES3 digital inputs, and will in time facilitate various expansion options. Software updates can be carried out with ease via the associated USB port, which also allows users to connect computers and control the speakers' DSP functions via a software front-end.
No fewer than three separate amplifiers power the drivers: a 700 W Class D design for the bass drivers, a 300 W Class D for the mid range and a 100 W Class D unit for the S-ART tweeter.
With its innovative features, advanced design, generous headroom and enormous dynamic range, the S5H takes its rightful place as ADAM Audio's flagship reference monitor: an extraordinary loudspeaker offering audio reproduction to the very highest standards of fidelity.
German Handmade Precision S-ART Tweeter with HPS Waveguide
4" Dome / Cone Hybrid (Carbon) with MPS Waveguide
2 x 10" Woofer (Hexacone)
Total RMS Amp. Power: 1100 W
Frequency Response: 22 Hz - 50 kHz (-20 dB)
Max. SPL Per Pair at 1 m: ≥131 dB
AES3 Digital Inputs And Various Expansion Options
APPROVED BY OUR PROFESSIONAL COMMUNITY
"I can´t thank you enough for giving me the opportunity to be able to put these kick-ass speakers in this particular control room. They are not going to vibrate or anything. It´s just going to be pure sound and, my god, I´m blown away."
Robert Lang
Robert Lang Studios
"For me, the S5Hs are the best choice for this room. I've been very pleased with them so far and I've found myself doing a lot of tracking with them, something I usually didn't do."
Marc Urselli
"[…] the ADAM especially had an outstanding representation of depth which was not found with the other competitor brands. This is the reason we chose the S5H for our studio."
Osamu Kawashima
Tokyo FM
IN THE DETAILS
Technical Data
View the specifications of the ADAM Audio S5H by clicking each drop-down section.
General Data

Panel: Rear
Max. Power Consumption: 900 W
Weight: 160 lb (72,6 kg)
Height x Width x Depth: 16,9″ (430 mm) x 34,8″ (885 mm) x 19,7" (500 mm)
Warranty: 5 years (2 years warranty plus 3 years optional with product registration)
Delivery Contents: Power cord, manual

Audio Input Connectors

Analog: XLR
Input Impedance: 48 kOhm
Max. Input Level: +24 dBu
Digital: AES3

Amplification

Woofer

Amplifier Type: PWM
Amp. Power RMS: 700 W

Midrange

Amplifier Type: PWM
Amp. Power RMS: 300 W

Tweeter

Amplifier Type: PWM
Amp. Power RMS: 100 W
Acoustics

Frequency Response: 22 Hz – 50 kHz (-20 dB)
THD > 100 Hz: ≤0.3 %
Max. SPL per pair at 1 m: ≥131 dB
Crossover Frequencies: 250 Hz, 3 kHz

Drivers

Woofer

Basket Diameter: 2 x 10″
Voice Coil Diameter: 3″ (76 mm)
Cone Material: HexaCone

Midrange

Type: Dome/Cone Hybrid
Basket Diameter: 4″
Voice Coil Diameter: 2.4″ (60 mm)
Cone Material: Carbon Composite
Waveguide: MPS

Tweeter

Type: S-ART
Diaphragm Area: 4 inch² (2420 mm²)
Equivalent Diaphragm Diameter: 2″ (56 mm)
Velocity Transform Ratio: 4 to 1
Diaphragm Weight: 0.17 g
Waveguide: HPS

Control Options

Input Sensitivity: Adjustable
Parametric EQs: 6
Room Compensation High-Shelf EQ: 1
Room Compensation Low-Shelf EQ: 1
Preset Memories: 5
Delay: 0 ms to 5 ms
MORE TO DISCOVER
Additional information
Read up on the user manual, the quick start guide or take a look at the product sheet.