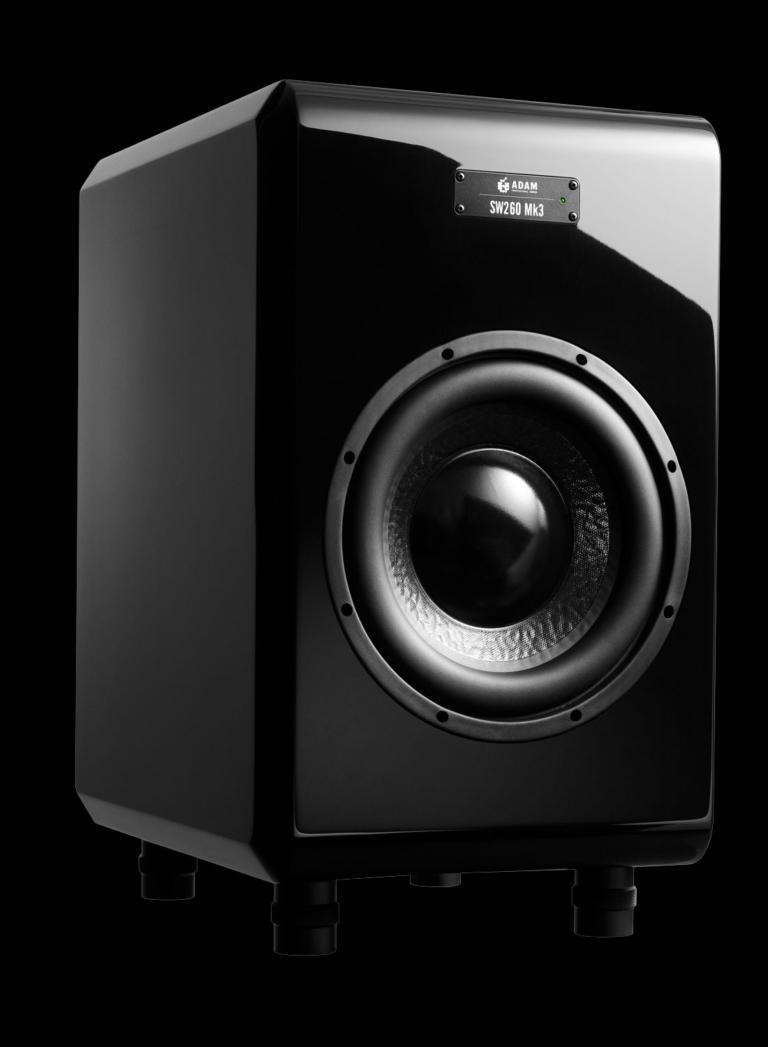 Classic SW260 MK3
Subwoofer
ADAM Classic SW260 MK3
It is the task of the SW260 to expand both power and precision of the bass area of a stereo system as well as part of a bigger multichannel system (e.g. 5.1). It has been designed as a perfect match for the other members of the Classic family. The subwoofer, driven by a highly efficient 200W (RMS) Class D amplifier, expands the frequency of any system down to 25Hz.
Numerous controls ensure that the subwoofer can be adapted to any system and needs. For example, there is a level control, a phase switch (±180°), a variable upper barrier frequency (50-150Hz), and a switchable 85Hz high pass filter for satellite output.
Frequency response: 25 Hz - 150 Hz
Built in amplifier with 200 W / 300 W
Crossover frequencies: 50 - 150 Hz
Dimensions H x W x D (mm): 500 mm x 300 x 400
Approved BY OUR PROFESSIONAL COMMUNITY
"The sound the SW260 was characterized through striking precision and detail yet at the same time offering uncanny depth. This is a fully-developed generalist with a lot of reserves."
stereoplay
Technical Data
Subwoofer
| | |
| --- | --- |
| Number | 1 |
| Basket Ø | 10" (254 mm) |
| Cone Material | Paper |
Built-in Amplifiers
| | |
| --- | --- |
| Subwoofer | 1 |
| Amp. Power RMS / Music | 200 W / 300 W |
Control Panel
| | |
| --- | --- |
| Input Sensitivity | -60 to +6 dB |
General Data
| | |
| --- | --- |
| Frequency Response | 25 Hz - 150 Hz |
| Crossover Frequencies | 50 - 150 Hz |
| Input Impedance | 10 kOhm |
| Weight | 46.3 lb (21 kg) |
| Height x Width x Depth | 19.5" (500 mm) x 12" (300 mm) x 15.5" (400 mm) |
| Warranty | 5 years |
| Delivery Contents | Front cover, power cord, manual |