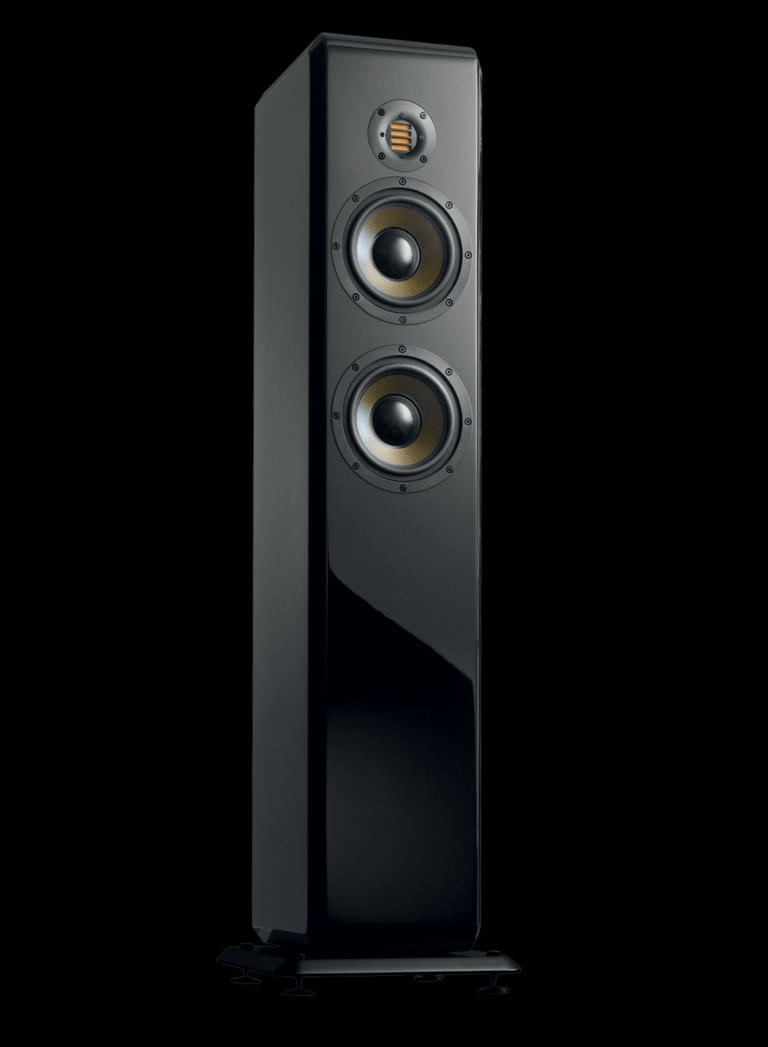 ADAM Classic Pencil MK3
This smaller sister of the Column uses most of the same drivers as the Column MK3. While the new X-ART tweeter, driven by ADAM's own A/B amplifier, makes even the most subtle details of the high range hearable, the low range shows impressive power accompanied by outstanding accuracy.
In combination with the materials and drivers, the main reason for this impressive power is the distribution of the frequencies in the two woofers. One of the two woofers acts as a full-range driver with the second woofer joining it only below 150Hz. This unusual approach effectively doubles the area and power of the low frequency woofer.
Despite the slim and elegant appearance, both the Column and the Pencil astonish even the most experienced listeners with both their subtle resolution and powerful deep bass.
German Handmade Precision X-ART Tweeter
2x 7.5 "Woofers (HexaCone)
Frequency Response: 32 Hz - 50 kHz
Crossover frequencies: 150 / 2400 Hz
Approved BY OUR PROFESSIONAL COMMUNITY
"Verdict: High quality floorstander with a musical yet highly explicit sound."
Hi-Fi World
Technical Data - Active Version
Woofer
| | |
| --- | --- |
| Number | 2 |
| Basket Ø | 7.5" (186 mm) |
| Cone Material | HexaCone |
Tweeter
| | |
| --- | --- |
| Number | 1 |
| Type | X-ART |
| Velocity Transform Ratio | 4:1 |
| Diaphragm Weight | 0.17 g |
Built-in Amplifiers
| | |
| --- | --- |
| Woofer | 2 |
| Type | PWM |
| Amp. Power RMS / Music | 200 W / 300 W |
| Tweeter | 1 |
| Type | A/B |
| Amp. Power RMS / Music | 50 W / 100 W |
General Data
| | |
| --- | --- |
| Frequency Response | 32 Hz - 50 kHz |
| Crossover Frequencies | 150 / 2400 Hz |
| Input Impedance | 10 kOhm |
| Panel | Rear |
| Weight | 50.7 lb (23 kg) |
| Height x Width x Depth | 46.5" (1180 mm) x 9" (230 mm) x 12" (300 mm) |
| Finish | Black glossy, Cherry, Walnut |
| Warranty | 5 years |
| Delivery Contents | Front cover, spikes, plates, hex key, manual, power cord |
Technical Data - Passive Version
Woofer
| | |
| --- | --- |
| Number | 2 |
| Basket Ø | 7.5" (186 mm) |
| Cone Material | HexaCone |
Tweeter
| | |
| --- | --- |
| Number | 1 |
| Type | X-ART |
| Velocity Transform Ratio | 4:1 |
| Diaphragm Weight | 0.17 g |
General Data
| | |
| --- | --- |
| Power Handling | 200 W / 300 W |
| Efficiency | ≥89 dB / W / m |
| Frequency Response | 35 Hz - 50 kHz |
| Crossover Frequencies | 150 / 2400 Hz |
| Impedance | 4 Ohm |
| Panel | Rear |
| Weight | 50.7 lb (23 kg) |
| Height x Width x Depth | 46.5" (1180 mm) x 9" (230 mm) x 12" (300 mm) |
| Finish | Black glossy, Cherry, Walnut |
| Warranty | 10 years |
| Delivery Contents | Front cover, spikes, plates, hex key, manual, bi-wiring terminal |