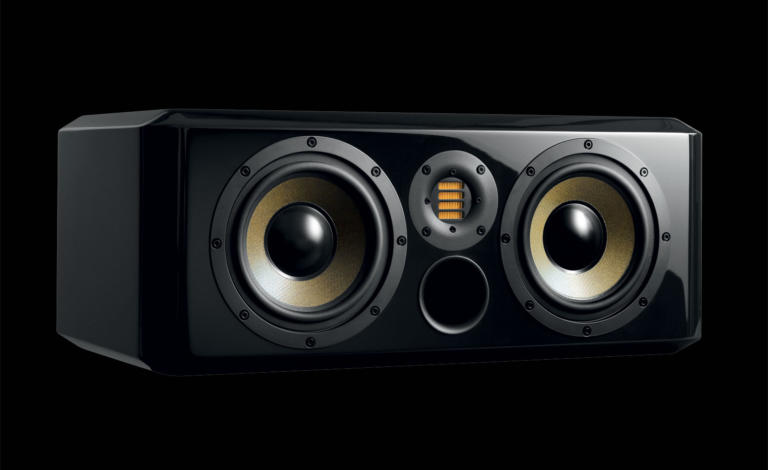 ADAM Classic Center MK3
To show the potential of a multichannel system on the Classic-level, the Center and the subwoofer SW260 have been designed for this series.
To achieve sound patterns as homogeneous as possible, the components of the Center are identical with those of the Pencil: the new X-ART tweeter is flanked by two 7" HexaCone woofers.
The crossover frequency of the two woofers makes the bass section even more powerful and precise at the same time: a perfect partner for the outstanding resolution of the X-ART tweeter.
German Handmade Precision X-ART Tweeter
2x 7.5 "Woofers (HexaCone)
Frequency Response: 35 Hz - 50 kHz
Crossover frequencies: 150 / 2400 Hz
Technical Data - Active Version
Woofer
| | |
| --- | --- |
| Number | 2 |
| Basket Ø | 7.5" (186 mm) |
| Cone Material | HexaCone |
Tweeter
| | |
| --- | --- |
| Number | 1 |
| Type | X-ART |
| Velocity Transform Ratio | 4:1 |
| Diaphragm Weight | 0.17 g |
Built-in Amplifiers
| | |
| --- | --- |
| Woofer | 2 |
| Type | PWM |
| Amp. Power RMS / Music | 200 W / 300 W |
| Tweeter | 1 |
| Type | A/B |
| Amp. Power RMS / Music | 50 W / 100 W |
General Data
| | |
| --- | --- |
| Frequency Response | 35 Hz - 50 kHz |
| Crossover Frequencies | 150 / 2400 Hz |
| Input Impedance | 10 kOhm |
| Weight | 33.1 lb (15 kg) |
| Height x Width x Depth | 9" (230 mm) x 22.5" (570 mm) x 12" (300 mm) |
| Finish | Black glossy, Cherry, Walnut |
| Warranty | 5 years |
| Delivery Contents | Front cover, manual, power cord |
Technical Data - Passive Version
Woofer
| | |
| --- | --- |
| Number | 2 |
| Basket Ø | 7.5" (186 mm) |
| Cone Material | HexaCone |
Tweeter
| | |
| --- | --- |
| Number | 1 |
| Type | X-ART |
| Velocity Transform Ratio | 4:1 |
| Diaphragm Weight | 0.17 g |
General Data
| | |
| --- | --- |
| Power Handling | 200 W / 300 W |
| Efficiency | ≥89 dB / W / m |
| Frequency Response | 38 Hz - 50 kHz |
| Crossover Frequencies | 150 / 2400 Hz |
| Impedance | 4 Ohm |
| Weight | 33.1 lb (15 kg) |
| Height x Width x Depth | 9" (230 mm) x 22.5" (570 mm) x 12" (300 mm) |
| Finish | Black glossy, Cherry, Walnut |
| Warranty | 10 years |
| Delivery Contents | Front cover, Manual, bi-wiring terminal |