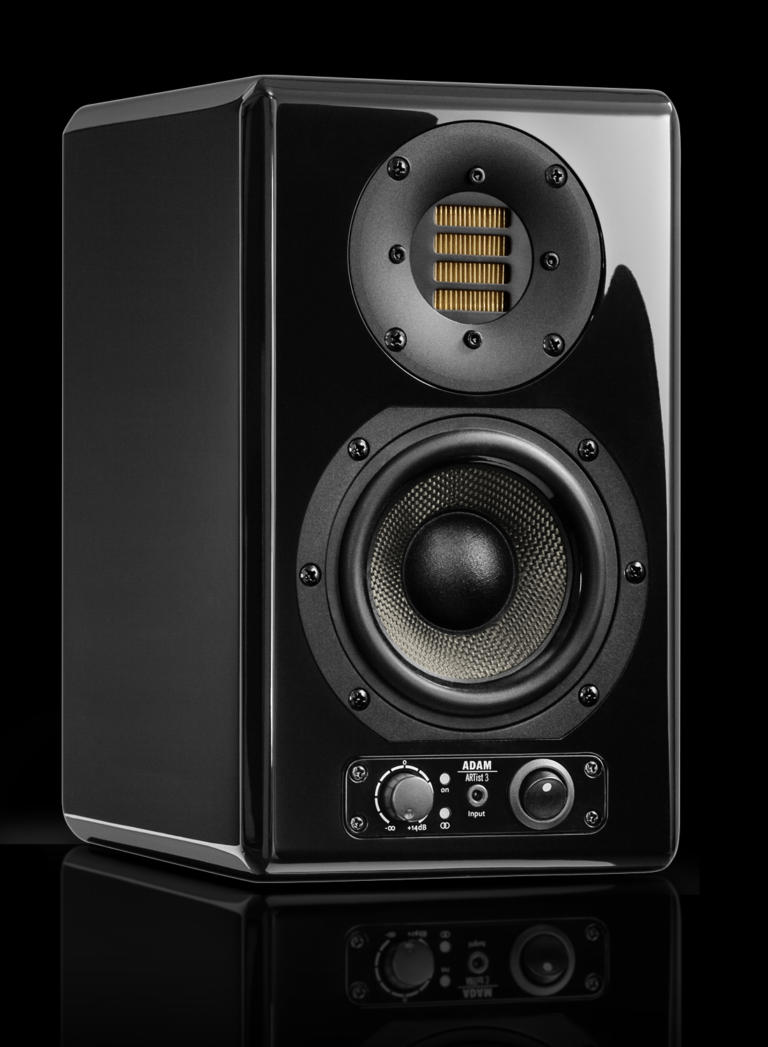 ARTist 3
Nearfield Monitor
ADAM ARTist 3
With the ARTist 3, ADAM Audio present their smallest monitor to date, making it perfectly suited for all environments where space is limited but sound shouldn't be constricted. The ARTist 3 combines minimal dimensions with the much acclaimed ADAM sound quality, by using the X-ART tweeter for the higher frequencies. A guarantee for crystal clear music reproduction. Countless studios around the globe are already using the X-ART technology in their ADAM monitors and treasure the market leading precision and clarity these speakers offer.
A 4.5" (basket) driver handles the lower registers. A diaphragm made from carbon fiber, a material that is very light but very stiff, delivers colouring-free sound. Two built-in 25 Watt amplifiers power each of the drivers directly.
The back offers two M6 screw threads for attaching a wall holder and furthermore a controller for fine tuning the high-frequency levels.
German Handmade Precision X-ART Tweeter
4.5" Woofer (Carbon Fiber)
Amp. Power RMS / Music: 50 W / 80 W
Frequency Response: 60 Hz - 50 kHz
Max. SPL Per Pair at 1 m: ≥106 dB
Approved BY OUR PROFESSIONAL COMMUNITY
"Both (ARTist 3 and ARTist 5) speakers sounded very good while listening. With their high precision sound even encoding artefacts in mp3's were rendered audible."
c't
"A truly audiophile resolution paired with a natural ease in playing, this speaker entices for long listening sessions."
Audio
Features & Benefits
Product Feature

Benefit to the customer

X-ART tweeter, handmade in Berlin

Allows longer operation with fewer signs of fatigue
Their breakup is prevented by the folded diaphragms, distortions are effectively reduced to a minimum
Advanced dynamic range due to acoustically effective diaphragm surface that is 2.5 times bigger (compared to a classic tweeter according to the piston principle)

The air velocity ratio of 4:1 during the sound generation by folded X-ART membrane

Direct, fast response in the high-range even with complex transients

Lightweight glass fiber membrane of the woofers

Excellent transient response even at high sound levels without breakup of the diaphragm

Vertical 2-way system with 4.5" woofer

High resolution of the stereo image

Linear frequency response of 60 Hz to 50 kHz

Unbiased reproduction in a wide frequency band

Maximum peak sound pressure level per pair in 1 m ≥106 dB

Powerful, compression free sound reproduction even at very high sound levels despite compact design

Tweeter Gain Controller

Allows optimal adaptation to acoustically difficult listening environments or individual preferences

Stereolink function (Cinch cable contained in the delivery contents)

Simple and symmetric volume control on the front panel

Analog XLR, RCA and mini jack as well as digital USB inputs

Great connectivity

Directional sound radiation in vertical plane

Reduction of early reflections on the surfaces of, e.g. mixing consoles, desks, etc.

Volume control and on/off switch on the front

Very easy to use

Very compact cabinet dimensions

Fits every desktop

Easily mounted on walls with original ADAM Audio wall mount (optional)

Space saving positioning at any height
Technical Data
Woofer
| | |
| --- | --- |
| Number | 1 |
| Basket Ø | 4.5" (120 mm) |
| Voice Coil Ø | 1" (25 mm) |
| Cone Material | Carbon Fiber |
Tweeter
| | |
| --- | --- |
| Number | 1 |
| Type | X-ART |
| Diaphragm Area | 4 inch² (2420 mm²) |
| Equiv. Diaphragm Ø | 2" (56 mm) |
| Velocity Transform Ratio | 4:1 |
| Diaphragm Weight | 0.17 g |
Built-in Amplifiers
| | |
| --- | --- |
| Woofer | 1 |
| Type | A/B |
| Amp. Power RMS / Music | 25 W / 40 W |
| Tweeter | 1 |
| Type | A/B |
| Amp. Power RMS / Music | 25 W / 40 W |
Control Panel
| | |
| --- | --- |
| Input Sensitivity | -∞ to +14 dB |
| Tweeter Gain | ±4 dB |
Input Connectors
| | |
| --- | --- |
| Analog | XLR / RCA / 3.5 mm mini stereo jack |
| Digital | USB |
General Data
| | |
| --- | --- |
| Frequency Response | 60 Hz - 50 kHz |
| THD 90 dB / 1 m > 100 Hz | ≤0.8 % |
| Max. SPL with sine wave acoustic 100 Hz to 3 kHz at 1 m | ≥98 dB |
| Max. SPL per pair at 1 m | ≥106 dB |
| Crossover Frequencies | 2800 Hz |
| Input Impedance | 10 kOhm |
| Panel | Front |
| Stereolink | Yes |
| Weight | 11 lb (5 kg) |
| Magnetically Shielded | No |
| Height x Width x Depth | 10" (252 mm) x 6" (150 mm) x 7.5" (185 mm) |
| Finish | Black glossy, white glossy |
| Warranty | 5 years (2 years warranty plus 3 years optional with product registration) |
| Delivery Contents | Front cover, Cinch cable for stereolink in black or white, power cord, manual |