A3XNearfield Monitor
Archived Product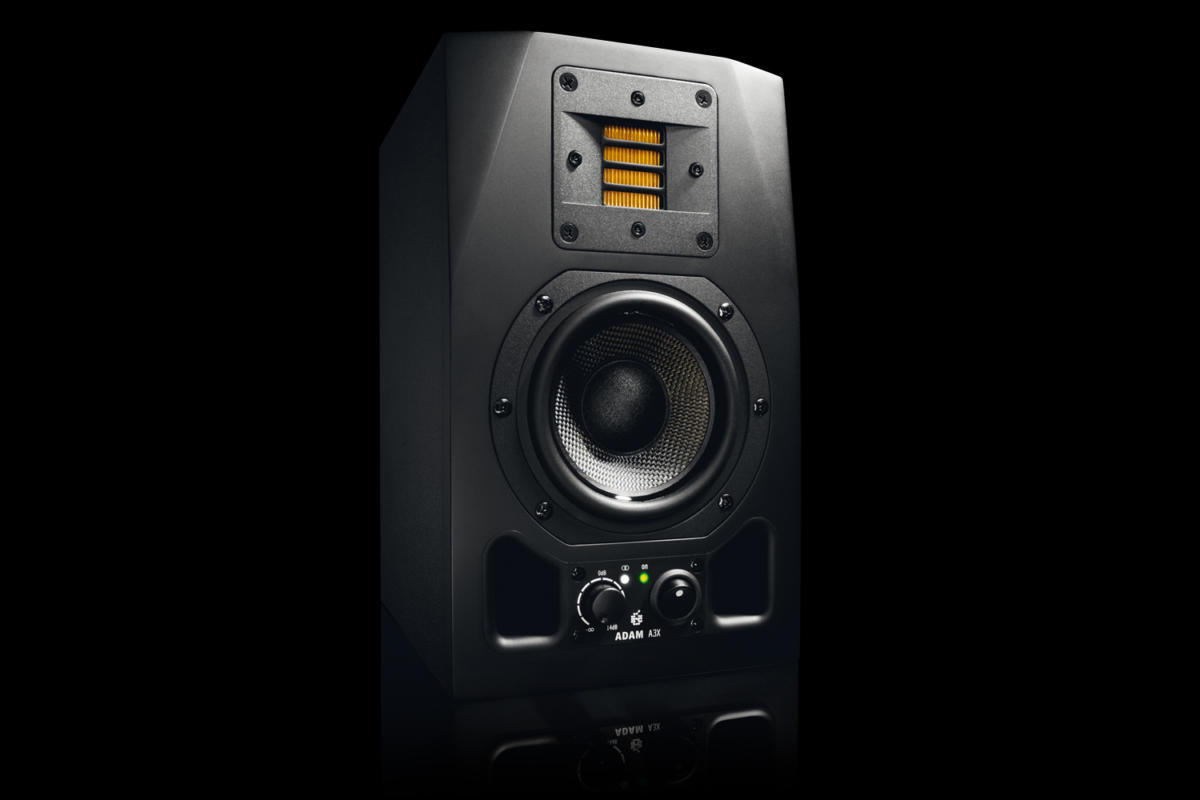 Approved BY OUR PROFESSIONAL COMMUNITY
In a small to medium size setup, it will be an excellent main monitor. In a larger setup, it will be an excellent alternative to bigger speakers, providing accurate near-field information, and offering relief from ear fatigue that a large system can inflict.
Lorenz Rychner
Recording Magazine (US)
For mobile setups or studios with limited budgets for monitors, the ADAM A3X is an excellent new option.
Steve Silverstein
TapeOp
Although they are small, the size of the audio image belies their size. The overall feel is effortless and solid, with a suprising degree of weight in the bass end.
Huw Price
MusicTech
The low-frequency response is very powerful, considering their size, and the X-ART tweeter produces a very detailed sound. (…) The ADAM A3X is without a doubt the best compact speaker in this price range.
Red Led
audiofanzine.com
I've used various monitors for my computer work before, but never of the caliber of the A3X series. Before these, I would have to redo my mixes significantly when transitioning from the small cheapies to the big 'real ones'. The ADAM Audio A3X's save me a step by providing both great sound in a compact format and by changing mundane audio task-work into a quality listening experience. (…) Highly recommended.
Jon Chappell
Harmony Central
Technical Data
Woofer
| | |
| --- | --- |
| Number | 1 |
| Basket Ø | 4.5" (120 mm) |
| Voice Coil Ø | 1" (25 mm) |
| Cone Material | Carbon Fiber |
Tweeter
| | |
| --- | --- |
| Number | 1 |
| Type | X-ART |
| Diaphragm Area | 4 inch² (2420 mm²) |
| Equiv. Diaphragm Ø | 2" (56 mm) |
| Velocity Transform Ratio | 4:1 |
| Diaphragm Weight | 0.17 g |
Built-in Amplifiers
| | |
| --- | --- |
| Woofer | 1 |
| Type | A/B |
| Amp. Power RMS / Music | 25 W / 40 W |
| Tweeter | 1 |
| Type | A/B |
| Amp. Power RMS / Music | 25 W / 40 W |
Control Options
| | |
| --- | --- |
| Input Sensitivity | -∞ to +14 dB |
| Tweeter Gain | ±4 dB |
General Data
| | |
| --- | --- |
| Frequency Response | 60 Hz - 50 kHz (-10 dB) |
| THD 90 dB / 1 m > 100 Hz | ≤0.8 % |
| Max. SPL with sine wave acoustic 100 Hz to 3 kHz at 1 m | ≥98 dB |
| Max. SPL per pair at 1 m | ≥106 dB |
| Crossover Frequencies | 2.8 kHz |
| Input Impedance | 10 kOhm |
| Panel | Front |
| Stereolink | Yes |
| Weight | 10.1 lb (4,6 kg) |
| Magnetically Shielded | No |
| Height x Width x Depth | 10" (252 mm) x 6" (150 mm) x 7.5" (185 mm) |
| Warranty | 5 years (2 years warranty plus 3 years optional with product registration) |
| Delivery Contents | Cinch-cable, power cord, manual |