S3X-HMidfield Monitor
Archived Product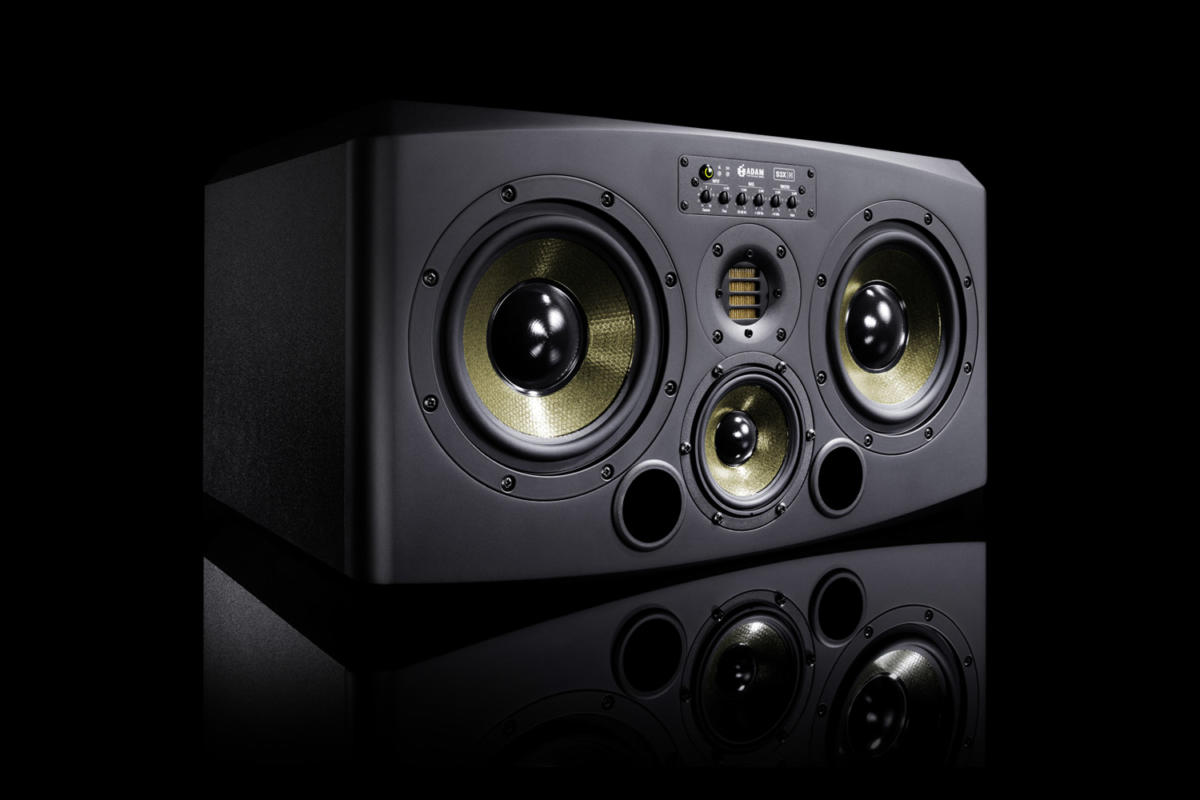 Approved BY OUR PROFESSIONAL COMMUNITY
"The S3X-H convinces all along the line. ADAMs new member is all but just an improvement of a successful monitor. With a new loudspeaker design and painstaking tuning it is a first-class control tool in any studio. From now on, the monitor reference in the Professional Audio Studio is called S3X-H."
Raphael Hornbruch
Professional Audio
"Anyone seeking an uncompromised solution to studio monitoring should add these to your short list of products to consider."
George Petersen
MIX MAGAZINE
"These are reference monitors, and as they make their way into studios they will become part of the standard called 'music production'. The S3X-H radiates sound into the room with depth, accuracy, and clarity in the way you need it to be with comfort and ease. These are monitors that need to be heard."
Audio Media
"The accuracy, spectral definition, stereo imaging, increased output power, and improved overall design of the S3X-H make it a perfectly reliable active monitor that can certainly find its place in any serious setup."
audiofanzine
"A reference monitor in all respects!"
Keyboards Recording
Features & Benefits
Product Feature

Benefit to the customer

X-ART tweeter, handmade in Berlin

Allows longer operation with fewer signs of fatigue
Their breakup is prevented by the folded diaphragms, distortions are effectively reduced to a minimum
Advanced dynamic range due to acoustically effective diaphragm surface that is 2.5 times bigger (compared to a classic tweeter according to the piston principle)

The air velocity ratio of 4:1 during the sound generation by folded X-ART membrane

Direct, fast response in the high-range even with complex transients

Ultra-light but extremely dimensionally stable woofer material (HexaCone)

Excellent transient response even at high sound levels without breakup of the diaphragm

Horizontal 3-way system with 2 x 7.5" woofers and 1 x 4.5" midrange

Very high resolution of the stereo image and extremely wide stereo base

Spacious bass reflex ports on the front

Bass reproduction with very low compression
Allows positioning close to walls

Highly efficient PWM amplifier for the woofers coupled with an A/B amplifier for X-ART tweeter

Low-distortion amplification at both low and high volume levels

Linear frequency response of 32 Hz to 50 kHz

Unbiased reproduction in a wide frequency band

Maximum peak sound pressure per pair in 1 m ≥ 126 dB

Powerful, compression-free sound reproduction even at very high sound levels

Room acoustic adjustments via the SX Panel

Allows optimal adaptation to acoustically difficult listening environments or individual preferences

Analog XLR input

Optimized for balanced line signals

Directional sound radiation in vertical plane

Reduction of early reflections on the surfaces of, e.g. mixing consoles, desks, etc.

2 years warranty with optional extension to 3 years with the registration of the product

Full repair service if required for 5 years
Technical Data
Woofer
| | |
| --- | --- |
| Number | 2 |
| Basket Ø | 7.5" (186 mm) |
| Voice Coil Ø | 2" (50 mm) |
| Cone Material | HexaCone |
Midrange
| | |
| --- | --- |
| Number | 1 |
| Basket Ø | 4.5" (116 mm) |
| Voice Coil Ø | 1" (25 mm) |
| Cone Material | HexaCone |
Tweeter
| | |
| --- | --- |
| Number | 1 |
| Type | X-ART |
| Diaphragm Area | 4 inch² (2420 mm²) |
| Equiv. Diaphragm Ø | 2" (56 mm) |
| Velocity Transform Ratio | 4:1 |
| Diaphragm Weight | 0.17 g |
Built-in Amplifiers
| | |
| --- | --- |
| Woofer | 2 |
| Type | PWM |
| Amp. Power RMS / Music | 2 x 250 W / 350 W |
| Midrange | 1 |
| Type | PWM |
| Amp. Power RMS / Music | 250 W / 350 W |
| Tweeter | 1 |
| Type | A/B |
| Amp. Power RMS / Music | 50 W / 100 W |
Control Panel
| | |
| --- | --- |
| Input Sensitivity (coarse) | -20 to +8 dB (4 dB steps) |
| Input Sensitivity (fine) | -1.5 to +2 dB (0.5 dB steps) |
| EQ 80 Hz | 0 to +6 dB (1 dB steps) |
| High Shelf EQ > 6 kHz | ±4 dB (1 dB steps) |
| Low Shelf EQ < 150 Hz | ±4 dB (1 dB steps) |
| Tweeter Gain | ±2 dB (0.5 dB steps) |
Input Connectors
| | |
| --- | --- |
| Analog | XLR |
| Digital (optional) | AES/EBU / SPDIF / word clock |
General Data
| | |
| --- | --- |
| Frequency Response | 32 Hz - 50 kHz |
| THD > 80 Hz | ≤0.6 % |
| Max. SPL with sine wave acoustic 100 Hz to 3 kHz at 1 m | ≥116 dB |
| Max. SPL per pair at 1 m | ≥126 dB |
| Crossover Frequencies | 350 / 2800 Hz |
| Input Impedance | 10 kOhm |
| Panel | Front |
| Weight | 43.2 lb (19,6 kg) |
| Magnetically Shielded | No |
| Height x Width x Depth | 11" (280 mm) x 21" (530 mm) x 12.5" (320 mm) |
| Warranty | 5 years (2 years warranty plus 3 years optional with product registration) |
| Delivery Contents | Power cord, manual |