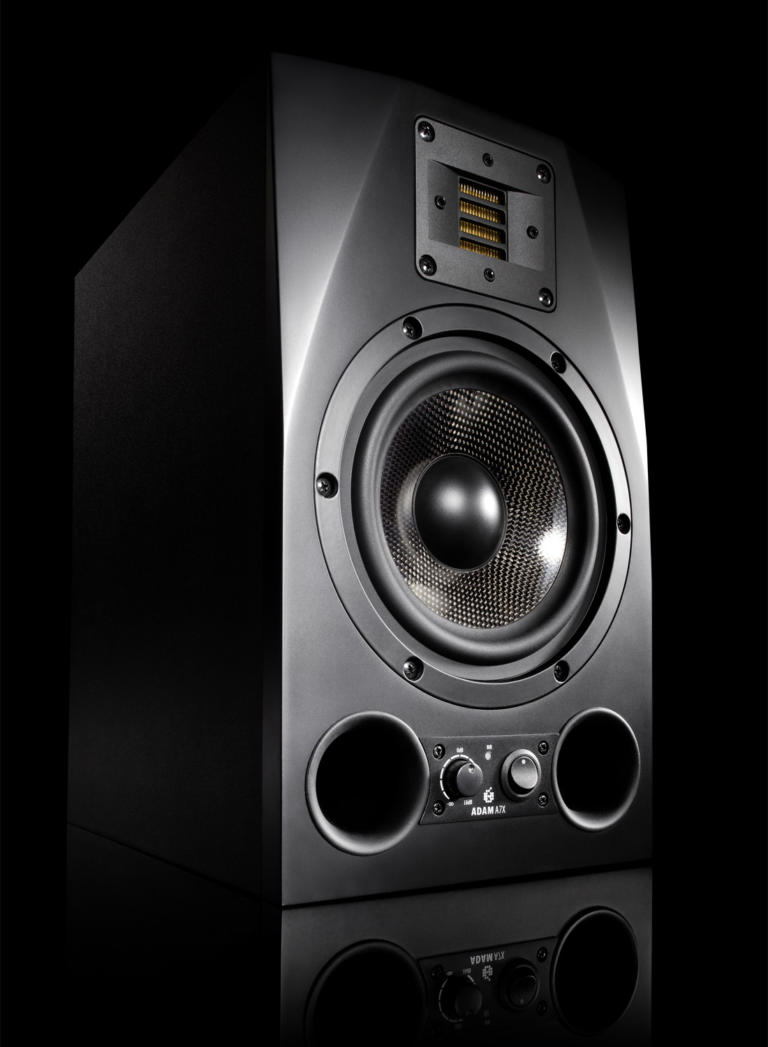 A7X
Nearfield Monitor
Sound on Sound Awards
Winner
DJ Tech Awards
Best Studio Monitor
Tools4Music
Performance Winner
Buy now
ADAM Audio A7x
The A7X is ADAM Audio's best selling nearfield monitor. It is one of the most balanced and versatile speakers currently on the market. The X-ART tweeter produces detailed, uncompressed highs and upper mids without being tiring over long listening periods. Despite its compact housing, the bass response is powerful and precise.
The tweeter is driven by a 50 Watt A/B amplifier and the bass/mid-woofer by a 100 Watt PWM amplifier. This achieves a very clean and nuanced reproduction of the midrange frequencies with a seamless transition in the crossover from the 7″ woofer, which operates in the range of 42 Hz to 2.5 kHz, towards the X-ART tweeter.
The A7X's ability to exactly reproduce every sonic detail no matter how small, its translucent sound image, tonal depth and stereo localization inspires music producers and explains why it is by far the most reviewed and award-winning monitor in recent years.
German Handmade Precision X-ART Tweeter
7" Woofer (Carbon/Rohacell/Glass Fiber)
Amp. Power RMS / Music: 150 W / 225 W
Frequency Response: 42 Hz - 50 kHz (-10 dB)
Max. SPL per pair at 1 m: ≥114 dB
Approved BY OUR PROFESSIONAL COMMUNITY
"A great sounding set of monitors that will help improve your mix craft."
DJMag
With the first beats after connecting the A7X to my Mackie Onyx mixer I realised that this speaker not only complies with the requirements of a daily studio routine but also does sound absolutely fabulous. (…) This speaker played so easy, airy and freely that it was a pleasure listening to it.
Fidelity
I expect the ADAM A7X to dominate the conversation for a long time to come.
Barney Jameson
DV Magazine
Seldomly you get so much sound in this price range. Congratulations to ADAM. Mission accomplished.
Hifi-Stars
I personally loved the A7X monitors from the minute I took them out of the box! They are very accurate and have a flat response, a lovely detailed sound and they will not break the bank, but should provide you with an accurate mix.
Tony Long
Absolutemusic
The A7X from ADAM Audio wins the race a long way ahead of the rest.
Sound & Recording: Top 5 Studio Monitors
"During the listening tests, the A7X produced wonderfully clear treble frequencies. Its tone was brilliantly balanced with strong impulse production and a bass response as deep as an abyss. The bass frequencies remained stable even at high volumes, and the overall sound didn't become wearying even after longer listening sessions."
Christian Möller
AUDIO
Features & Benefits
Product Feature

Benefit to the customer

The most sold and awarded studio monitor from ADAM Audio

Trust the judgment of thousands of users and work with the industry standard

X-ART tweeter, handmade in Berlin

Allows longer operation with fewer signs of fatigue
Their breakup is prevented by the folded diaphragms, distortions are effectively reduced to a minimum
Advanced dynamic range due to acoustically effective diaphragm surface that is 2.5 times bigger (compared to a classic tweeter according to the piston principle)

The air velocity ratio of 4:1 during the sound generation by folded X-ART membrane

Direct, fast response in the high-range even with complex transients

Ultra-light but extremely dimensionally stable woofer material (Carbon/Rohacell/Glass fiber)

Excellent transient response even at high sound levels without breakup of the diaphragm

Vertical 2-way system with 7" woofer

High resolution of the stereo image

Spacious bass reflex ports on the front

Bass reproduction with very low compression
Allows positioning close to walls

Highly efficient PWM amplifier for the woofer coupled with an A/B amplifier for X-ART tweeter

Low-distortion amplification at both low and high volume levels

Linear frequency response of 42 Hz to 50 kHz (-10 dB)

Unbiased reproduction in a wide frequency band

Maximum peak sound pressure per pair in 1 m ≥ 114 dB

Powerful, compression-free sound reproduction even at very high sound levels

Simple, stepless room acoustic adjustments over tweeter gain, low and high shelf filters

Allows optimal adaptation to acoustically difficult listening environments

Analog XLR and RCA inputs

Optimized for balanced and unbalanced line signals

Acoustically optimized cabinet geometry

Reduction of unwanted reflections on the cabinets

Directional sound radiation in vertical plane

Reduction of early reflections on the surfaces of, e.g. mixing consoles, desks, etc.

Volume control and on/off switch on the front

Very easy to use

2 years warranty with optional extension to 3 years with the registration of the product

Full repair service if required for 5 years
Technical Data
Woofer
| | |
| --- | --- |
| Number | 1 |
| Basket Ø | 7" (175 mm) |
| Voice Coil Ø | 1.5" (38 mm) |
| Cone Material | Carbon / Rohacell / Glass Fiber |
Tweeter
| | |
| --- | --- |
| Number | 1 |
| Type | X-ART |
| Diaphragm Area | 4 inch² (2420 mm²) |
| Equiv. Diaphragm Ø | 2" (56 mm) |
| Velocity Transform Ratio | 4:1 |
| Diaphragm Weight | 0.17 g |
Built-in Amplifiers
| | |
| --- | --- |
| Woofer | 1 |
| Type | PWM |
| Amp. Power RMS / Music | 100 W / 150 W |
| Tweeter | 1 |
| Type | A/B |
| Amp. Power RMS / Music | 50 W / 75 W |
Control Options
| | |
| --- | --- |
| Input Sensitivity | -∞ to +14 dB |
| High Shelf EQ > 5 kHz | ±6 dB |
| Low Shelf EQ < 300 Hz | ±6 dB |
| Tweeter Gain | ±4 dB |
General Data
| | |
| --- | --- |
| Frequency Response | 42 Hz - 50 kHz (-10 dB) |
| THD 90 dB / 1 m > 100 Hz | ≤0.5 % |
| Max. SPL with sine wave acoustic 100 Hz to 3 kHz at 1 m | ≥106 dB |
| Max. SPL per pair at 1 m | ≥114 dB |
| Crossover Frequencies | 2.5 kHz |
| Input Impedance | 30 kOhm |
| Panel | Front |
| Weight | 20.3 lb (9,2 kg) |
| Magnetically Shielded | No |
| Height x Width x Depth | 13.5" (337 mm) x 8" (201 mm) x 11" (280 mm) |
| Warranty | 5 years (2 years warranty plus 3 years optional with product registration) |
| Delivery contents | Power cord, manual |