Buy now
A77X
Near-/Midfield Monitor
Sound on Sound Awards
Winner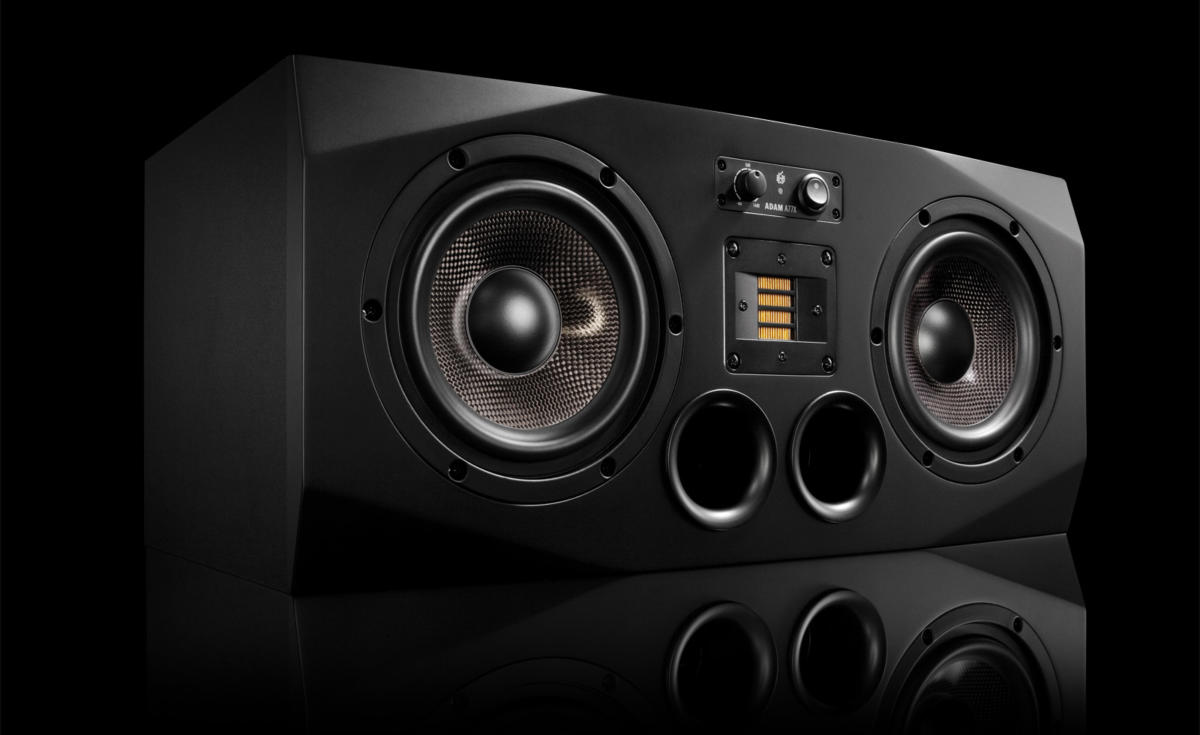 ADAM Audio A77X
The A77X is a horizontally designed monitor that combines all of the technical innovations in the AX-Series. Due to its powerful, compression-free sound reproduction and excellent radiation characteristics, it is suitable both for nearfield and midfield monitoring.
The special feature of the A77X is its 2 1⁄2-way system. Both 7" woofers start to work together at 38 Hz and at 400 Hz one woofer fades out and only the second woofer continues to operate in the midrange up to 3 kHz. This prevents interferences and possible phase cancellation in the critical midrange. Even though frequency transitions and potential distortions lie outside these areas, the human ear is particularly sensitive to midrange frequencies.
Especially noteworthy in the A77X is the extremely wide stereo foundation and brilliant stereo imaging. Treble and mids are reproduced with three-dimensional realism and the lows are, as expected from a double woofer design, massive without compromising on precision.
German Handmade Precision X-ART Tweeter
2 x 7" Woofer (Carbon/Rohacell/Glass fiber)
Amp. Power RMS / Music: 250 W / 375 W
Frequency Response: 38 Hz - 50 kHz (-10 dB)
Max. SPL per pair at 1 m: ≥122 dB
Approved BY OUR PROFESSIONAL COMMUNITY
So there we have the ADAM A77X: an extremely able active monitor that´s capable of accurately reproducing frequencies from 38Hz to 50kHz in a seemingly effortless manner, even when being run at some pretty serious levels. This all comes with a price tag that actually represents very good value for money, given the level of performance that the ADAM A77X delivers.
Bob Thomas
Sound on Sound
Of particular note was the outstanding stereo imaging and enormous sound stage the A77Xs present. The Adam A77Xs are an outstanding monitoring solution.
Guy Harrison
Audio Technology Magazine
Mixing on the A77X was a pleasure because they didn´t cause fatigue during long sessions and they have no trouble resolving complex mixes. (…) If you are considering the purchase of a pair of monitors in this price range, you really need to hear the A77Xs. They combine all the attributes required for a studio "main" monitor: They can play plenty loud, maintain linearity at a wide variety of volume levels, reveal sufficient information such that they can be trusted for a tracking session, and mixes that are made on them translate well when heard outside of the studio.
Steve La Cerra
Mix Magazine
I like the A77X a lot and they make a refreshing change from the usual mid-priced nearfield speakers.
Stephen Bennett
AUDIO MEDIA
Features & Benefits
Product Feature

Benefit to the customer

X-ART tweeter, handmade in Berlin

Allows longer operation with fewer signs of fatigue
Their breakup is prevented by the folded diaphragms, distortions are effectively reduced to a minimum
Advanced dynamic range due to acoustically effective diaphragm surface that is 2.5 times bigger (compared to a classic tweeter according to the piston principle)

The air velocity ratio of 4:1 during the sound generation by folded X-ART membrane

Direct, fast response in the high-range even with complex transients

In-phase, simultaneous operation of the woofers below 400 Hz

Dry, unstrained reproduction of the low-range
Critical center area is played by a single driver without interference

Ultra-light but extremely dimensionally stable woofer material (Carbon/Rohacell/Glass fiber)

Excellent transient response even at high sound levels without breakup of the diaphragm

Unique, horizontal 2.5-way system with 2 x 7" woofers

Very high resolution of the stereo image and extremely wide stereo base

Spacious bass reflex ports on the front

Bass reproduction with very low compression
Allows positioning close to walls

Highly efficient PWM amplifier for the woofer coupled with an A/ B amplifier for X-ART tweeter

Low-distortion amplification at both low and high volume levels

Linear frequency response of 38 Hz to 50 kHz (-10 dB)

Unbiased reproduction in a very wide frequency band

Maximum Peak sound pressure per pair in 1 m ≥ 122 dB

Powerful, compression-free sound reproduction even at very high sound levels

Simple, stepless room acoustic adjustments over tweeter gain, low and high shelf filters

Allows optimal adaptation to acoustically difficult listening environments

Analog XLR and RCA inputs

Optimized for balanced and unbalanced line signals

Acoustically optimized cabinet geometry

Reduction of unwanted reflections on the cabinets

Directional sound radiation in vertical plane

Reduction of early reflections on the surfaces of, e.g. mixing consoles, desks, etc.

Volume control and on/off switch on the front

Very easy to use

Suitable for both near- and mid-field applications

Enough headroom for different studio environments

2 years warranty with optional extension to 3 years with the registration of the product

Full repair service if required for 5 years
Technical Data
Woofer
| | |
| --- | --- |
| Number | 2 |
| Basket Ø | 7" (175 mm) |
| Voice Coil Ø | 1.5" (38 mm) |
| Cone Material | Carbon / Rohacell / Glass Fiber |
Tweeter
| | |
| --- | --- |
| Number | 1 |
| Type | X-ART |
| Diaphragm Area | 4 inch² (2420 mm²) |
| Equiv. Diaphragm Ø | 2" (56 mm) |
| Velocity Transform Ratio | 4:1 |
| Diaphragm Weight | 0.17 g |
Built-in Amplifiers
| | |
| --- | --- |
| Woofer | 1 |
| Type | PWM |
| Amp. Power RMS / Music | 100 W / 150 W |
| Subwoofer | 1 |
| Type | PWM |
| Amp. Power RMS / Music | 100 W / 150 W |
| Tweeter | 1 |
| Type | A/B |
| Amp. power RMS / music | 50 W / 75 W |
Control Options
| | |
| --- | --- |
| Input Sensitivity | -∞ to +14 dB |
| High Shelf EQ > 5 kHz | ±6 dB |
| Low Shelf EQ < 300 Hz | ±6 dB |
| Tweeter Gain | ±4 dB |
General Data
| | |
| --- | --- |
| Frequency Response | 38 Hz - 50 kHz (-10 dB) |
| THD 90 dB / 1 m > 100 Hz | ≤0.5 % |
| Max. SPL with sine wave acoustic 100 Hz to 3 kHz at 1 m | ≥114 dB |
| Max. SPL per pair at 1 m | ≥122 dB |
| Crossover Frequencies | 0.4 / 3.0 kHz |
| Input Impedance | 30 kOhm |
| Panel | Front |
| Weight | 28.2 lb (12,8 kg) |
| Magnetically Shielded | No |
| Height x Width x Depth | 9.5" (235 mm) x 21" (530 mm) x 11" (280 mm) |
| Warranty | 5 years (2 years warranty plus 3 years optional with product registration) |
| Delivery Contents | Power cord, manual |