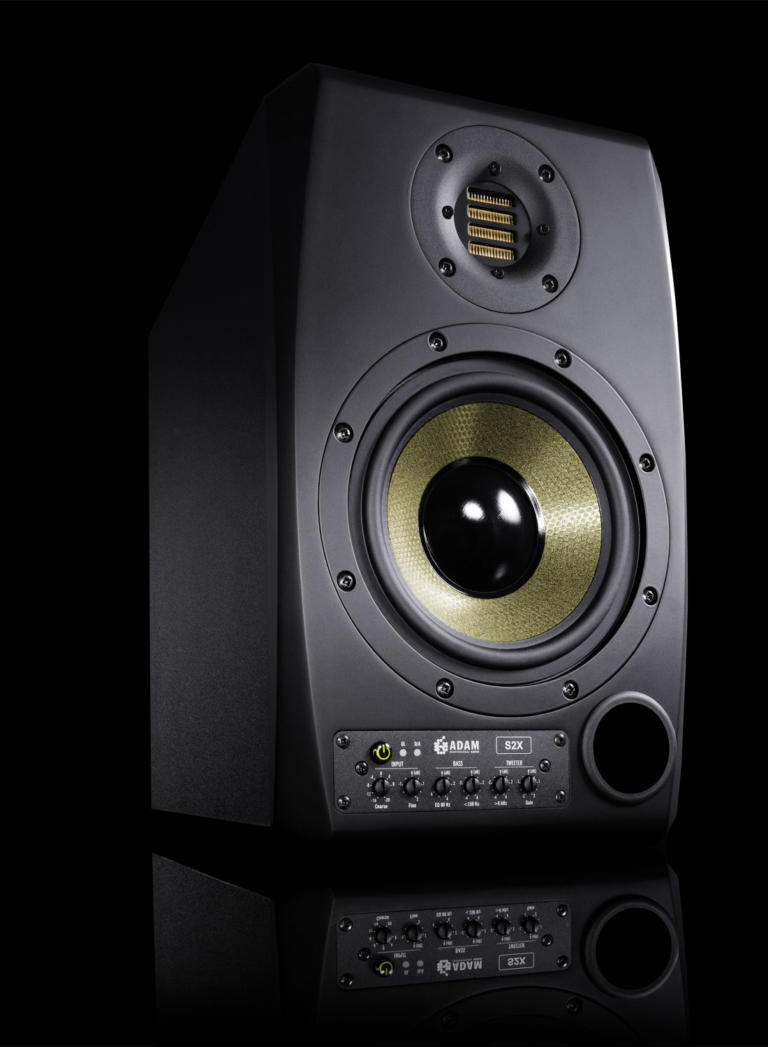 ADAM S2X
The S2X is designed as nearfield monitor for use in small and medium-sized control rooms. The 7.5-inch Hexacone woofer is driven by a sophisticated magnetic system whose large linear cone excursion realized by the 2″ voice coil makes for excellent dynamics of sonic events.
The impulse response of the S2X is accurate within the entire frequency range, the stereo image well balanced and the accurate placement of individual sound events is problem-free. Distracting noises can be precisely located; the generous sweet spot remains stable even when you leave the listening position so you can always keep track of your sound. Despite the compact case the bass sounds big and precise, the 250 Watt PWM amplifier interacts with the 50 Watt tweeter amp allow for a maximum sound pressure level of 120 dB per pair.
Optional: External Amplifier Unit EA-SX
For the models S2X, S3X, S4X and S5X we offer the option of an external amp unit in order to make flush mounting of these monitors easier.
German Handmade Precision X-ART Tweeter
Amp. Power RMS / Music: 300 W / 450 W
Frequency Response: 35Hz - 50 kHz
Max. SPL Per Pair at 1 m: ≥120 dB
Approved BY OUR PROFESSIONAL COMMUNITY
"We started off with a classical string quartet recording and let's just say right away that the S2Xs floored us. Several adjectives spring to mind: wide open, transparent, effortless, breathtaking realistic, loud, dynamic, involving. [...] These monitors are up there with the best we I've tried so far."
Huw Price
Music Tech
"So where does all this leave us? In summary, the S2Xs have a clear and present soundstage, dynamic mids, accurate bass and a forensic top end. The SX-series is undoubtedly better than the previous range, so much so you may find yourself getting very excited and using figurative expressions about electrons to express your delight."
James Wilkinson
Audio Technol
Features & Benefits
Product Feature

Benefit to the customer

X-ART tweeter, handmade in Berlin

Allows longer operation with fewer signs of fatigue
Their breakup is prevented by the folded diaphragms, distortions are effectively reduced to a minimum
Advanced dynamic range due to acoustically effective diaphragm surface that is 2.5 times bigger (compared to a classic tweeter according to the piston principle)

The air velocity ratio of 4:1 during the sound generation by folded X-ART membrane

Direct, fast response in the high-range even with complex transients

Ultra-light but extremely dimensionally stable woofer material (HexaCone)

Excellent transient response even at high sound levels without breakup of the diaphragm

Vertical 2-way system with 7.5" woofer

High resolution of the stereo image

Spacious bass reflex ports on the front

Bass reproduction with very low compression
Allows positioning close to walls

Highly efficient PWM amplifier for the woofer coupled with an A/B amplifier for X-ART tweeter

Low-distortion amplification at both low and high volume levels

Linear frequency response of 35 Hz to 50 kHz

Unbiased reproduction in a wide frequency band

Maximum peak sound pressure per pair in 1 m ≥ 120 dB

Powerful, compression-free sound reproduction even at very high sound levels

Room acoustic adjustments via the SX Panel

Allows optimal adaptation to acoustically difficult listening environments or individual preferences

Analog XLR input

Optimized for balanced line signals

Acoustically optimized cabinet geometry

Reduction of unwanted reflections on the cabinets

Directional sound radiation in vertical plane

Reduction of early reflections on the surfaces of, e.g. mixing consoles, desks, etc.

2 years warranty with optional extension to 3 years with the registration of the product

Full repair service if required for 5 years
Technical Data
Woofer
| | |
| --- | --- |
| Number | 1 |
| Basket Ø | 7.5" (186 mm) |
| Voice Coil Ø | 2" (50 mm) |
| Cone Material | HexaCone |
Tweeter
| | |
| --- | --- |
| Number | 1 |
| Type | X-ART |
| Diaphragm Area | 4 inch² (2420 mm²) |
| Equiv. Diaphragm Ø | 2" (56 mm) |
| Velocity Transform Ratio | 4:1 |
| Diaphragm Weight | 0.17 g |
Built-in Amplifiers
| | |
| --- | --- |
| Woofer | 1 |
| Type | PWM |
| Amp. Power RMS / Music | 250 W / 350 W |
| Tweeter | 1 |
| Type | A/B |
| Amp. Power RMS / Music | 50 W / 100 W |
Control Panel
| | |
| --- | --- |
| Input Sensitivity (coarse) | -20 to +8 dB (4 dB steps) |
| Input Sensitivity (fine) | -1.5 to +2 dB (0.5 dB steps) |
| EQ 80 Hz | 0 to +6 dB (1 dB steps) |
| High Shelf EQ > 6 kHz | ±4 dB (1 dB steps) |
| Low Shelf EQ < 150 Hz | ±4 dB (1 dB steps) |
| Tweeter Gain | ±2 dB (0.5 dB steps) |
Input Connectors
| | |
| --- | --- |
| Analog | XLR |
| Digital (optional) | AES/EBU / SPDIF / word clock |
General Data
| | |
| --- | --- |
| Frequency Response | 35 Hz - 50 kHz |
| THD > 80 Hz | ≤0.8 % |
| Max. SPL with sine wave acoustic 100 Hz to 3 kHz at 1 m | ≥110 dB |
| Max. SPL per pair at 1 m | ≥120 dB |
| Crossover Frequencies | 2200 Hz |
| Input Impedance | 10 kOhm |
| Panel | Front |
| Weight | 23.8 lb (10.8 kg) |
| Magnetically Shielded | No |
| Height x Width x Depth | 14.5" (370 mm) x 8.5" (220 mm) x 12.5" (320 mm) |
| Warranty | 5 years (2 years warranty plus 3 years optional with product registration) |
| Delivery Contents | Power cord, manual |