Germano StudiosIn the beginning, there was ADAM
ADAM Users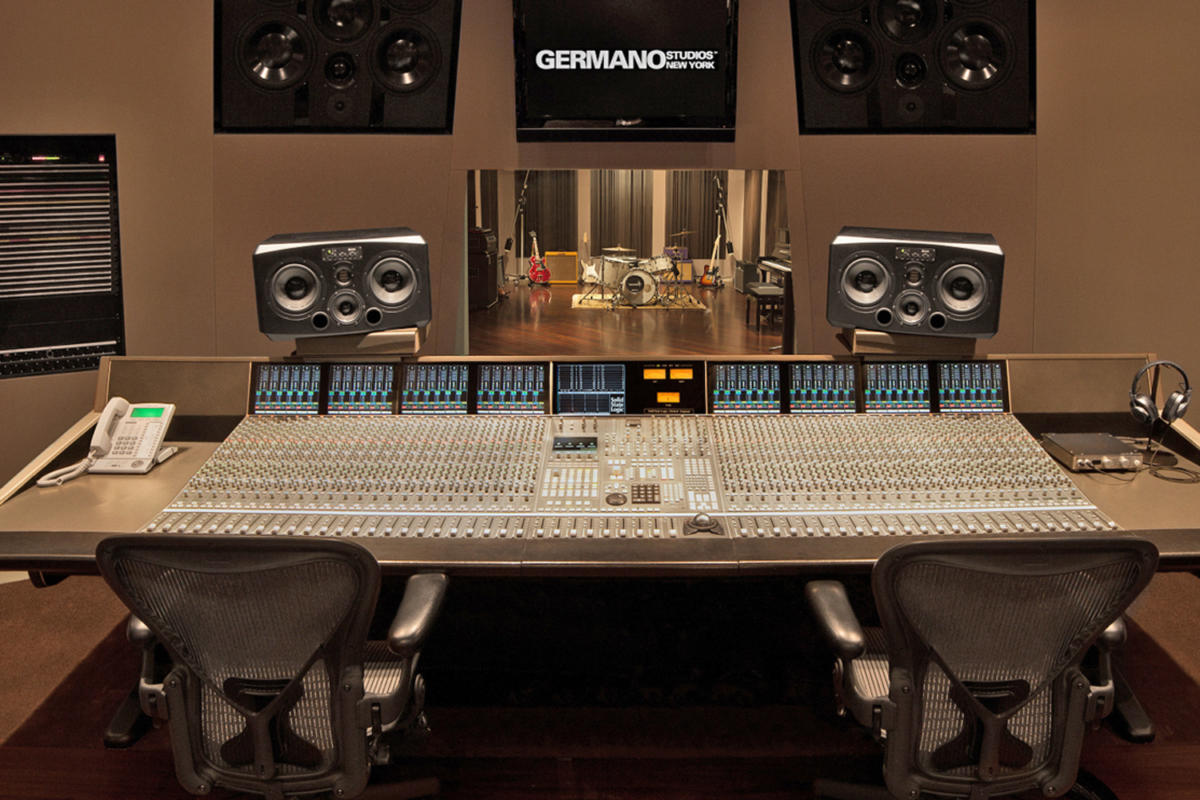 Germano Studios owner and designer Troy Germano trusts on the quality of ADAM Audio since day one
Germano Studios, the world-class recording facility whose list of clients reads like a "who's who" in the recording industry across a broad range of music genres, from R 'n' B, rock and pop to hip-hop and rap, has featured ADAM Audio monitors in its control rooms since the first day that it opened.
The facility, whose most recent clients include Dream Theater, Rihanna, Justin Bieber, Keith Richards, Katy Perry, Jon Bon Jovi, R. Kelly, Meghan Trainor and James Bay, takes pride in ensuring that their clients always enjoy the very latest in audio technology, recently added a pair of ADAM Audio S3X-H midfields and a pair of A7X nearfield speakers.
"We knew that we wanted to have something from day one with a ribbon tweeter," says Germano Studios owner and designer Troy Germano, whose Studio Design Group designed and built the facility. "That's why we chose the ADAMs; everyone was very comfortable with them. A lot of great records have been monitored through all of our ADAMs over the course of the last number of years, beginning with the A7s, and now the A7Xs and the S3Xs."
An extra amount of detail for both studios
Germano Studios, which is celebrating its ninth year in business in lower Manhattan's Noho district, features two well-appointed rooms: Studio 1, designed for tracking and mixing, and Studio 2, which is intended primarily for mixing projects, writing sessions, vocal recording and instrument overdubs.
"My experience with ADAM Audio has been with the A7s. I enjoy them, and the clients really like to crank them up loud—and they sound great loud and they're really accurate," says Kenta Yonesaka, Germano Studios' co-chief engineer. "When we got the S3Xs, I was really blown away with the extra amount of detail. They have all the great characteristics of the A7s, but with much greater detail."
Many nearfields –  but only one midfield monitor
Yonesaka, a 2014 Grammy Award nominee with a résumé that includes projects with Pharrell Williams, Ne-Yo, Future, T.I., Beyoncé, John Legend, Wayne Coyne, Miley Cyrus and numerous others, reports that the S3Xs have not left their spot on the console in Studio 1 since they arrived. "The ADAMs' are great speakers for our clients and give a great first impression to their music. And engineers love them, too, because of the detail."
The main complement of equipment in both studios is identical, and includes a 48-channel SSL Duality SE mixing console, 64 I/O Avid Pro Tools 12 HDX2 system and custom Exigy main monitors, enabling clients to move seamlessly between rooms. "We have a large array of nearfield monitors for people to choose from, where most studios have one pair of nearfields and maybe an alternate pair," says Germano. "But the S3X is the only midfield that we have. They fill a void that we never even realized existed here. People fight over them for Studio 1 or Studio 2."
The S3X-H monitors are on the consoles to stay
He also notes, "The way that the S3X relates to our custom Exigys is really quite unique. It's a good relationship back and forth when people want to go 'upstairs' or beyond midfield. Whether people are critically listening or it's just for loud playback, the detail and the depth of the S3X are things that get noticed right away."
Yonesaka also reports, "The engineers who work on records here like the fact that the EQ section on the S3s is upfront and very visible. If they want to make an adjustment, the controls are right there."
"And in addition to their sonic performance, the ADAMs look great. They're tough looking speakers," adds Germano. "We couldn't love our ADAM monitors more. The S3Xs are on the consoles to stay."
For more information about Germano Studios, visit their website: www.germanostudios.com