DELTA Soundworksimmersive audio meets ADAM Audio
ADAM Users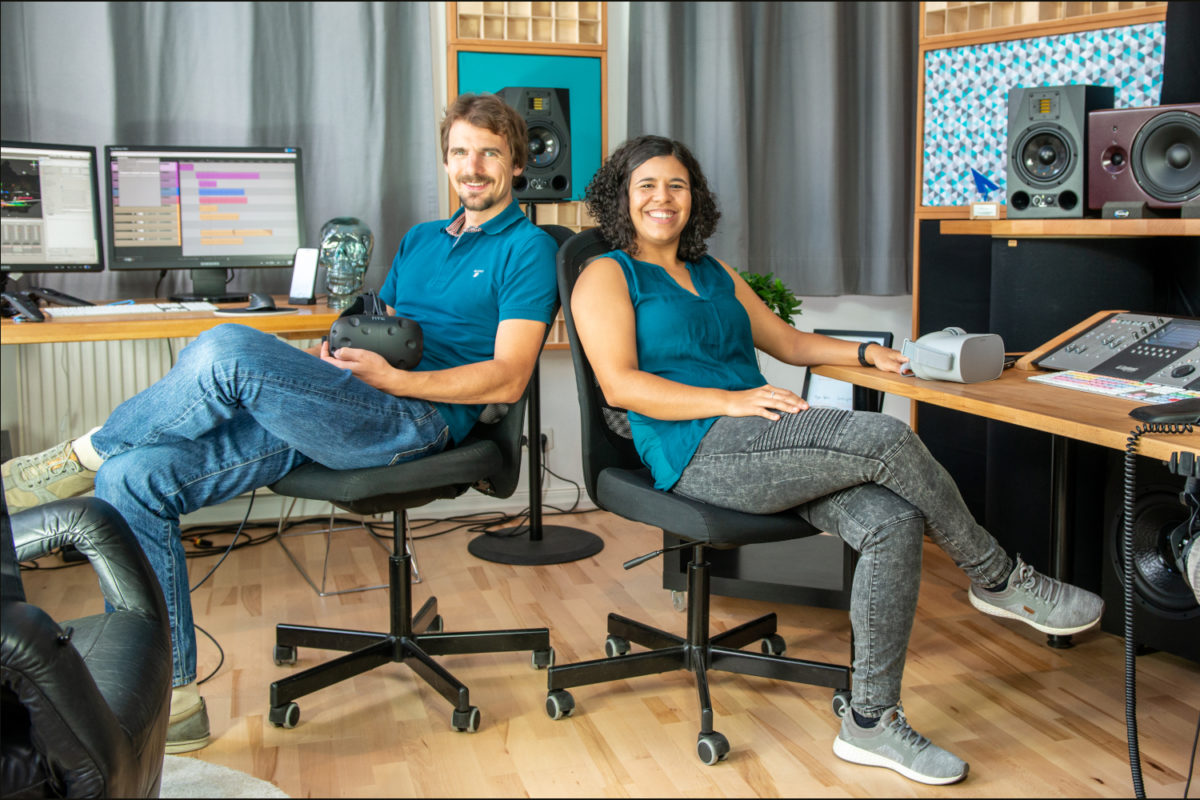 DELTA Soundworks builds a bridge between the creative and tech world
DELTA Soundworks was founded by Ana Monte and Daniel Deboy. Their passion circles around realistic sonic environments and the rise of virtual reality motivated them to focus on immersive audio. Daniel Deboy says "New media formats such us virtual reality, augmented reality and full-dome cinemas don't have their standard workflows yet and this makes it very exciting for us to work in this field." Every project challenges them with new demands and requires a different skillset, so they consider their studio as a playground for sound. There can be a day where they do sound design, the next day they are going to the black forest to record nature ambiences, another day they program audio scripts for a game. As a full service agency they supervise the sound for diverse media productions and strive for the highest audio quality and best bang for the buck for their clients. To deliver the best results, they are happy to be involved in projects from the very beginning and can provide one main contact for all of their customers' audio needs.
"The ribbons give it a similar feel to the cinema horn loudspeakers, which make them great for dialog editing and speech clarity."
Their new 3D sound lab is based at Alte Zigarrenfabrik Studios in Sandhausen and is equipped with a 12.1 setup (a 7.1 surround with A7x and 2x Sub12 plus 4 heights and voice of god with A5x). The facility is an old tobacco factory that was repurposed in the early 80s to house a recording studio with a 150sqm recording hall for classical and a 80sqm recording room for jazz music that are still used until today. In recent years, additional production rooms were added and the house was restructured into a creative community for music and sound production. Today, there are 14 independent engineers and producers covering different genres and the complete audio production chain. DELTA Soundworks was founded in 2016 as part of that network, exploring immersive audio formats.
Since DELTA Soundworks mostly does post-production for film sound, it was very important for them to have monitors with a high dynamic range and frequency response. They tested a lot of studio monitors before making the final decision to go with the Adams. Ana Monte says "The ribbons give it a similar feel to the cinema horn loudspeakers, which make them great for dialog editing and speech clarity. At the same time, the high end isn't so sharp that it hurts your ears when editing or mixing for a long time." The high dynamic range of their ADAM Audio speakers allows them to push their limit with sounds like explosions and gunshots, without distortion. With their newly built 12.1 system, they open up the possibility for creating content in different spatial audio formats such as Ambisonics, Dolby Atmos and Auro 3D and also hope to collaborate with artists who are curious about the immersive audio world.
Photo Credit: Jakob Morschewsky