ADAM Audio interviews Sigi Schuller, Universal Music, Berlin
ADAM Users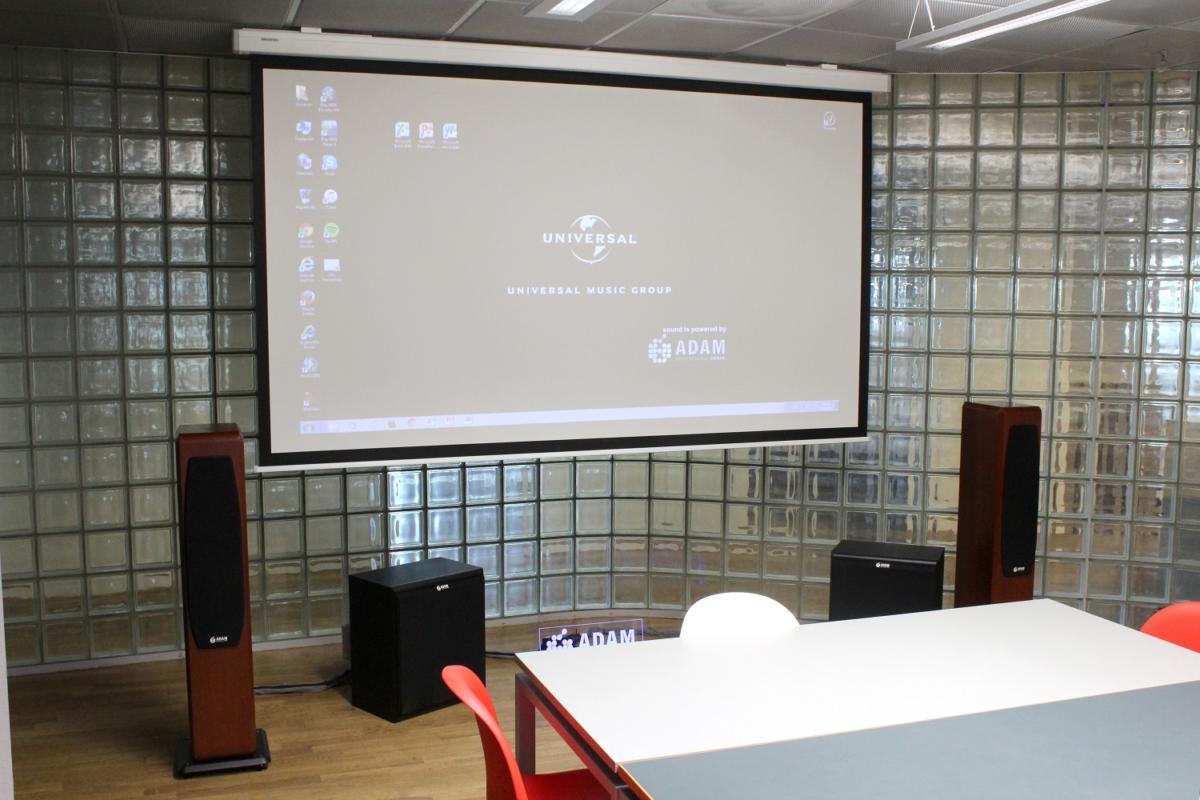 Since the beginning of 2016, a variety of speakers from the Home Audio segment of ADAM Audio (including Classic Compact MK3, Classic Pencil MK3, GTC88, Sub12) are installed in the meeting- and conference rooms in which new artists and productions are presented and discussed within the team frequently.
We had the possibility to talk with Sigi Schuller, Senior Director of the A&R department and long-time A&R Manager himself about his work and the installation of speakers at the branch of Universal Music, directly at Spree riverside:
Sigi Schuller – a well-known name at the world's biggest music label and active in the industry for many years. For those who do not know you yet, please explain shortly, how your work at Universal Music looks like.
Sigi: I'm leading the A&R department ("Artist and Repertoire") at Universal Music in Germany, including the two big labels Vertical Capital und Polydor/Island, which are the two market-leading and highest-grossing labels in Germany. We have a common A&R department and are part of the big Universal family.
In this building, we also have a big international department, which markets our international artists. There is also the jazz department, Deutsche Grammophon, a special marketing department, publishing, as well as miscellaneous administrative departments. Furthermore, we have Electrola in Munich, which is our adult pop-, schlager- and folk music label. In Kreuzberg, we have also a small subsidiary named Virgin Records – our startup since the EMI acquisition.
I'm also an A&R manager, so I work with various artists myself. This reaches from AnnenMayKantereit over Kraftklub, Rammstein, Unheilig, to recently Sarah Hartman or the newcomer Lawrence Taylor. I also work with miscellaneous international artists we signed, for instance Volbeat or Gotye.
How did you get into that?
Sigi: Well, back then I started organizing local concerts – more as a hobby, at least in the first place. In doing so, I eventually discovered a band and started working with them. The band advanced quickly, I became their manager and did that for 10 years.
Besides that, I started managing producers and had the honor to work with several great personalities in the industry. Eventually Daniel Lieberberg approached me in 2002 and asked me if I could imagine working with Universal and become an A&R manager within the former label Motor. I had to think about that for a while, as this meant that I had to close down my own business to a certain extent. I had a music publishing business as well at that time. But finally, I went for the job and started on 01.06.2003. I began as an A&R manager, then became Senior A&R, Head of A&R and now Senior Director A&R for the entire floor [at Universal Berlin].
Where and when was the first time you heard about ADAM Audio? How was your first impression?
Sigi: The first time I heard about ADAM Audio was while I was visiting a studio, but I can't remember exactly. My impression is, that these monitors came in around 10 years ago for a larger audience. I think it was at that time when they caught my attention. Especially due to the tweeter – they were so different than all the others. Personally, I always faced up with HiFi and PA equipment. During school time I even built speakers according to a construction plan myself. There is a producer who is a friend of mine and we work a lot together as well. He actually has a pair of monitors from me in his studio. I think they still exist. At least that's what he tells me [laughs].
Two or three years ago, I was down here at Riverside-Studios Berlin, in a room owned by the guys from Abby (Feeling Valencia). They produce a lot of techno and also pop. They had and still have ADAM Audio studio monitors and again, I noticed how much fun it is to listen to them.
Since a few months, there are HiFi speakers by ADAM Audio in the facilities of Universal Music in Berlin. How are they being used?
Sigi: The rooms are mainly conference rooms. There, all kinds of teams listen to music for hours and discuss different acts. Of course, the teams are incredibly glad that we achieved a clear enhancement of the sound quality. Especially long-time listening is definitely more fun now. Acoustic-wise, we have some very difficult rooms with concrete components and walls with metal. Under these circumstances, such a precise speaker is just very, very pleasant. And we received a lot of positive feedback, too! With the outstanding quality of these AMTs, the vocal reproduction is very pleasing and not annoying, while still beeing extremely brilliant. Vocals and emotions definitely come through very well.
There's a funny story about why we initially decided to think about new speakers – but I will not give away any names: The speakers we had before were blown up during the presentation of a techno/EDM DJ. He arrived with a private jet, wanted to introduce his record, left after 10 minutes – and incidentally destroyed the entire audio equipment. Ever since that, it was clear to us that we needed new systems. So we put out our feelers and finally got in contact with ADAM Audio.
May you talk a little about your current projects?
Looking at my own projects, signs are pointing to a new Kraftklub record. We heard the first tracks and in sounded very, very promising. We are as well working on a Volbeat record. Furthermore, we have a high opinion of the swiss artist Faber – we will hear more about him shortly. Moreover, there will be a new Wanda studio album in 2017. What else is there in the pipeline? Let me think about it… I already mentioned Lawrence Taylor, he's is doing many exciting things. The buzz around him is steadily growing, because he combines rock traditionalists and new singer/songwriter stuff. Definitely a guy with an edge who I really, really appreciate!
Sigi, thanks a lot for talking with us!