THE ALL NEW A SERIES
UK Launch Events
We are happy to invite you to a UK launch event to introduce you to the all new A Series!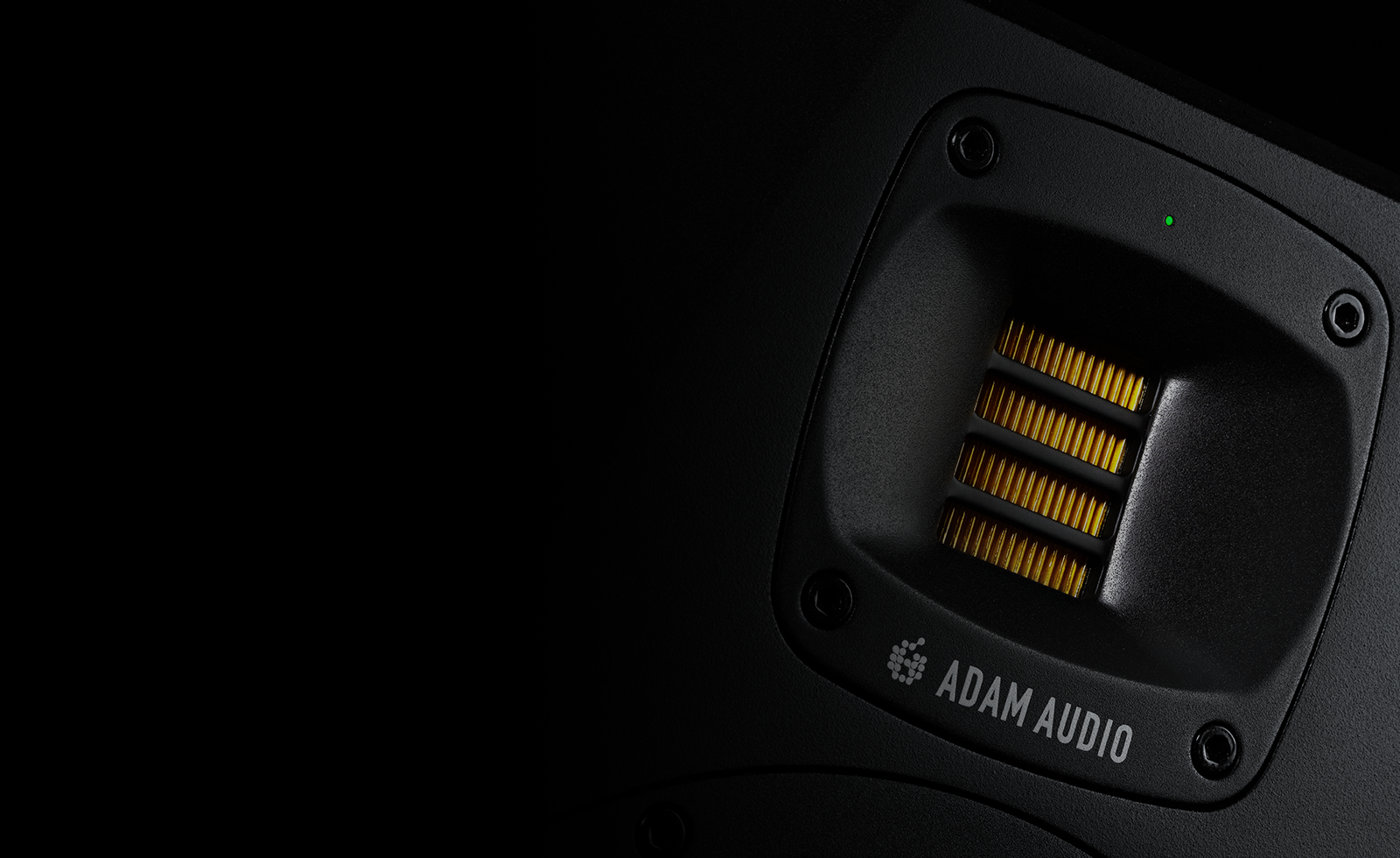 A decade in the making
ADAM Audio will be presenting our all new A Series to limited members of the public plus industry professionals and media partners at two prestigious locations here in the UK.
Tuesday 7th of June 2022, Confetti Institute Of Creative Technologies, Nottingham [NG1 3LL]
Thursday 9th June 2022, Tileyard, Kings Cross, London [N7 9AH]
From all new innovations, design and components, every aspect of the A Series contributes towards exceptional sound quality and improved technical advancements when compared side by side with similar models of the preceding AX Series. But don't just take our word for it – you can be one of the first to hear the entire range for yourself!
BUILT TO REVEAL
ADAM Audio A Series monitors deliver highly accurate, transparent sound across a full array of speaker sizes and configurations. The option of integrating Sonarworks' SoundID Reference software offers you the chance to minimize your rooms acoustic anomalies. Innovative technologies included in ADAM Audio's A Control software further allow you to personalize your sound for your space. With upgradeable firmware and extensive aftercare, these monitors will continue to deliver exceptional results for years to come.
THE EVENT
In addition to in-depth listening sessions in a professional studio environment, the ADAM Audio team will walk you through the technologies and innovations you can find in our new A Series Monitors, and we look forward to answering any questions you may have. Attendance to the event will be on a first come, first serve basis. Confirm your attendance via the RSVP form below and be one of the first to witness the brand-new ADAM Audio A Series range in action.
Please read our COVID Safety Measures before completing the RSVP form. Also, please be aware, that, when attending one of the events, you enter an area where photography, and video recording may occur. By completing the RSVP form, you consent to such.
Itinerary for UK Launch Events
4:30 pm – Doors open
5:15 – 6:30 pm – Technical presentation by ADAM Audio's Head of Product, Andrew Goldberg
6:30 – 8:30 pm – Listening sessions
8:45 pm – Evening closes
RSVP Form
Please register for one of the upcoming UK launch events via this form:
UK A SERIES LAUNCH EVENTS
DATES
More dates and locations will be confirmed soon. Stay tuned!
07.06.2022 - Confetti, Nottingham, UK

6-10 Convent St, Nottingham NG1 3LL
09.06.2022 - Tileyard, London, UK

Tileyard Road, Kings Cross, London N79AH
COVID-19
Safety Measures for UK Launch Events
To ensure the health of all guests and staff at our events, we have the following safety measures in place as informed by current UK government guidance on COVID.
This information is subject to change, in line with any updated Government advice. By submitting your RSVP request, you agree to these safety measures.
Do I have to RSVP?

Yes. All attendees need to RSVP via the form on this landing page. Without a reservation and correct contact information, access to the venue will not be granted.

Will I have to show an NHS Covid pass to enter?

No. From Thursday 27 January 2022, you will no longer have to show your NHS Covid pass at venues and events by law.

Cleaning and ventilation

Our ventilation systems will continue to use full fresh air. Enhanced cleaning schedules will remain in place throughout the venue.

Prior to travelling to the event

If you have any symptoms of Coronavirus such as a new, continuous cough, a high temperature or a loss of, or change in, your normal sense of taste or smell please do not attend (even if very mildly), you should immediately self-isolate and arrange for a PCR test.
If you're told to self-isolate by NHS Test and Trace or the NHS COVID-19 app you are to follow the guidance given and not visit.
We are advising visitors to take a personal lateral flow test (in line with the current Government campaign for all to undertake twice weekly testing to protect the wider community). Please take all appropriate action following any positive result. Guests are advised they should not attend if they receive a positive result at any point prior to when they are due to attend an event.
Do I need to wear a face covering at the venue?

From Thursday 27 January 2022, face coverings are no longer required. However, the Government recommendation is that face coverings are worn in crowded indoor spaces where you may come into contact with people that you do not usually meet.

Will there be hand sanitizer available?

Yes, hand sanitizers will be readily available.

What other measures are in place?

We're encouraging visitors to use the OnTapp app to order drinks to reduce queues at the bar.
Regular cleaning of service equipment, surfaces and utensils.