ADAM Audio Nominated for 2018 TEC Awardfor the new S Series Range of Studio Monitors
Industry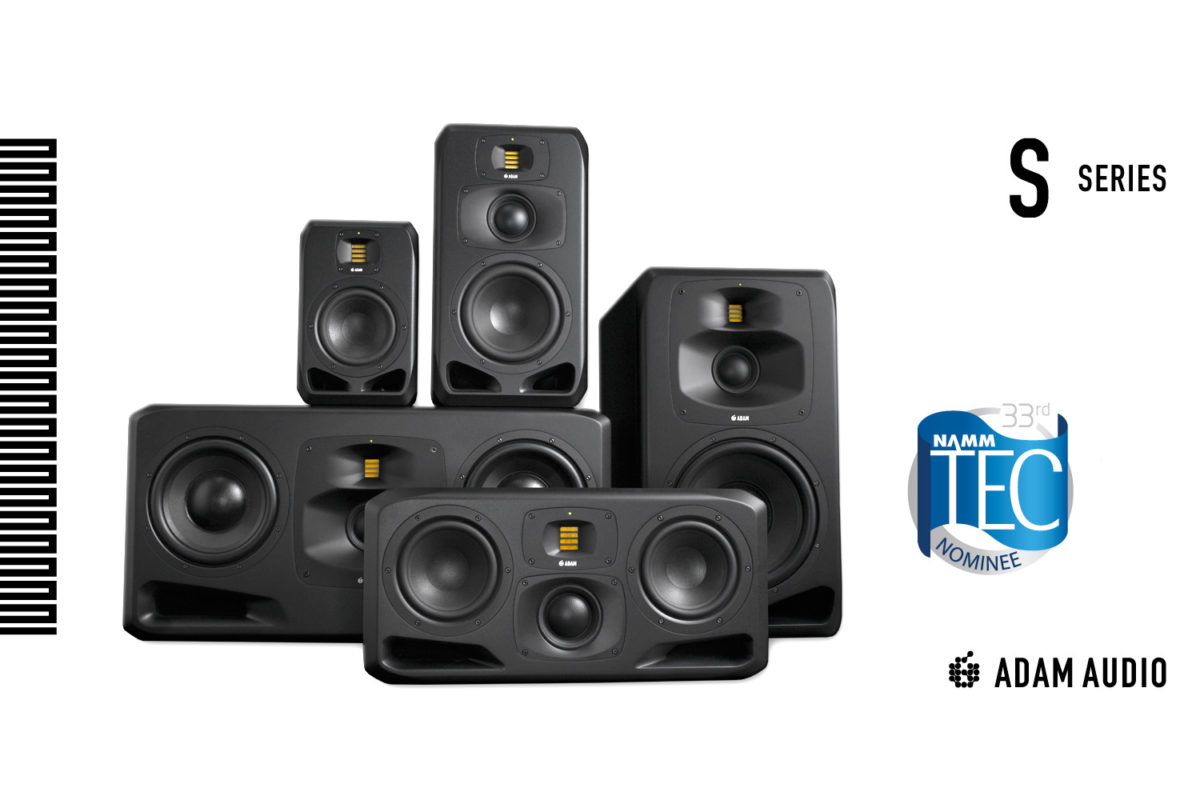 ADAM Audio's S Series is nominated for the 2018 TEC Awards
ADAM Audio is proud to announce that it has been nominated for a 2018 Technical Excellence & Creativity (TEC) Award for outstanding technical achievement in product design, innovation and production for its new flagship range of nearfield, midfield and main studio monitors for audio recording and production professionals, the S Series. Presented annually by the NAMM Foundation at The NAMM Show, the NAMM TEC Awards recognizes the individuals, companies and technical innovations behind the sound of recordings, live performances, films, television, video games and other media.
Nominated in the TEC Award category for Best Studio Monitors, ADAM Audio's S Series as the result of classic ADAM craftsmanship combined with the latest engineering innovation, modern materials and advanced DSP. As a result, the new 3rd generation S Series range of monitors offers stunning clarity, low distortion, new woofer and mid-range driver designs and the debut of the S-ART tweeter, a newer, even more precise version of ADAM Audio's renowned X-ART hand-built tweeter.
The S Series is comprised of five models of increasing size, the S2V, S3H, S3V and the largest-of-the-range S5H and S5V. Innovations created specifically for the S Series include: completely new, highly efficient long throw ELE™ Extended Linear Excursion woofers; one-piece DCH™ dome/cone hybrid mid-range driver for excellent dispersion, low distortion and high power handling, newly designed waveguides for the tweeter (and the mid-range driver on the largest models), and a high-power DSP engine, based on the very latest generation of SHARC chips, which provides crossover optimization, voicing options, and digital connectivity, providing expansion potential. The S Series also marks the debut of ADAM Audio's S-ART tweeter, the latest iteration of the renowned accelerated ribbon design for which the company is famous.
"In developing the new S Series range, ADAM Audio has employed the best engineering practices, modern materials technology and advanced DSP in order to offer our clients the latest innovations and advancements in a monitor series," says David Angress, Chairman of ADAM Audio. "We are very honored to receive this nomination for and recognition from the TEC Awards."
About the TEC Awards
Held during The NAMM Show in Anaheim each year, The NAMM TEC Awards are the "Oscars" of the pro audio and sound recording industry. It's where the most outstanding products in the worlds of music making, live performances, video games, television and films are recognized and where creative luminaries are celebrated for their musical contributions. TEC Awards nominations are made by a panel of industry professionals and voted upon by members of various professional organizations and audio industry websites. Nominees are selected in 31 categories: Technical Achievement (23 categories) and Creative Achievement (8 categories). Eligible nominees are those projects or products that represent superior accomplishment in their respective fields. The nomination announcements follow a two-month call for entries of standout technical and creative products and projects that have made a significant impact on modern sound and music. A panel of respected industry voters from pro audio publications as well as members of professional music, technical and creative organizations, along with select NAMM members carefully evaluated each entry before selecting the nominees. The winners' will be announced during The NAMM Show on Saturday, January 27 in Anaheim, California.