Remote Software
A Control 1.0
Thank you very much for choosing the new A Series! Use your monitors to the fullest with A Control remote software.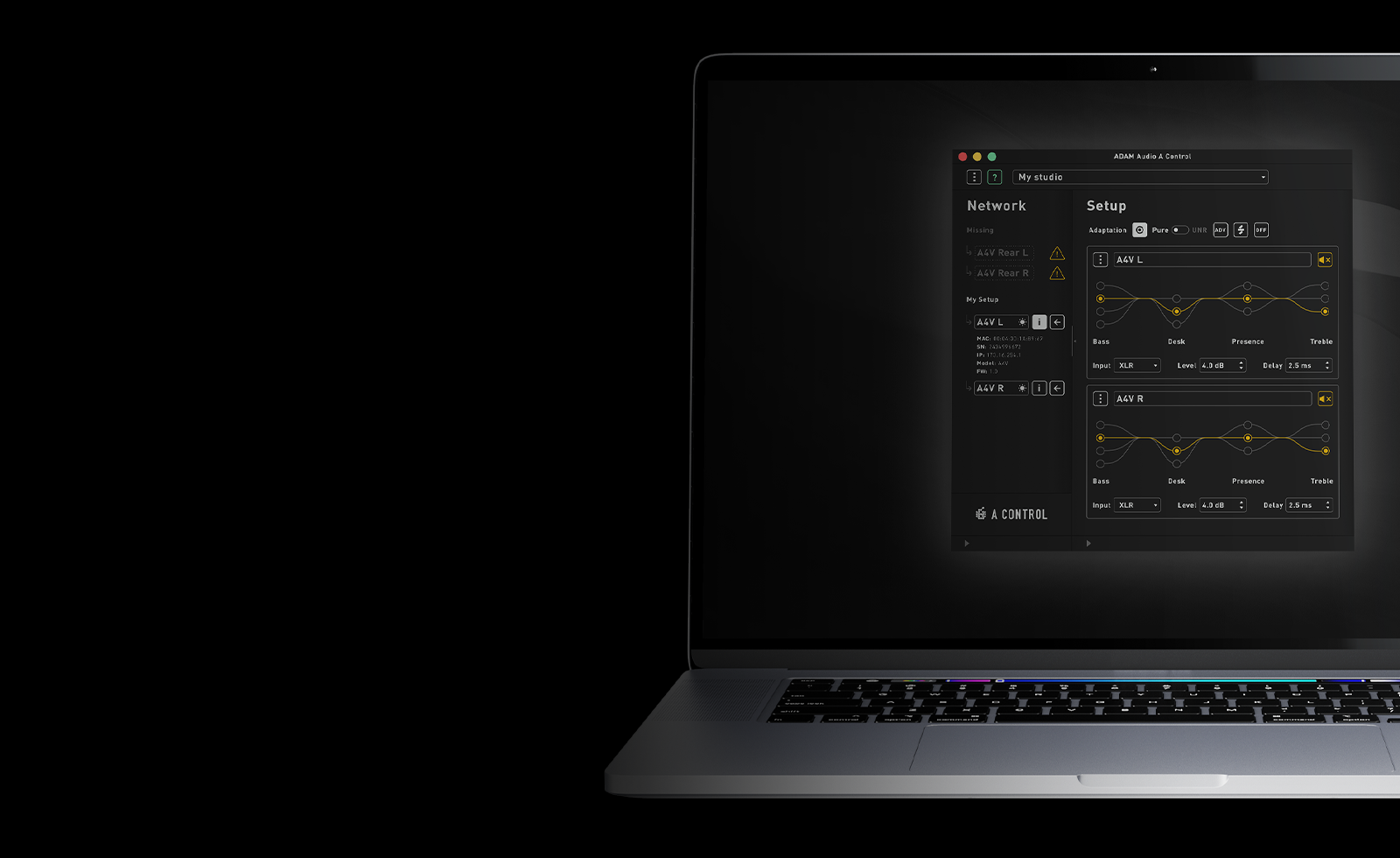 Please request your download link via the form below.
Important Information
This is version 1.0 of A Control. The software has undergone extensive testing to prevent bugs from happening. However, should you experience any inconveniences we welcome your feedback and any bug reports via support@adam-audio.com
We recommend using A Control in closed/dedicated networks (computer directly connected to loudspeaker(s) or via a network switch).
Release notes
System Requirements
MacOS 11, MacOS 12, MacOS 13: To run A Control on M1 and M2 processors, "Rosetta" is required.
Windows 10, Windows 11.
A Control 1.0 now ships with the latest firmware version "17APR23", which had been available separately. Besides general stability improvements, A Control 1.0 incorporates the following changes:
ADDED firmware update via A Control Software
ADDED automatic notifications if an update is available
ADDED copy / paste functionality for "Advanced" adaptation mode
ADDED factory reset functionality
ADDED logging for technical support
IMPROVED speaker discovery – Bonjour installation not necessary anymore
IMPROVED maximum delay time now 10 ms instead of 5 ms
IMPROVED delay step size to 0.1 ms
IMPROVED loudspeaker reboot not necessary to save changes persistently
IMPROVED general stability
FIXED "Off" mode bypasses all EQs
The integrated firmware version "17APR23" provides improved robustness of the monitoring system when connected to busy networks, better limiter response, improved operability via A Control software and various smaller fixes and improvements:
FIXED firmware crash in specific conditions on busy networks
IMPROVED limiter behaviour
IMPROVED start-up times
IMPROVED mDNS message handling
IMPROVED processing speed of incoming control data
ADDED power down detection
ADDED mute on reboot to avoid audible artefacts
KNOWN ISSUE updating the firmware via a WiFi connection may lead to an update failure. The speaker will still be functional in this case and the process can be simply repeated.
Previously stored settings on the loudspeaker remain intact when updating your A Series loudspeakers with the latest firmware.
By requesting the download link, you agree to the End User License Agreement (EULA) and use A Control at your own risk . For further details, please review the End User License Agreement (short: EULA).
The Form