Gearspace Tests the S3V Studio Monitor5 Out Of 5 Stars!
Reviews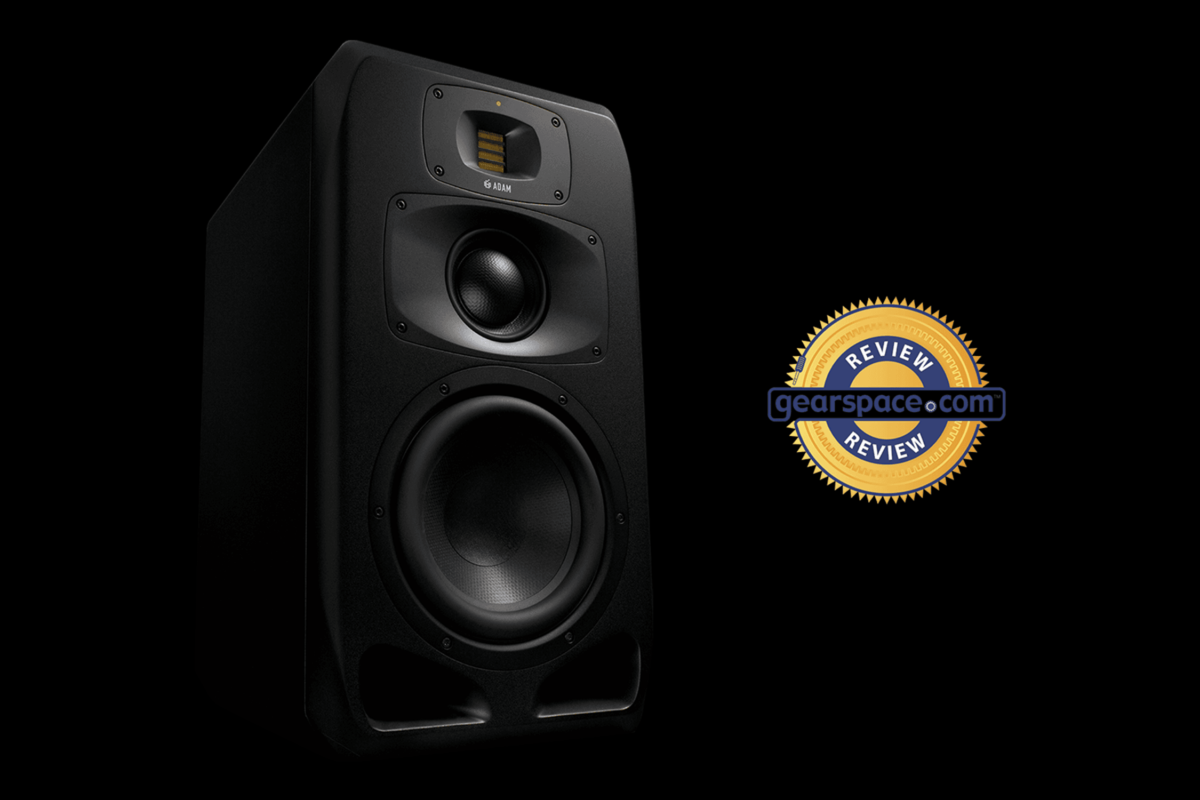 The renowned pro audio website took the high-end monitor to the test and is fully convinced
Gearspace's Arthur Stone set up the ADAM Audio S3V midfield monitor in his studio and tested them all the way through. After intensive listening, he gave the monitor full score in all four categories:
"The S3Vs clearly let you know there's an issue or sonic defect in the programme material – but not in a bad way."
"They are quiet (zero self-noise or 'electro-magnetic buzz aura)', non-fatiguing, pleasurable, and stress-free. An honest politician."
"I knew the S3Vs would have an extra low octave over […] most near-field monitors but it sounded like two octaves. Earth-shaking (if required) with zero distortion. This is new territory for me."
"The sound of ADAM's conversion is very, very good and specifically-matched with the DSP to the cabinet."
"Part of this muscle-power is evidently in the cabinet design, particularly the weight, which enables the S3V to push out the excitatory energy into the studio environment… to be heard by ears and felt by the body. At no point did the cabinet appear to strain or tremble. Firm. Anchored. Still."
"At greater SPLs the S3Vs can shake the room and be heard across an entire apartment block. Small rave; no problem. At perfect fidelity – without breaking a sweat. The linear quality (of tonal character and dynamics) from low-level to banging was really useful in practice. At no point did my ears hurt; zero fatigue apart from natural tiredness alleviated by breaks. The system remained on, often 24/7, for a few months with zero issues or heat. Not even a pop!"
"Sound quality: 5/5 Stunning. Powerful. Vermeer-esque. Linear. Perfect. Enjoyable and pleasant on the ear. Well-judged bass and not at all harsh."
"For the musician, monitoring with the S3Vs is a real treat as there's no guesswork; everything is defined, instruments – even VST – come alive in their full glory"
"Although the S3Vs can be an equivalent to a small high-quality earthquake they are also precise and present at lower volumes and I was able to use them 24/7 in close range with no loss of oomph or fatigue-inducing proximity; but what you hear is completely linear – just quieter or louder."
"There is less distortion, more detail, a larger soundstage, palpable dynamics that can take your breath away. The S3V adds a sense of realism to music and brings awareness of any problems without punishing the ears."
"Excellent value given what the S3V can do for one's enjoyment, workflow and career. Nothing flimsy about the S3Vs; solid build with superb engineering and finish."
Read the full review here.