A5X Review by german online magazine "Amazona.de"
Reviews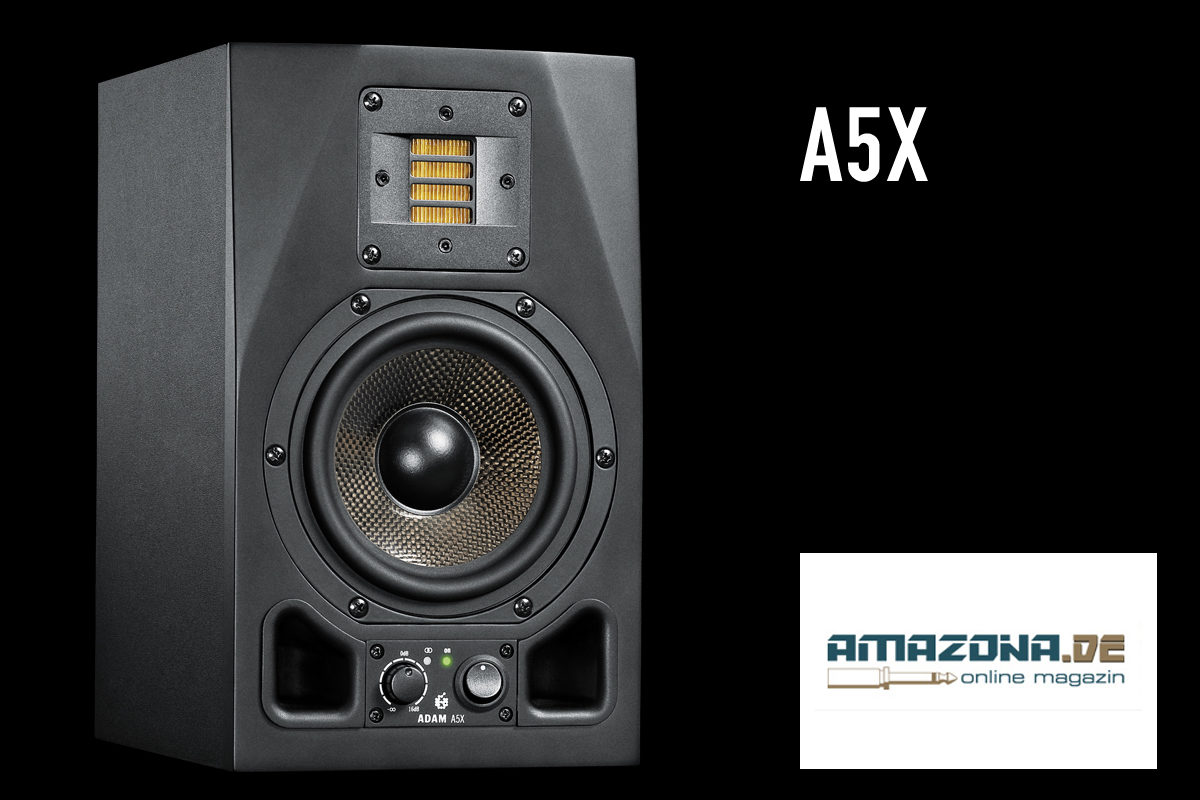 Berlin, February 2, 2012
ADAM's second smallest AX model, the A5X, has recently been reviewed by german online magazine AMAZONA.de. Please read some passages of the review below.
Sound
Regarding the bass range down to 70 Hz the A5X has got audibly increased power, which is now determined by the maximum travel of the woofer known from the A5 and not by the limiter-confined acoustical performance of the power amp. […]
The coupling of the woofer with the own 'Uber-tweeter' has turned out better compared to its predecessor. The mid range sounds remarkably open and differentiated. The already wide 'stage' of the A5 has now increased in noticeable depth with the A5X.
In the mid and treble range the A5X is the ultimate benchmark and reveals unheard details of own recordings or your record collection at home that many monitors conceal or that would only be noticeable with the help of headphones. Unwanted details are amongst them: Digital clicks or inadvertently cut up reverberation tails on single tracks, breathing noise, compression artifacts or … signal noise. But: The A5X only sounds harsh or hissy when the input signal exhibits such frailties. However, whom this is too much or too little can adjust the level of the X-ART tweeter on the rear side. […]
Imperfect multitrack mixes with artificially produced but inconsistent ambience sound rather two-dimensional on the A5X. To put it positively: The A5X invites you to make it better. For someone who wants to create a 'natural sound impression' the A5X delivers exact feedback for the setup of an acoustic stage. Music that has been recorded in natural spaces with only a few but high-class microphones will be reproduced with breathtaking actuality and will almost make the speaker disappear. […]
Conclusion
The A5X is a compact studio monitor with a unique and high definition sound character. […] The ADAM A5Xs' sonic capabilities will unfold first and foremost in acoustical music work. The monitor will give feedback about the smallest changes that are done during the mix and will relentlessly reveal musical and technical shortcomings without being fatiguing in long studio sessions.
The ADAM A5X is one of the few reasonably priced compact monitors in the market that will not only satisfy musicians but at the same time will also meet the professional requirements of commercial studios, broadcast vans and stations.
Please read the full german review here on the AMAZONA.de webpage.