The S SeriesNew!
Industry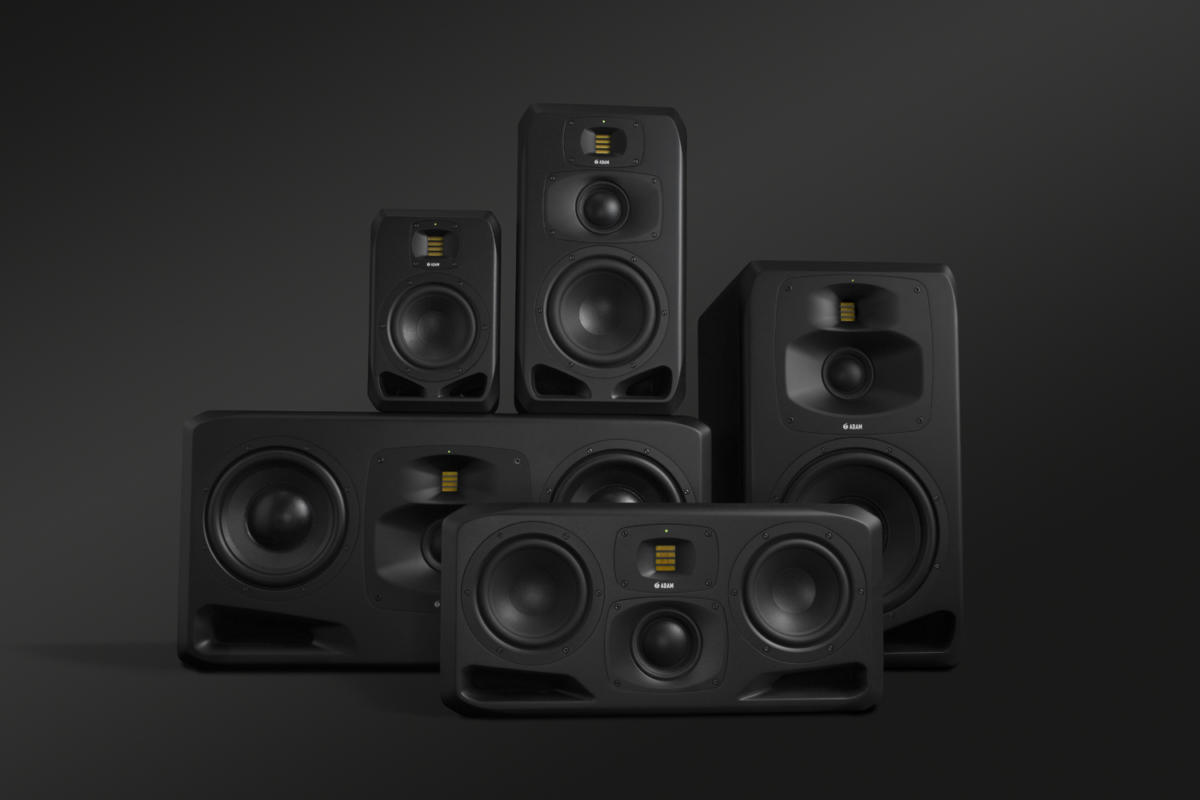 ADAM Audio Introduces the S Series Range of Studio Monitors
ADAM Audio is proud to announce the introduction of the S Series, their new flagship range of nearfield, midfield and main studio monitors for audio recording and production professionals. The result of classic ADAM Audio craftsmanship combined with the latest engineering innovation, modern materials and advanced DSP, the new 3rd generation S Series range of montiors offers stunning clarity, low distortion, new woofer and mid-range driver designs and the debut of the S-ART tweeter, a newer, even more precise version of ADAM Audio´s  renowned X-ART hand-built tweeter.
Groundbreaking Innovations
The S Series is comprised of five models of increasing size, the S2V, S3H, S3V and the largest-of-the-range S5V and S5H. Innovations created specifically for the S Series include: completely new, highly efficient long throw ELE™ Extended Linear Excursion woofers; one-piece DCH™ dome/cone hybrid mid-range driver for excellent dispersion, low distortion and high power handling, newly designed waveguides for the tweeter (and the mid-range driver on the largest models), and a high-power DSP engine, based on the very latest generation of SHARC chips, which provides crossover optimization, voicing options, and digital connectivity, providing expansion potential. The S Series also marks the debut of ADAM Audio's S-ART tweeter, the latest iteration of the renowned accelerated ribbon design for which the company is famous.
S Series: Stunning Clarity, Super-Low Distortion
"Under its new management, ADAM Audio has reenergized every aspect ot the company, and our R&D team has been working behind closed doors to create this 3rd generation S Series line," says David Angress, Chairman of ADAM Audio. "We have employed best engineering practices, modern materials technology and advanced DSP to create the new S Series, a range of studio monitors that offer stunning clarity and super-low distortion, utilizing new woofers and midrange drivers and the S-ART tweeter – an even more precise version of ADAM Audio's famous hand-built tweeter."
The cabinets of the entire S Series Line are solidly constructed from thick, vibration resistent material to reduce unwanted resonance and coloration, even at the highest listening levels. The design also features large-radiused rounded edges, which help to minimize unwanted edge-diffraction effects. The robust finish of the S Series line is built to offer extra protection to withstand the stresses and strains of daily life in a recording environment.
David Angress, Chairman at ADAM Audio, about the new S Series:
Technical Innovations:
The S-ART tweeter comprises the latest iteration of ADAM Audio's respected folded accelerated ribbon design, produced to tighter tolerances than ever before, and featuring a newly designed, solid aluminum waveguide (HPS), which makes dispersion more consistent and imaging more stable over a wider area. The S5H and S5V models feature an additional waveguide on the DCH mid-range driver.
Custom-built ELE bass driver created specifically for the S Series, using ADAM Audio's engineering design experience and the latest computer modeling techniques.
Custom DSP engine implements perfect crossovers for optimal frequency response and maximum dynamic range, in addition to EQ options and presets for in-room optimization.
The New DCH midrange driver: A self-developed, groundbreaking one-piece hybrid dome/cone design, offering the sonic advantages of both driver types, with minimal partial resonances
S Series cabinets are weightily constructed from thick, heavy material to reduce susceptibility to vibrations, while their rounded edges help to minimize unwanted edge-diffraction effect.
S Series Bass Reflex tubes and ports have been redesigned to reduce friction- and turbulence-related coloration and incorporate additional anti-resonance technology.