T Series Nominated for 34th TEC Awards
Industry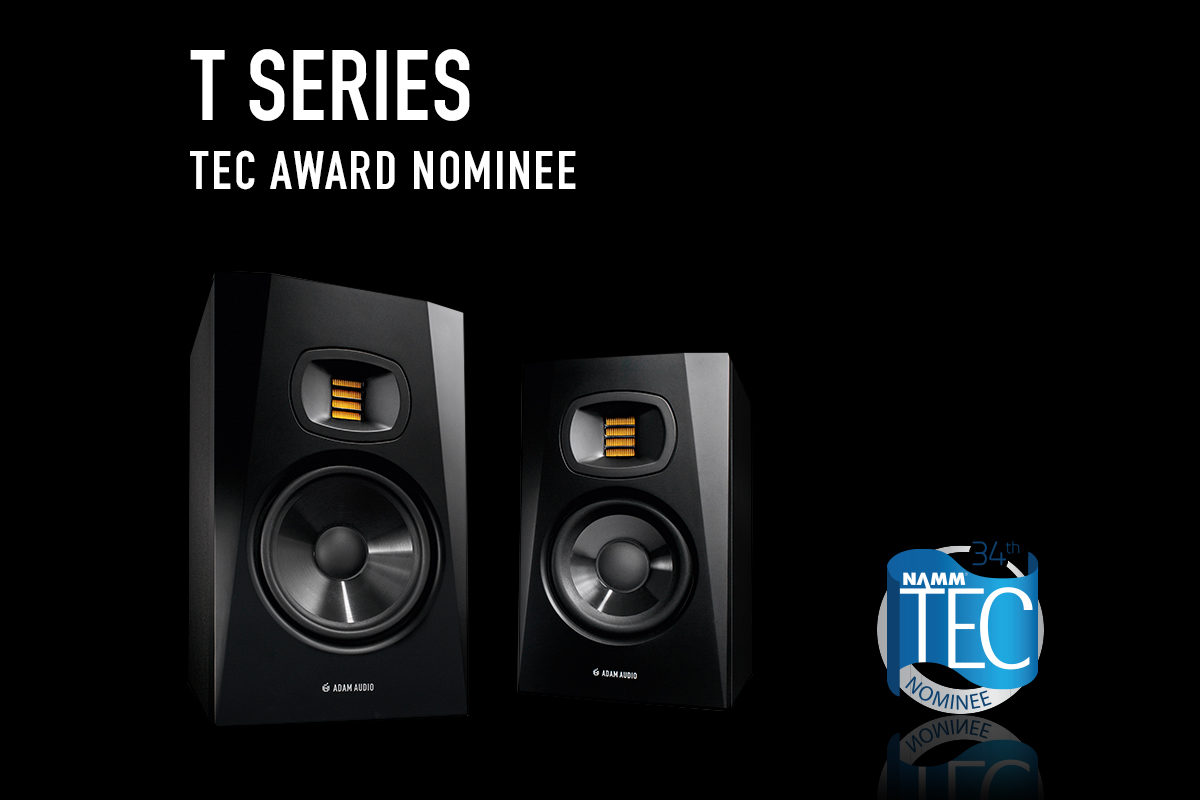 ADAM Audio's T Series is nominated for the 34th TEC Awards
ADAM Audio is proud to announce that the new T Series has been nominated for a 2019 Technical Excellence & Creativity (TEC) Award for outstanding technical achievement in product design, innovation and production. Presented annually by the NAMM Foundation at The NAMM Show, the NAMM TEC Awards recognizes the individuals, companies and technical innovations behind the sound of recordings, live performances, films, television, video games and other media.
The T Series is ADAM Audio's new range of studio monitors for aspiring audio recording and production professionals that incorporates and builds on the results of the extensive research and development efforts during the engineering process of the S Series. The two models, T5V and T7V, are affordable, professional 2-way nearfield designs, offering extremely high performance. Both models use the same U-ART high-frequency driver (Unique Accelerated Ribbon Tweeter); feature a beveled cabinet design, rear-firing bass reflex port, built-in DSP-controlled driver crossovers and equalization, and multi-way analog connections. The design for the T Series' new U-ART 1.9" tweeter is based on that used in ADAM Audio's X-ART and S-ART tweeters employed respectively in the company's iconic AX Series and S Series powered monitors. The U-ART tweeter is mated to a precision waveguide with the same dispersion-control attributes as the High Frequency Propagation (HPS) waveguide used in ADAM Audio's flagship S Series monitors.
"Our engineers have mastered the challenge that was put in front of them: To develop a range of nearfield monitors, that imbodies the very qualities of sound reproduction we are know for in the world – at a price point that has been unheard of from ADAM Audio. With the T Series they absolutely delivered",  says Christian Hellinger, CEO of ADAM Audio. "With this nomination we are honored and very happy to see the work of our team being acknowledged by the jury of the reknown TEC Awards."
About the TEC Awards
Held during The NAMM Show in Anaheim each year, The NAMM TEC Awards are the "Oscars" of the pro audio and sound recording industry. It's where the most outstanding products in the worlds of music making, live performances, video games, television and films are recognized and where creative luminaries are celebrated for their musical contributions. TEC Awards nominations are made by a panel of industry professionals and voted upon by members of various professional organizations and audio industry websites. Nominees are selected in 31 categories: Technical Achievement (23 categories) and Creative Achievement (8 categories). Eligible nominees are those projects or products that represent superior accomplishment in their respective fields. The nomination announcements follow a two-month call for entries of standout technical and creative products and projects that have made a significant impact on modern sound and music. A panel of respected industry voters from pro audio publications as well as members of professional music, technical and creative organizations, along with select NAMM members carefully evaluated each entry before selecting the nominees. The winners' will be announced during the Winter NAMM Show on Saturday, January 26th 2019 in Anaheim, California.