Gergõ Hájer [Omega Diatribe]goes full blast in the studio
ADAM Users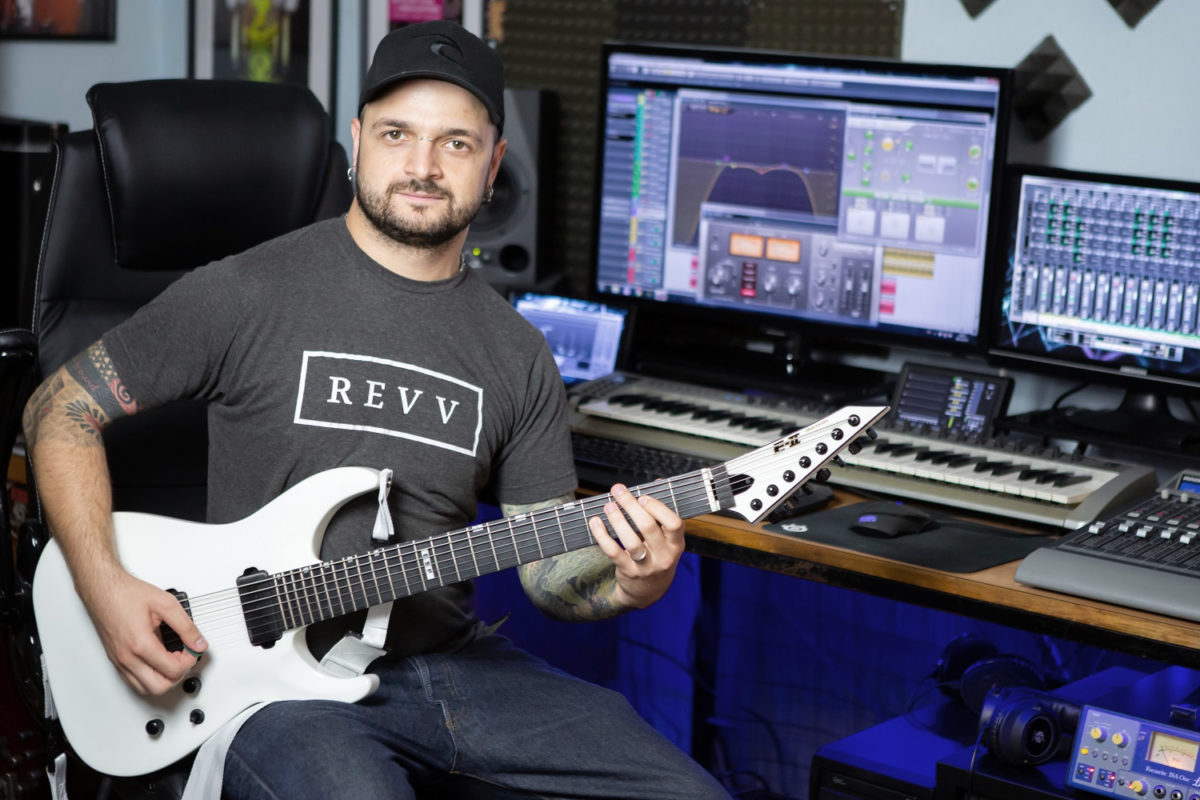 The award-winning Hungarian guitarist on using the ADAM Audio SP-5 and A7X to attain maximum depth, quality, and noise.
When Hungarian guitarist Gergõ Hájer isn't shredding for the metal band Omega Diatribe, he can be found in his own studio producing for other local talents. Since helping establish the award-winning five-piece act, Hájer's career has seen him tour the world with his bandmates, releasing four studio albums along the way, the third of which — Trinity — was awarded 'Best Album of the Year' at the Hungarian Metal Awards in 2018.
It was after graduating as a sound engineer back in 2011, that Hájer decided to set up a production space with one of his bandmates in the Hungarian capital. It's here at "515 Studio" that Hájer works with movie and commercial sound recordings, in addition to mixing and mastering metal projects.
"We have one mixing and mastering room and an external recording and rehearsal room if we have to record loud instruments," Hájer says about his recording setup. In addition to the fixed space, the Hungarian producer also has a mobile setup that's used for external recording needs. For this rig, the engineer uses the ADAM Audio SP-5 headphones for feedback and quality assurance.
"The SP-5 has been such a game-changer for me," Hájer says about the headphones. "It's my partner in crime while recording in external environments or tracking in the studio. I'm also using them every day to check my mixes and masters."
In the studio, Hájer also relies on ADAM Audio A7X nearfield monitors for his mixing needs. "For me it's crucial to hear as much information behind the music as possible," he says about the speakers. "It's also very important for me to hear what's exactly happening on the really low frequencies."
It was because of this the metal-guitarist recently swapped out his old system for ADAM Audio monitors. "The X-ART tweeters and the ultra-massive low frequencies completely blew my mind," he says about his choice in monitors. "I immediately felt that I had found the right studio monitor for my ears and workflow."
Hájer is not the only one impressed with the ADAM Audio sound. So are his customers. "My clients are thrilled about the sound quality and massiveness of the A7Xs. Some of them also want to listen to their favorite records on it in order to hear the hidden information which they're unable to on their own monitors."
Luckily his bandmates are also happy with the studio sound. Omega Diatribe, who recently finished recording their fourth album Metanoia in the studio, can be found touring throughout Europe with Hájer front and center, doing as always what he does best.