Thom Russochooses S3V monitors for his WoomRoom
ADAM Users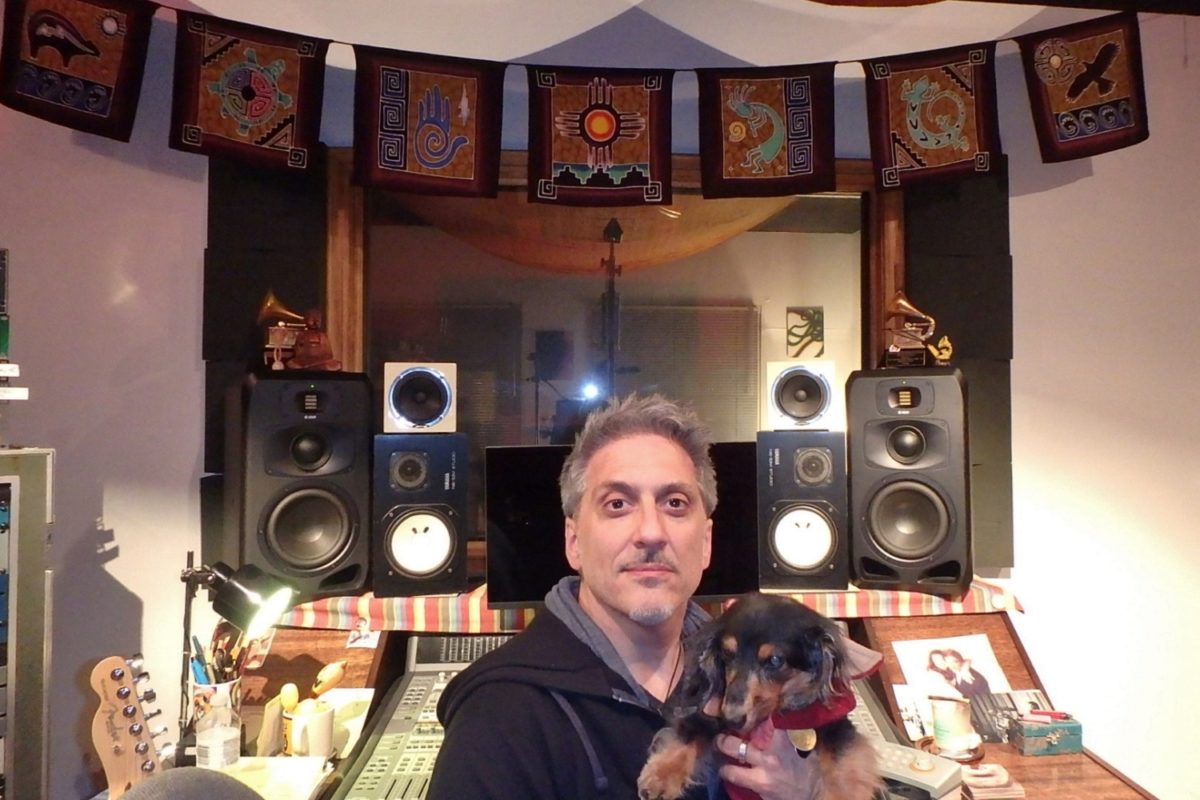 16-Time GRAMMY® Winner Thom Russo Chooses ADAM Audio S3V Monitors for his WoomRoom Private Professional Studio
Thom Russo's credits span from Tony Bennett to Macy Gray, Audioslave to Johnny Cash, Maná to Michael Jackson. Even more strikingly, his production and mixing skills have garnered him three Grammy® Awards and thirteen Latin Grammys, including Best Latin Pop album (Maná, Drama y Luz) in 2011 and Record of the Year (Juanes, Me Enamora) in 2008. When it came time to update the monitors in his private professional studio, the WoomRoom, he decided on a pair of ADAM Audio S3V active monitors after extensive listening to every brand he could get his ears around.
"I got the S3Vs just a few months ago," he says. "I had been shopping for new speakers in the nearfield-midfield spectrum and went over to Vintage King in L.A.  Monitor shopping can be an intimidating process, but it's also an exciting box to open, for anyone who calls themselves a producer, mixer, or engineer.  Vintage King has an absolutely pristine listening room, and it enabled me to have a very accurate comparison test.  Nowadays, it seems that every month there's some new company releasing some new impressive speaker line. Eventually, you've got to make the best decision and one that works for you."
Making that decision to go with the new ADAM Audio S Series may have been easier because the brand wasn't entirely new to Russo. "I've been an ADAM user for quite some time now. I guess it's been a good ten or 15 years, and this is my third or fourth pair," he says. "I worked on the first two Audioslave records on ADAMs, and I believe my first pair was the S2.5A. Once you are accustomed to the fascinating ADAM tweeter response, I think it's something that is hard to part from. It really works."
"I'm hooked on the ADAMs. Discovering the perfect monitors is like making the perfect marriage, and now that I found them, I am certainly done with the world of speaker dating!"
Russo's first priority was accurate translation of his mixes to other listening systems. "I just finished the final mixes on an LP I produced and mixed, and used the S3Vs for the entire production and the translation has been magnificent," he beams. "I took the mixes to other obvious places like the car, the house, various Bluetooth speakers and stuff like that, and immediately I knew the S3Vs were going to be a stronghold in my audio toolbox."
"It's one thing to like a pair of speakers, to enjoy how they sound, but it's totally other thing to be able to use them as a tool, where the translation just works," he adds. "The 'car stereo check' is always going to be there for all of us—we all do that— but if you can work on speakers and be confident the mix will make all the transitions in the current listening market ( including headphones,) that's the testament to being a true audio tool."
Russo is also a fan of the S3Vs' onboard DSP, which optimizes the crossovers as well as equalizing and tuning the monitors to the room for a flat frequency response. "ADAM did their homework on that function for sure, and the flexibility blew me away," he praises. "If you're creating a line of speakers nowadays, I think DSP is almost a necessity. Currently, most folks are working in compromised acoustic environments. My own studio is by no means a perfect audio environment, though I've done some work on it. But we are past the days of working in pristine studios where speakers are custom-installed in acoustically perfect, balanced environments. But to have the flexibility of taking a speaker anywhere and being able to easily adjust the curve as needed ( with a USB cable and the ADAM software,)  or to perhaps tune them for wall proximity, corner proximity, things like that: that flexibility is simply amazing."
Russo also found that the S3Vs' three-way design, which employs a 9" ELETM honeycomb woofer and 4" DCHTM, dome/cone hybrid for midrange in addition to ADAM's signature S-ARTTM folded-ribbon tweeter, gave him both unbiased reproduction and all the bass he needs. "I of course won't name names, but I listened to many other high-end monitors where the midline curve was just super-scooped;   I'm talking speakers from major companies with fantastic reputations," he says.  "I've also never been much of a subwoofer fan because for me, it can be overkill. The S3Vs give me enough information across all bandwidths and allows me to make accurate decisions in all the ranges."
"For my personal studio, this is my biggest speaker yet. They just continue my love affair with the ADAM sound," he wraps up. "After doing some scrutinous rounds of listening at Vintage King and trying three or four other speakers in my studio, Scott Esterson from ADAM brought the S3Vs over and we dialed in an absolutely gorgeous curve. I'm hooked on the ADAMs. Discovering the perfect monitors is like making a great marriage, and now that I found them, I am certainly done with the world of speaker dating!"
To learn more about Thom Russo, visit www.thomrusso.net.