SSR Londonbase their sessions on ADAM Audio studio monitors
ADAM Users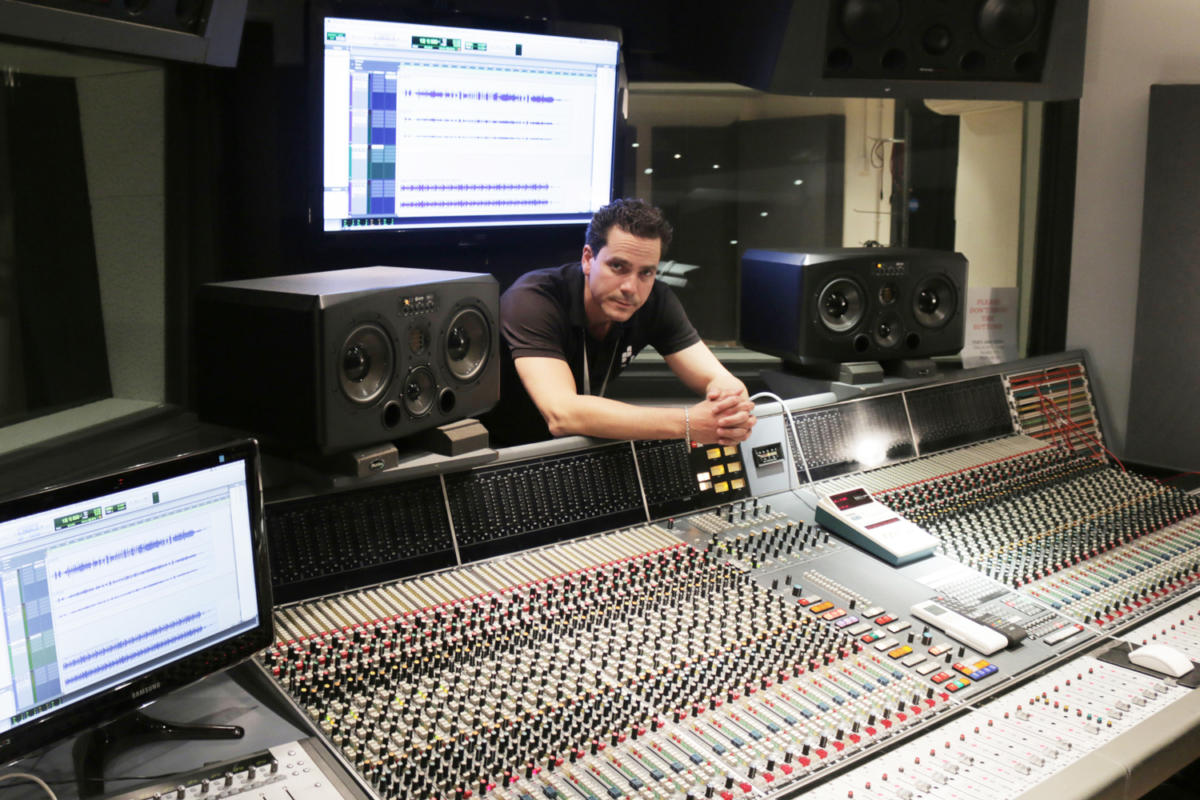 Students at Camden's School of Sound Recording learn their profession on ADAM S3X-H speakers
The London branch of SSR was launched in Camden in 2010. The campus houses a Neve VR studio that was designed for recording, mixing and mastering in mind. A great deal of care went into designing the acoustics and the space to enhance the studio environment to a very professional level. The Neve console was brought from Park Gate Studios which got redesigned and recapped to suit professional demands. This particular console was used by The Cure for two albums as well as by Paul McCartney, Phil Collins and many other artists back in the 80's.
20 years of experience in engineering
"Myself and the students at SSR have done hundreds of sessions in this studio since 2011 with great artists and bands from all over the the world covering Rock, Electronica, World Music, Flamenco, Jazz, Classical Music and more", Jonathan Espinosa, Head of Audio at SSR London, says. Hailing from Madrid, Spain, Jonathan is a highly respected engineer and producer with over 20 years of experience of recording, mixing and mastering in recording studios. Previous clients include The Pogues, Enya, Defected Records, Ministry of Sound and Sony, along with his own productions under his Minology alias. Jonathan heads up the audio engineering courses at SSR in London, one of the UK's leading audio education institutions. Working out of SSR London's Neve console equipped flagship studio, Jonathan passes on his knowledge and experience to the SSR students, helping to produce the next generation of talented audio professionals.
Relaxed atmosphere at SSR
"Most of the recording, mixing and mastering is done in the Neve studio although there are editing suites as well as other studios including an ICON D-Control and a Soundcraft Ghost studio where engineers and students can prepare their sessions before the big day in the Neve", Jonathan adds. Our studio has a very relaxed atmosphere with great access to two fantastic sounding live rooms for acoustic isolation if needed. The acoustics are very neutral allowing the engineer to really capture every single detail coming from our S3X-Hs with a very wide sweet spot. Engineers have complete eye contact through the live rooms which helps communication with musicians as well."
Most important: Hearing transients, stereo imaging and a wide sweet spot
Asked about which problems he had most encountered in his studio career, Jonathan replies: "I have been producing and engineering records for over 20 years now and have come across with amazing monitoring systems as well as really bad ones. Most of the problems I had in the past while working in the studio were related to a lack of depth in the stereo field, detail and transparency. Being able to hear transients is very important, specially across the whole frequency range. Likewise a very good stereo imaging is something that is very difficult to get sometimes and most important is the trust you put on certain monitors in terms of mixes translating very well outside the studio. These factors are the ones I am always seeking when trying new monitors. A good speaker to me has a fast transient response, especially in the low end, a wide sweet spot, detail across all frequencies and also transparency and mojo. Some monitors I have used are too surgical and not inspiring. Also it is very important to me for instance in a three-way system for the whole sound to be coherent coming out of each single driver as opposed to detached and dislocated due to poor crossover designs. Amplifiers are also very important and make a big difference in how the drivers perform.
Avoiding ear fatigue with the S3X-H speaker
The first time I came across ADAM monitors I was using  S3A's which I instantly felt in love with. Ribbon technology has been around for a long time and previous monitors I used in the past using this technology although they sounded smooth and relaxing, I always felt they were lacking definition and detail. In the end, I ended up buying a pair of S3A's which I have been using for 10 years now, feeling very comfortable with them as my mixes translate amazingly well and I enjoy every single moment working with them.
The reason why SSR London decided to invest in the new S3X-H's was pretty much based on my previous experience using S3A's. I always wanted to try out the new S3X-H's as I know the S3A's very well and the results were very impressive when we first got them in the studio. It took a while for them to break in and now they sound just stunning. I spend many hours in the studio being exposed to music while recording, mixing and mastering and ear fatigue is something that occurs when long periods of time working with monitors. With ADAM monitors I can withstand many hours in the studio without getting very tired from listening to music. Obviously all comes down to how loud you monitor while working as this has a massive impact to ear fatigue. Another reason why we chose these monitors is the fact that they are very detailed, accurate and very precise to stereo imaging making our Neve studio a very good listening environment for any situation. We have had very good feedback about our S3X-H's from professional musicians and engineers as well as our students.
ADAM Audio: An important part in the dual monitoring system
The studio is also equipped with Yamaha NS-10's alongside the ADAMs which allows engineers and clients to compare their mixes on two different sets of monitors, which is common practice in professional studios. For this reason having the S3X-H's setup in a dual monitoring system does play an important part in the creative process for clients as it helps with referencing and translation and allows them to better evaluate their recordings and mixes and make tweaks accordingly. Some people are not familiar with particular monitoring systems and may find themselves a bit 'lost' when it comes to mixes translating outside the studio, which is normal, but the second time they come down for a playback session we hear nothing but good feedback about them!