Radio RTM Rohor
ADAM Users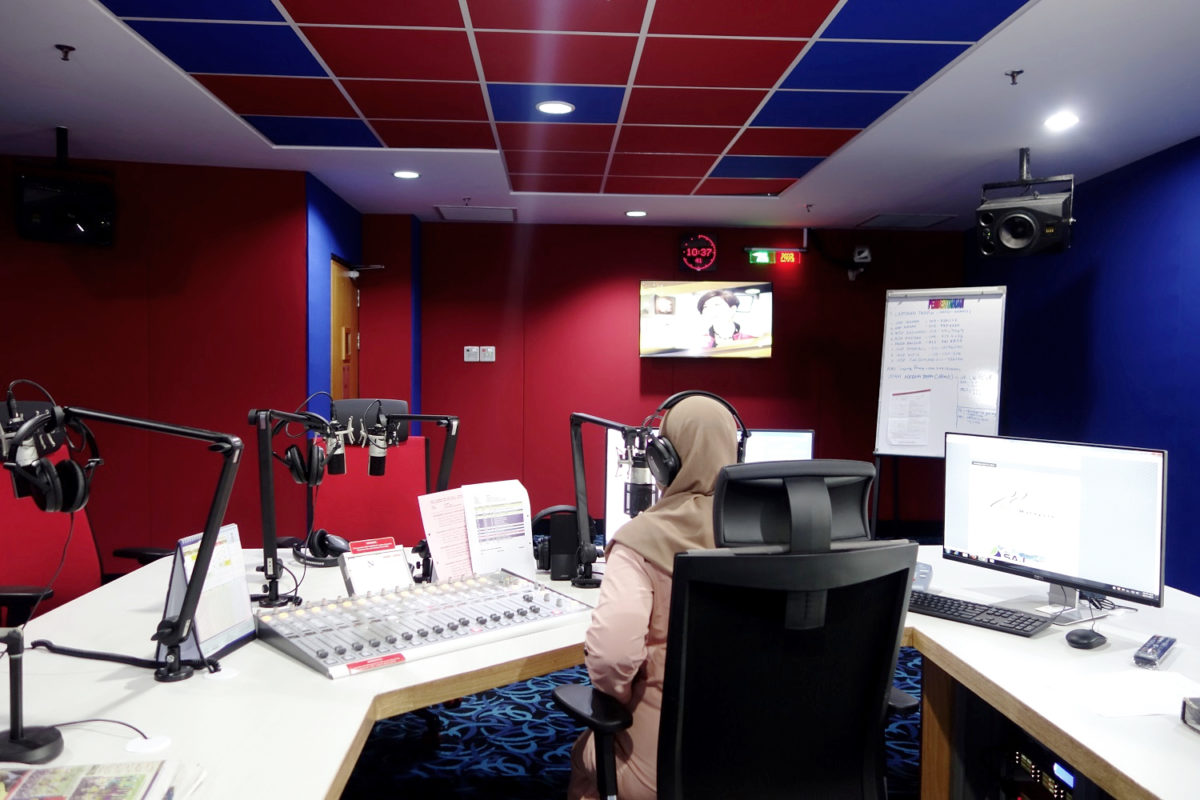 Radio RTM Johor's Transformation From Analogue to Digital With ADAM Audio
Johor FM Permata Selatan, a government radio station in the south of Malaysia was set up by Radio Televisyen Malaysia (RTM) with its main objective to reach listeners in Johor Bahru by offering a mixture of current chart music and the traditional music of Johor as well as local news content.
Johor FM known as Radio Malaysia Johor has been on air since the 1960's using an analogue system. Recently the facility underwent a transformation by digitalizing the entire infrastructure and workstations of the studio complex comprising of a main studio, several back-up and interview studios. As a part of the project, all five studios at RTM Johor were equipped with a total of 16 units of ADAM A8X studio monitors.
"We are very satisfied with the audio quality of the speakers", comments Mr. Johari, Assistant Engineer at RTM Johor. "They are very useful tools during the ingest and editing process. We are now able to identify unwanted noise in any music material especially when we are in the middle of converting old CDs to more modern digital audio formats."
Stagetec Asia, the Malaysia based broadcast supplier and distributor of ADAM Audio has been working closely with Commissioning and Maintenance Services Sdn Bhd and eventually was appointed with the task to supply, configure, install and commission the radio studios at Johor FM.
"We proposed the ADAM A8X active studio speakers to our client and they absolutely loved them."
Managing director at Stagetec Asia, Mr. Advon Tan explains: "ADAM Audio has built a remarkable reputation for providing crystal clear audio regardless of the room size. Moreover, ADAM Audio studio monitors have a great representation of the low frequencies which works well in the ingest and editing rooms that need a lot of precision to be able to produce industry standard sound quality. We proposed the ADAM A8X active studio speakers to our client and they absolutely loved them."
The five different studios have been upgraded with fully equipped modern digital radio solutions from intercom system, networked radio on air consoles, main and backup networked radio routers via AES/EBU and AoIP (DANTE), all in one radio automation system, news reporting, and an editing system. To manage the audio routing matrix, a powerful DSP audio router system with the capability of thousands of cross-over points was installed to meet the highest requirements of a future-proof, scalable radio studio. Apart from that, the latest version of radio automation system has been installed throughout the radio facilities for programming usage.
"We feel contented with all the equipment performance and we look forward to using it for many years ahead."
Mr. Azmi, Head Engineer of RTM Johor, comments on the installation process as follows: "We are happy as the project is finally completed and it was handed over to us on time despite of minor complications. […] We feel contented with all the equipment performance and we look forward to using it for many years ahead."