Opher Yisraeli & Songs To Your Eyes / Jambox.io Studioimprove their production value by choosing S3H monitors
ADAM Users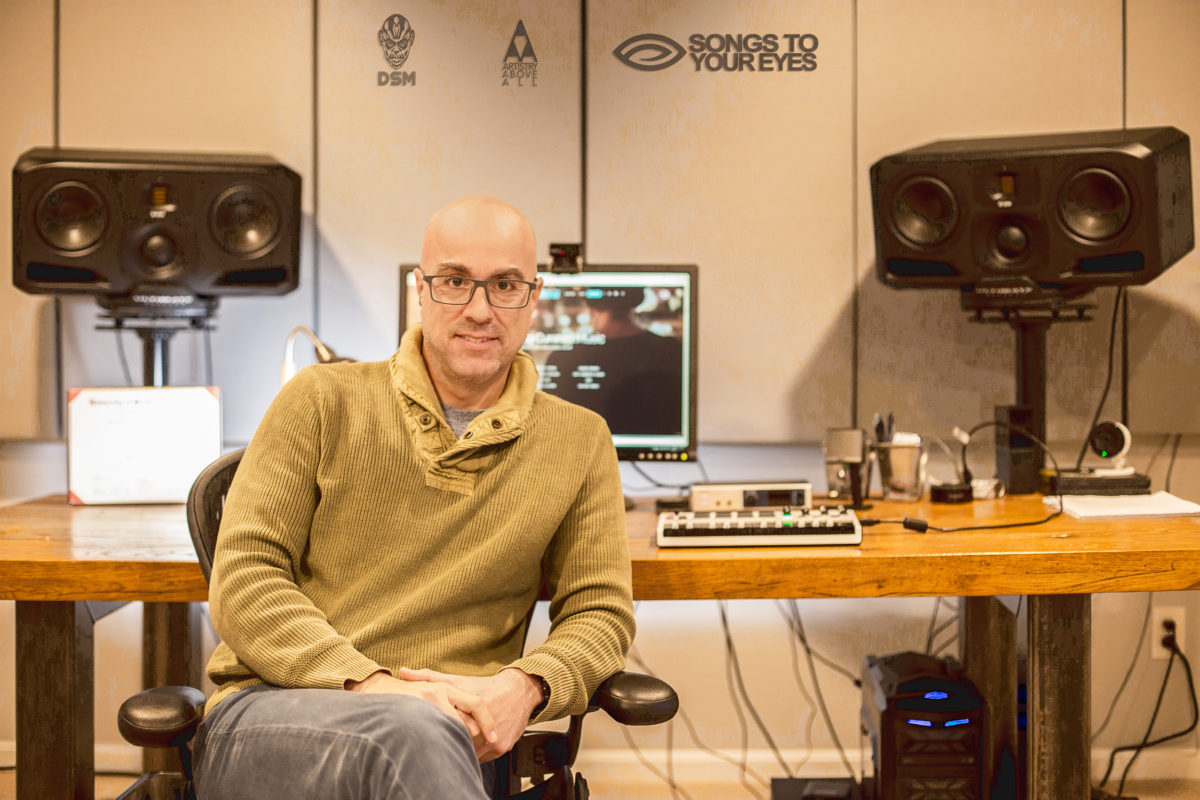 Songs To Your Eyes / Jambox.io Upgrades Production Studio Monitoring System To ADAM Audio S3H
When Hollywood-based songwriting and production powerhouse Songs To Your Eyes / Jambox.io built a new studio, the company selected the ADAM Audio S3H mid-field monitor for its glittering new production suite. With a mesmerizingly wide production portfolio for music across all current genres, soundtracks for A-list marketing campaigns including household brands and blockbuster movies, and top-tier licensing activities, Songs To Your Eyes / Jambox.io have become a major force in their industry. We talked to chief creative Opher Yisraeli to find out why they chose ADAM Audio monitors.
"We release 4-5 albums a month and are not focused on one specific genre of music. Extremely high production value is the common thread amongst our releases," Opher tells us. Representing over 750 composers, indie bands, DJs and sound designers, the breathtaking variety and sheer creative breadth of its output places tough demands on its monitoring equipment. And then there's the TV ad scores for Wonder Woman, X-Men, Power Rangers, Fantastic 4, Heineken Light, Snapchat, Claritin, NCIS, Californication and Assassin's Creed. But the company isn't just about serving the ad industry, with non-profits, schools and government institutions also among its long list of clients.
When a new, purpose-built production studio was added to the company's facilities in October 2017, Opher had a clear vision of what his new monitors would have to deliver. His main objective in designing the new studio was to create "a flat and accurate listening environment where I could hear the most minute details in a mix. Being able to hear transients, reverb as well as all other aspects of a mix is crucial for my day to day operation."
Outstanding Monitors As A Boost For Business
For this multi-talented set of composers, sound designers and producers, utilizing monitors that reveal every tiny detail of a mix is essential not only to the mixing process but to the company's operational fundamentals. Opher explains: "I listen to the music of the many composers, producers and bands that we work with. We commission them to write music and part of my day is spent listening to what they send in and giving them detailed feedback on the mix, instrumentation, arrangement and overall cinematic impact of the cues. Having a flat room as well as accurate monitors is obviously very important for me."
Opher devised a set of criteria the new system would have to meet when auditioning and assessing songs from its contributors. "The perfect studio monitor doesn't mask imperfections in the music. I want to be able to hear the good and the bad so that I can send accurate feedback to the musicians that we work with" he adds.
How do those requirements translate into functionality? "Having separate amps for lows, mids and highs that send ample power to the speakers with good crossover between them was very important for me when considering my next monitors" Opher continues. "The ADAM S3H deliver all of the above in a big way."
Smaller Monitors, Big Expectations
The initial spark that kindled Opher's interest in ADAM Audio monitoring solutions was previous experience with smaller speakers in more modest environments. "I heard ADAM monitors a few years ago when working with two different composers, one in Israel and the other in Moldova," he relates. Both were using the A7X 2-way nearfield speaker. "My first impression was good and the mixes that these guys put out were very impressive. They were punchy and clear with great mid-range emphasis. When I found out how much they cost I thought that it was great value for what they were able to achieve with them."
Costs and Benefits
What finally clinched the deal for Opher was the outstanding audio quality combined with value for money offered by the ADAM Audio S3H as his main monitoring solution. "I'd been researching various 3-way speakers for months," he told us, "and tested a number of models. What I found was that the Adams performed equal to or better than monitors that cost almost twice as much." According to Opher, another factor was the broad frequency range covered by the S3Hs, which obviated the need for an additional subwoofer.
Opher is more than pleased with the advantages his new S3H system brings to the table. "With the various studio monitors that I've used in the past, I was not able to hear the level of detail that I can hear with the S3H's. I love the crystal-clear sound and the fact that I'm hearing things that I never heard before in music that I'm familiar with. They're also a great looking monitor!" he smiles.
For more information visit: Songs To Your Eyes / Jambox.io