International Artist Curtis TammExploring Ultra-Sonics With ADAM Audio A7X Monitors
ADAM Users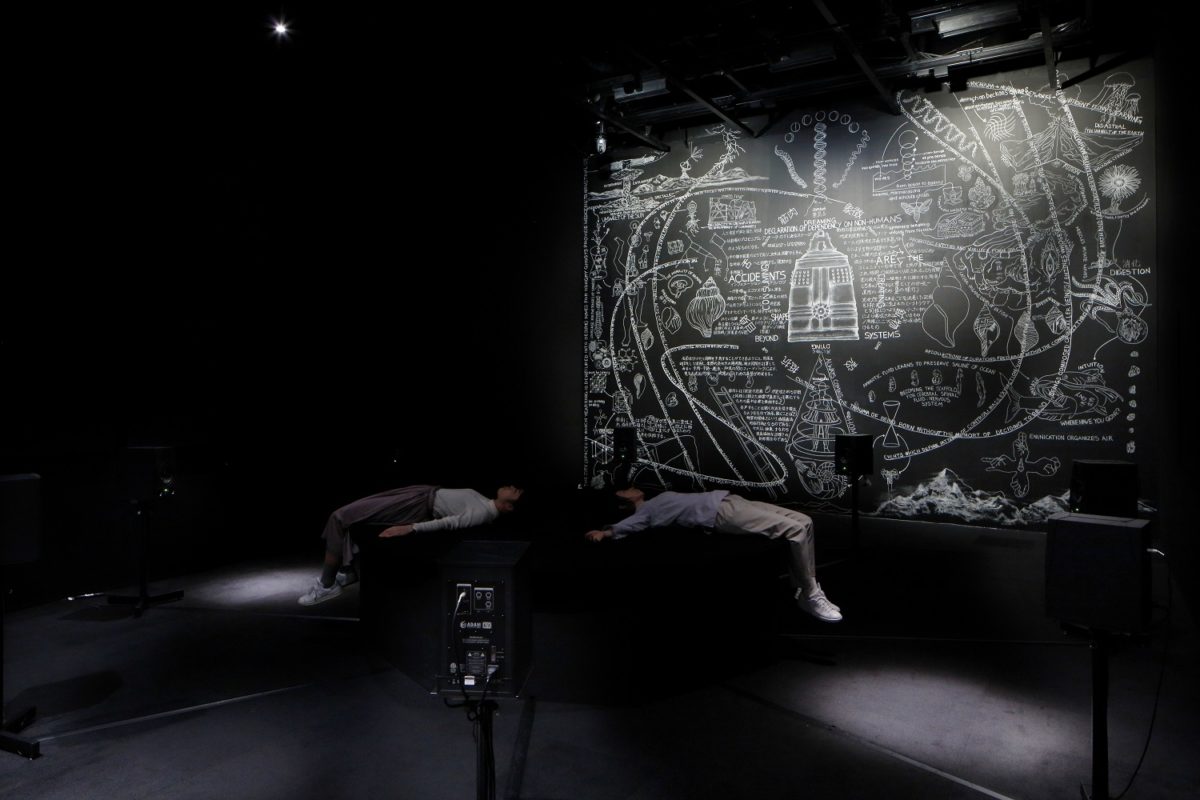 Artist Curtis Tamm has been commissioned by the Mori Art Museum to develop a new exhibition in Tokyo including a sound sculpture played back through an 8.1 circular arrangement of ADAM Audio A7X monitors and an ADAM Audio sub12 woofer.
The piece is entitled "Spelling for Protection Against Oneself", and uses field recordings from Tamm's own sound library incorporating elements like the chanting of blind female shamans, the ultrasonic sounds of cicadas, the complex harmonics of multi-ton temple bells and the visceral noises made by sumo wrestlers. The soundscape also features original compositions for shō, a Japanese reed instrument, and a 10-person all female choir.
Among the many intriguing sonic elements are multi-ton temple bells, known as bonsho. Tamm visited a dozen different temples to listen to these sacred bells, some of which are 500 years old. His listening and recording method involved standing within the center of the bell's large open cavity; an empty space referred to by one Japanese bell maker as the "womb", a concept which is extrapolated and abstracted within the installation's 15 x 20ft chalk diagram outlining the cosmos from which the sounds are composed and arranged.
Through pitch and time manipulation of 100-khz recordings of temple bells and circular spatialization across the 8-channel A7X ADAM Audio system, Tamm's exhibition physically places listeners into a rotating vortex of liminal frequencies beyond the normal range of human hearing.
"When I work with sound, I want to make reverberate a world beyond what is immediately sensible, tactile or material." Tamm explains. "We listen with the skin which envelops our entire body, not just the tympanic membrane within our inner ears. We also listen to sound with our intuitions about the world, the memories we have, the traumas we've endured. I prefer to utilize sound technology which has been engineered and designed not just for the 'ear' as an object anatomically dissected from the body, but rather for the whole sensorium of the body as an ecology of differently entangled senses constantly in contingency with one another."
Tamm's aim was to create a contemplative space of "deep listening" (a term developed by American composer Pauline Oliveros) that conveys his unique perspective on the power and magic of language and speech, the evolutionary origins of animal hearing, and the potential of stretching the human sensorium into new bandwidths through the playback of ultrasonic recordings.
"Japan co-exists with several tectonic plates," Tamm says. "This friction produces dozens of earthquakes every hour, meaning the land is moving with unpredictable activity. My exhibit explores how animistic cosmologies such as Shintoism, and to a more universal degree language itself, is facilitated and coaxed into existence by geo-phenomena as much as it is developed by people; These two aspects of life cannot be entirely disentangled from one another. Soundwaves are another form of touch, and because of this, we should be able to use them to develop a greater degree of intimacy between our bodies and the waves of earthquakes. 'Spelling for Protection Against Oneself' speculates upon the sensory future of our species, where certain sounds reproducible at the human scale provides direct access to the nature of waves at the scale of tectonic movements – perhaps the future of seismology involves a radical form of deep-listening."
MAM Project 026: Curtis Tamm
Organizer: Mori Art Museum
Production Support: ARCUS Project Administration Committee, The Art + Technology Lab at LACMA
Curated by: Kondo Kenichi (Curator, Mori Art Museum)
Photo credits (in order of appearance):
Installation View, MAM Project 026: Curtis Tamm, Mori Art Museum, 2019, Photo: Kioku Keizo, Photo courtesy: Mori Art Museum
Tamm performing Tympanic Tether at Santozeum, 2015, Photo courtesy: Hermione Spriggs
Tamm in studio. In relation to air, silent stare, 2019, Photo courtesy: Andrew Hunter