Carl CoxTakes His Studio Sounds Straight to the Club with ADAM Audio
ADAM Users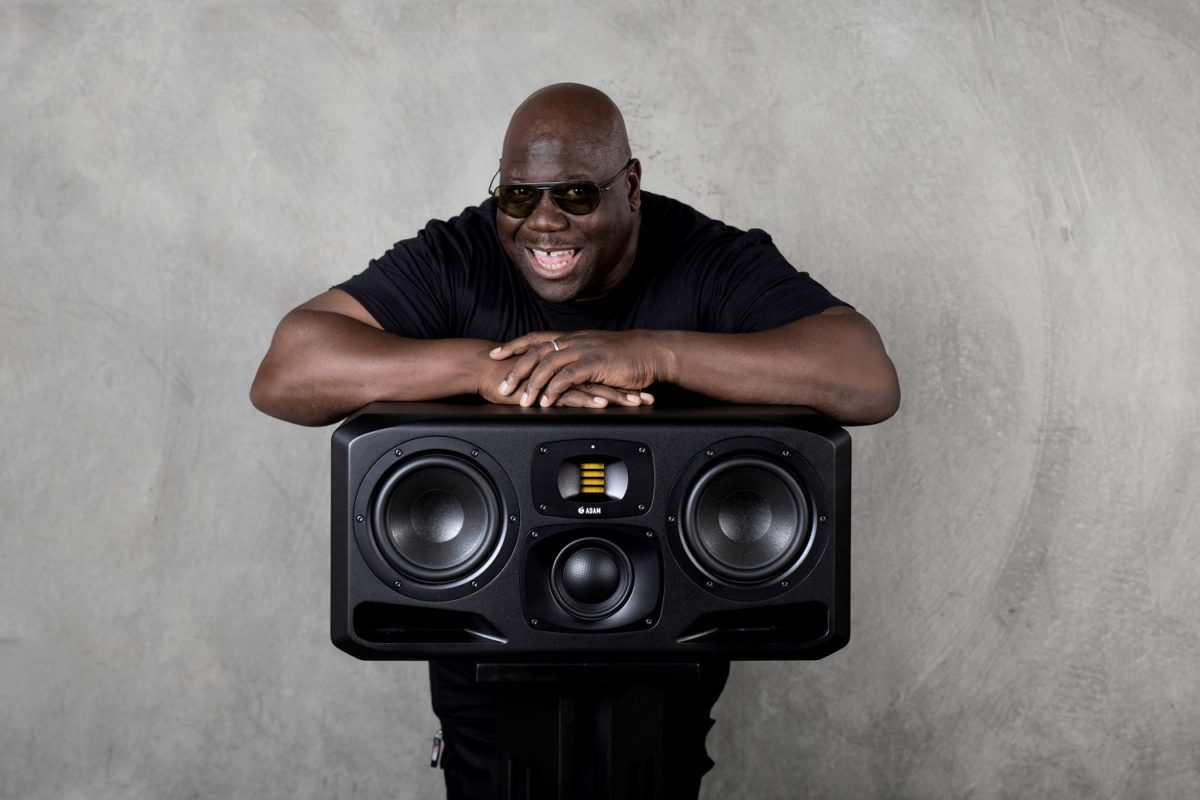 Renowned Carl Cox about his early start as a DJ and the search for the perfect studio monitor
Carl Cox, the internationally acclaimed Producer/ DJ who is currently ranked as the Number 1 Global Techno and Techno House DJ by the DJ List, has won more than eleven DJ Awards, three International Dance Music Awards, an NME Award and many other accolades. While setting up his new studio, Cox had the chance to select the perfect monitors for his work, choosing ADAM Audio S3X-H monitors, which he praises in a new video interview about his career and creative work.
"Wow! Those are allright"
"I've always been very demanding on my speakers, and I've blown up a few in my time – probably because they were not efficient enough. Speakers have to have a really great presence, that's the thing," he says. Cox had long been searching for the perfect monitors which would make the music sound as great in the studio as it does when he is performing in a club. After working at their studio with David Carbone and Josh Abrahams from Samplify, who produced his album — 'All Roads Lead to the Dancefloor', Cox first heard ADAM Audio monitors.
"At Samplify, they had the ADAMs and I heard them and all I thought was – wow! Those are allright," Cox explains. "The ADAMs were exactly what I was looking for – the depth, scope, dimension—and I found that you get the full range of what you just presented. They are like pinpoint accuracy of frequency dimension. I don't think I've heard other speakers like them."
"The colour in the sound was insane; I couldn't believe that these speakers could give me the reference that I needed, that I could pinpoint the thickness that I want. These are probably the best speakers that I've ever heard," says Cox. "I must have listened to records on them for about three or four hours — I was just amazed. They are genuinely different, you can hear it all — they are so exciting."
Taking sounds straight from the studio into Club
"I get thrown speaker packages all day long, and I get in the studio and they're just not what I am after. The problem was defining that bass tone that you hear in the club — how do you get that?" says Cox. "That's what I like about the ADAMs. I can take a track out more or less straight from the studio and know that I can play it, knowing that how it sounded in the studio it will sound like that in the club."
Starting early
Though Cox officially began his career as a DJ in the mid-1980s, he says that he actually started got the DJ bug when he was 7 or 8 years old, during parties in his parents' home.
"One night, my mom and dad was having a party and I came out of bed and was looking down the banister, and saw everyone getting down to Aretha Franklin and James Brown, and I thought it looked allright," he adds. "I thought, well, I am not going to bed, I am going downstairs to put records on. And each LP and 45 I put on, my mom and dad's friends were having a good time. For me, that was my entry level for DJ-ing without even knowing it."
Cox has performed at well-known clubs such as The Eclipse, Edge, Shelly's, Sterns, Heaven, and The Hacienda, as well as at raves for Fantazia, Dreamscape, NASA and Amnesia House. Cox also heads two record labels, Intec and 23rd Century Records. He created his own stage at several music festivals including Ultra Music Festival, Tomorrowland, Global Gathering and the Electric Daisy Carnival, called Carl Cox & Friends – designed to be an ongoing experience within each festival, with continuous shows featuring a variety of talent.
Pinpointing exactly what you need – even at low volumes
And with all the projects he has going simultaneously, Cox often spends long hours in the studio, which is another advantage he finds with ADAM Audio.
"If you're in the studio all the time for twelve-hour stints, you need a speaker that makes the sounds pleasant; it can't be too intense, and you need to be able to hear the flavours in the sound," he adds. "Even at low volumes the ADAM monitors sound amazing. When you go down quite low, you can still pinpoint exactly what you need and you can tweak things at low volume, so if you push that right up, the sound is just incredible. To me, they're so powerful on low power. I've never heard a better- sounding speaker, from low volume all the way up."
See the complete video interview with Carl Cox here:
UPDATE 2019:
Since our last interview with DJ and EDM superstar Carl Cox in 2018, he has completed work on his custom-built studio, El Rancho, and launched a new label venture, Aweseome Sound Wave with artist/producer Christopher Coe of Digital Primate fame. El Rancho has soffit-mounted S3H for midfield monitoring, a natural progression for Carl as a long-time S3X-H user. After a twelve-month period of refining the studio, the production team couldn't be happier.
"We are really happy with these […]. The ADAMs help us hear detail in the top end and to get a different perspective on the mix … they have some depth too that allows us to judge how we are doing with the bottom end. It is a nice combination!" says Christopher.
"Quality of sound is vital. We built the room to be as flat as possible in the low end but to retain some life in the upper mids and tops as we didn't want a deadened studio room." Christopher also says that low-end detail is crucial when mixing and that the S-ART tweeter in the S3H helps define the higher frequencies.
Carl and Christopher recently added a set of ADAM Audio T5Vs. "Our room was set up for midfield monitoring but I felt it would be nice to get back into some nearfield mixing and hear how we go. I like them, they are fairly flat … I am enjoying hearing close up the mid-range detail. Between the three systems we have a solid reference combination … Now that we know the room, it is great to have the monitoring options we have … the ADAMs allow us to hear so much detail."
There's a busy year ahead for Awesome Sound Wave. "Mat Playford's brilliant album Solar is coming up at the start of July followed by Saytek's album Improvisations in August. The brilliant live artist and producer Julien Chaptal is releasing his album in October and another amazing album from Australian live artist David Haberfeld (AKA Honeysmack) … and so much more in the works…"