Adding a subwoofer
to your studio monitors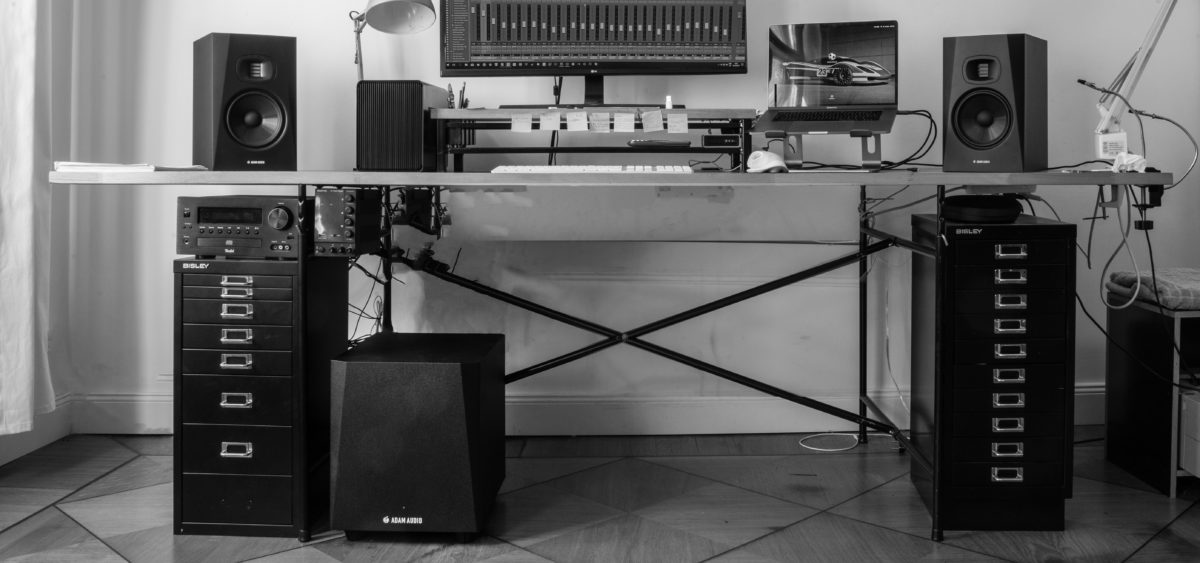 You already own a pair of nearfield monitors like the ADAM Audio T5V speakers and want to accurately monitor the lower bass frequencies that your speakers can't or not sufficiently output? This is of great importance when the bass has to be perfect, punchy and without distortion in big venues for instance. A solution is adding a subwoofer to your setup. It doesn't matter if you produce EDM, Hip Hop or Jazz – a clear and powerful bass is fun to work with and indispensable in a professional monitoring setup.
Why do you need a subwoofer in the first place?
Adding a subwoofer to your monitoring setup is not a new concept. But there are still lots of misconceptions all around. Usually, you supplement your studio monitors with a subwoofer to expand the spectrum of frequencies you can accurately monitor. It's not about boosting the bass in your studio, it's about getting access to low bass frequencies that your setup can output.
If you own a setup of two ADAM Audio T5Vs you're only able to monitor low frequencies down to 45 Hz. Because of the compact woofer and cabinet design, a broader output of low frequencies in this price range is not possible. To work around the physical limitations of a compact and affordable studio monitor we at ADAM Audio developed the T10S Active Subwoofer.
The ADAM Audio T10S Subwoofer is a great addition for every monitoring setup that consists of two compact nearfield monitors. Even though the T10S Subwoofer is designed to be the perfect fit for the ADAM Audio T5V and T7V speakers, it works with any nearfield studio monitor setup as well.
Benefits of using an ADAM Audio 2.1 monitoring system
The benefits of adding an ADAM Audio T10S Subwoofer to your monitoring system are broad: Not only will you expand the lower end frequencies to monitor, you will also get more headroom for distortion-free sound reproduction of your system. Because the compact nearfield monitors are relieved of the heavy work, the output of lower frequencies, the output of mid frequencies is more accurate.
This crossover effect is specifically impressive when the ADAM Audio T10S is complemented with a pair of T5V or T7V speakers. In the process of developing the T10S Subwoofer, we at ADAM Audio focused on taking into account the specific characteristics of the T5V and T7V studio monitors. So, the T10S is the perfect fit for your 2.1 monitoring system when using monitoring solutions for our T Series.
APPROVED BY OUR PROFESSIONAL COMMUNITY
"The T5V and T7V are great speakers in their own right, but the T10S sub brings them to life."
Lewis Noke-Edwards
MIXDOWN Magazine
"The Adam Audio T10s is a solid and powerful subwoofer, which is more than able to extend the low-end of smaller and middle-sized monitoring setups."
Felix Klostermann
bonedo.de
"In terms of size and performance, the compact and affordable T10S is sized to match and perfectly complements the T5V and T7V monitors".
Anselm Goertz
Sound & Recording