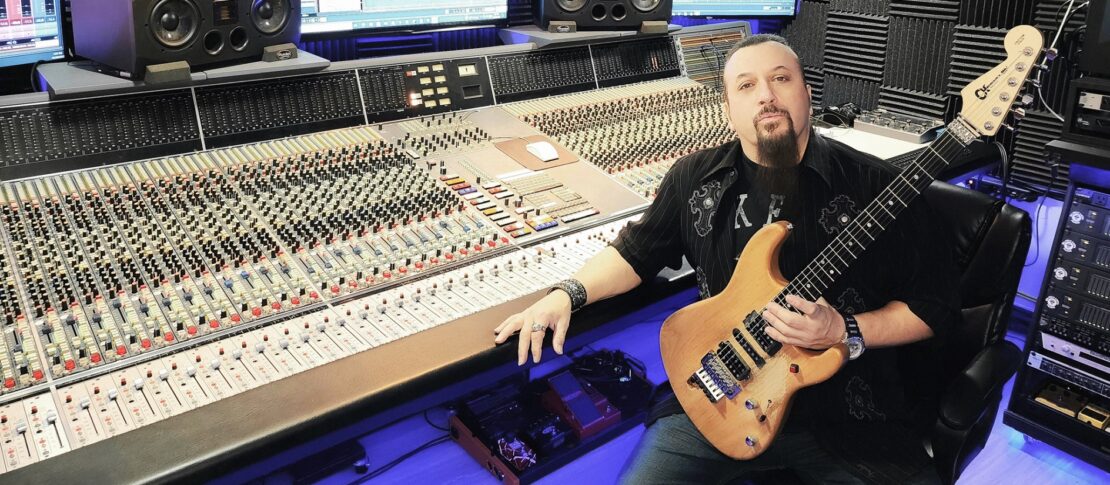 Tracking Guitars with Mike Orlando [Adrenaline Mob]
We have had the pleasure of talking with guitarist and founding member of "Adrenaline Mob", "Sonic Stomp" and "Dance of the Damned" – the one and only, Mike Orlando. Mike is also the owner, producer and mixing engineer at Sonic Stomp Studios.
Having many years of professional studio work under his belt, here are Mike's thoughts on tracking guitars, which we wanted to share with you:
"Tracking guitar, regardless of the genre or style has always been a love of mine. Back to the days of tracking on my 1st Otari tape machine to the vast digital world of today. One thing was always of utmost importance: how you monitor your tone and your recordings.
A/B'ing back and forth to some of your favorite recordings is always helpful when crafting your tone, but one of the key factors (beside your ears) is the importance of having a reliable pair of studio monitors that are true, flat in frequency response and not "hyped". It is also important to set up the monitors correctly in your listening position to achieve the most accurate response. A good rule of thumb is to start with trying to get that perfect equilateral triangle position for optimal listening. The A77Xs for me have been one of the best pairs of monitors here at Sonic Stomp Studios. The size is just right for my console room and they truly put me inside the mix, feeling as if I'm sitting in the middle of the stereo spectrum.
When I'm dialing in a guitar tone, I'm usually plugging into one of my favorite Marshall heads or 5150's mic'd up through Celestion Vintage 30s or Electro Voice EVM 12Ls. I also track directly into Cubase using some great amp sim plugins like Neural DSP and STL Tones.
When I track, I'm always going straight from my guitar into a Radial DI where I split it to the front of the amp and direct it to a channel on my Neve VR60 console. Depending on the track or parts being recorded, I'll put my Rocktron Signature Wah Pedal before the DI so it's tracked for when I'm re-amping later on in the mixing stage. I always track a live amp and a DI line simultaneously. I've even routed the mic'd amps into the Neve and had the DI coming into Cubase to hear it through an amp sim plugin and track them all as well simultaneously.
On all of the Adrenaline Mob albums I've engineered, mixed and mastered, including "Omerta", "Coverta", "Men Of Honor", "Dearly Departed" and "We The People" (EMI/Century Media Records/Sony), I used a blend of multiple amps. This meant, if I wanted more mids, I'd blend in a recorded amp that was more mid-forward. If I wanted a darker tone, I'd blend in an amp with more lows and scooped mid frequencies, etc. Those albums are all blends of amps and plugins. Of course, you should always check the phase when blending real amps and DI tracks with amp simulation plugins on them.
Whether I'm tracking with my Quad Cortex, amp plugins or real amplifiers, hearing the accurate response and tone through my monitors is always essential. With ADAM Audio monitors, I know if the mids are too sharp or if the low end is too much."
Follow Mike Orlando on Social Media: