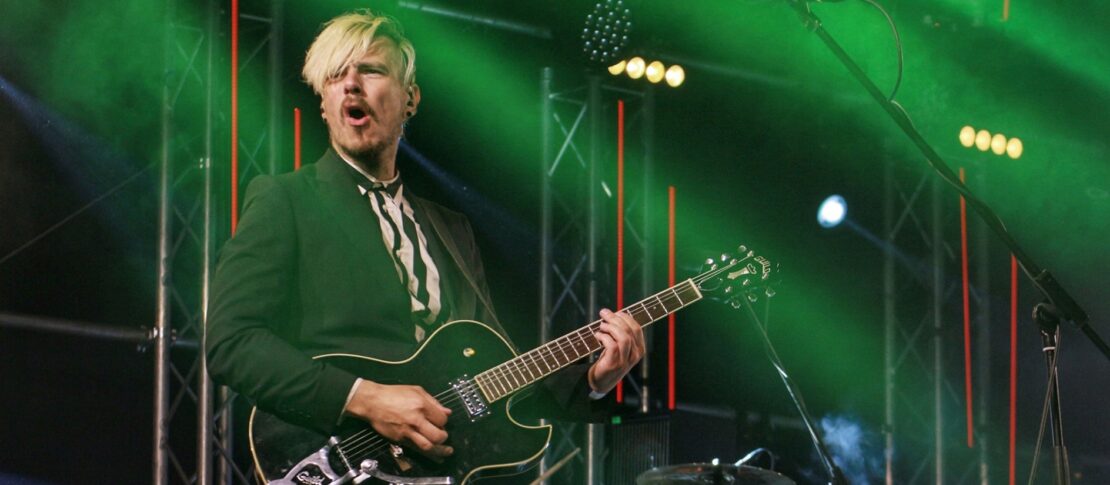 Guitar tips from one of Latvia's greatest: Robert Dinters
Boasting a set of ADAM Audio A5X nearfield monitors in his studio, multi-instrumentalist and composer Roberts Dinters has been collaborating with a wide-plethora of artists from his home nation of Latvia for the past two-decades. Known primarily for his work within the rock scene, Dinters' career has also seen him collaborate with pop artists, theatrical productions, and even saw him release an electronic music album entitled "Recycling" in 2021.
Known primarily for his guitar playing skills, the Latvian is not shy of production experience, having worked with several large artists in the studio, including cult rock musicians Ainars Virga, Ivo Fomins, Fēlikss Ķiģelis, amongst others. For ADAM Audio, the established producer provides key advice on how to excel at recording and writing songs with the guitar.
Recording Tips & Tricks
"Miking a real amp is always exciting, and I enjoy doing it the old school way," Dinters replies, when asked about his guitar recording techniques. "I must admit, that I really like my FX pedals and guitar layers as well, and at that point I usually go for modeling so I can easily change the settings of an amp if the sound doesn't work in the layered mix. I also really like to get my hands on my pedals, so pre-amping through the pedals and controlling the FX is really important to me."
"As I said, I really like to have my hands on my pedals, so I usually drop all the FX that come after the preamp, like reverbs, delays and the stuff in the FX loop or insert of the DAW," Dinters further explains. "At first they are there for the feel of playing, but usually, I want to record the dry guitar (or driven guitar, but the amp section of the signal chain) first and then put it through the FX. That way I can do uncanny stuff with the signal on the go."
Tips & Tricks for touring guitarists
"Always know where you are going, so you know what kind of gear works best for the venue," explains the Latvian producer. "If you can, bring extra stuff that might be useful, like extra cables, extra power adapters, a backup for your amp, some kind of pedal that has some amp and speaker modeler inside in case your amp breaks down, so you can then somehow finish the gig."
"One more very important thing is, talk to your sound guy! The sound guy is an important member of your band. If you don't have one, you definitely should invite one. He is the guy you talk to about what kind of sound you want to achieve in front of the house and what kind of gear you should use in a particular venue; amps, modelling stuff, in-ears or floor monitors etc. To achieve the best result possible for the musicians as well as the audience, talk to your sound guy."
Riff or Solo Writing
"I always start with listening," explains Dinters about his approach to composition. "I try to hear what I should play before playing it. Of course that doesn't work all the time. I might not feel the song or the arrangement, or for whatever reason I can't feel and hear the solo, so sometimes I just jam with the track. Usually I'm trying to force my fingers to go somewhere they've never been on the guitar neck and then try to get out of there and see, maybe there's something interesting happening on the way. I also sometimes try to just switch the mood, the guitar, the tuning and just experiment. I like experiments!"
Finally, Dinters stresses the importance of learning. "Don't think that you know it all," he explains. "It was a long time until anybody recognized me as an individual guitarist. Until then you will be in the shadows. I absorbed a lot of knowledge when I was playing with experienced musicians, being young and inexperienced myself. Just absorb, and one day all that knowledge will come in handy in your own career, believe me."