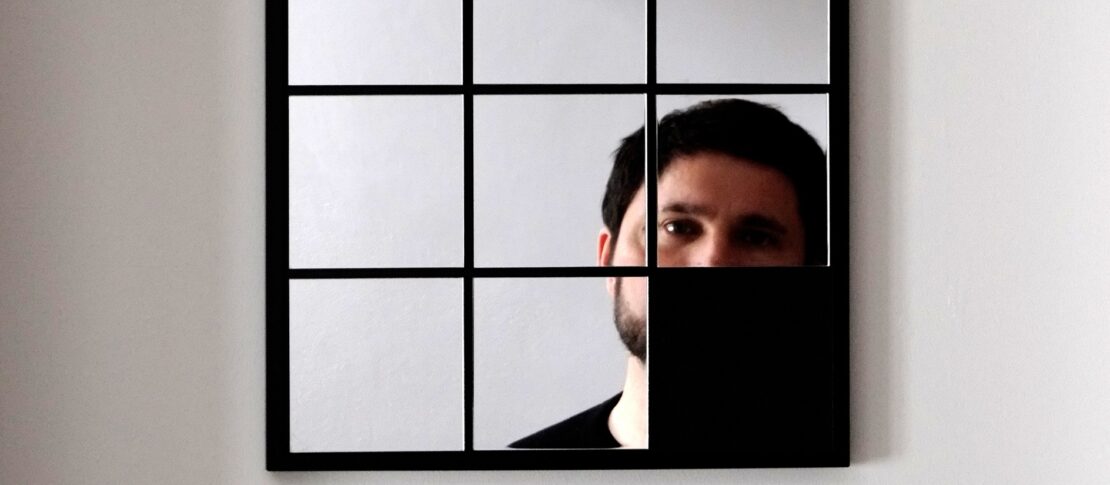 Soundscaping with Nicolas Constantin Romanacci
From Bach to Buchla: Soundscapes of radical clarity and complexity
Multi-media artist Nicolas Constantin Romanacci melds together the worlds of audio-visual composition with contemporary and experimental classical in forward-thinking pieces that are far beyond many more prevalent approaches. Speaking to the German musician, we found out more about his approach to work, his production setup, while trying to understand the deeper internet behind his encompassing bodies of work.
Hi Nicolas. Would you be able to explain to our readers who you are, and what you do?
With a background as a guitarist, I've gone on to work as a composer and media artist, and in the field of sound research. Currently, that work lies within the form of an art and research project that was started by a colleague, and in conjunction with the TU Munich.
Alongside my electro-acoustic Modular System and Buchla Easel Command, I use the ADAM Audio T7V monitors and the T10S subwoofer, the sound of which blew me away from the first listen. They are a huge pleasure to work with and bring me a lot of enrichment.
"Their sound combines clarity and complexity that reproduces the exact sonic phenomena that excites me in the music I admire."
In addition to using them in my studio, I also use the monitors within the scope of collaboration. My modular setup was initially conceived as an experimental system to explore various tonal options in regards to the development of diverse sound installations.
In the course of the project, the focus of the work with the Modular System expanded and shifted from a research-related perspective towards more genuine compositional and musical possibilities. The Modular System and the Buchla Easel Command are explicitly acknowledged as instruments, especially in view of the musical and choreographic collaboration with other artists from the field of ballet, for instance.
Based on your background working in the fields of philosophy and composition, can you explain to us what the connection is between art and philosophy, in terms of your sound installation work?
Sound has alway been the center and starting point for me. Within my sound installations (for example Variations IX), one's own movements and mobility are of particular importance. It is only through the sound experience that the perspectives begin to gradually open up towards having a philosophical relevance, with the sound always leading the way to the concept.
A central theme of my works is "Figures in Movement". This is about specific spaces and their connections; work structures, lines of action, patterns of thought . Here, the intertwined worlds of philosophy and art can be found.
What is your intention when creating a composition?
So, overall, I would first say that comprehensively, intention develops as coherent a connection as possible between sound, structure and expression.
The motivation behind my compositions are always very personal. Guitar pieces and songwriting are especially emotional, in that moving experiences play a decisive role. Composing with the Modular System is, at least in its basic features, more analytical and experimental, than emotional.
The intention to occupy oneself excessively with sound — to be surrounded and touched by sound — is always very intense and sometimes seems like an obsession. Like when you work on a composition for weeks or even years, exploring a single patch for days, occupying yourself over an exhibition for months, or sitting for ten-hours without interruption on a short solo passage …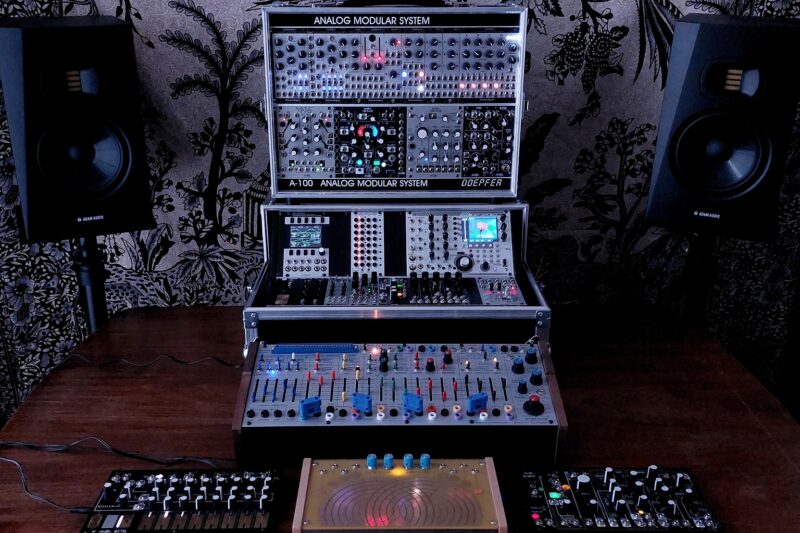 Do you feel that your sound installations need explaining, or do you leave it up to the listener to interpret them?
Between having to explain art and then just experiencing it, there is what I imagine to be an Alice in Wonderland rabbit hole.
An explanation can only refer to a certain approach or justification to the work, but the slipping and sliding, the emotional involvement, the wonder and exploration can only happen within the framework of experience. The possibilities for exploration are infinite, but by no means arbitrary.
What instruments and devices do you use in your music?
My guitars and my electro-acoustic Modular System are instruments very close to my heart. Their acoustic and electronic worlds were further expanded in both directions in 2021, refined with the Buchla Easel Command and through the acquisition of a baroque lute.
The very intimate and intense immersion into the acoustic guitar sound, in this case a baroque lute, was found when working with the Modular System with the incredible listening experience provided by the ADAM Audio T7V monitors and the subwoofer T10S.
The monitors and the subwoofer are important components to help create the stunning Modular System sound experience, with its subtle sound coloration and brutal noise. They also play an equally as important elementary role for my electric guitar. Along with my electric guitars, which each have their own personality and history, my first classical guitar is still for me the closest, most familiar and intimate instrument that has accompanied me for what seems like an unreal 40 years.
I wrote and recorded "Kompositionen für Gitarre" using this particular guitar. It's also the first choice when it comes to songwriting, and concerts with small acoustic line-ups (such as with percussion and cello). As I'm still satisfied with its sound, building a classic guitar was never an option for me.
Now, my enthusiasm for Bach in particular has led me to the baroque lute, which in retrospect was totally logical and ultimately inevitable. For a very special milestone birthday in 2021, instead of a guitar, I will have a Thomas Edlinger 13-choral baroque lute built for me by Martin Hurttig.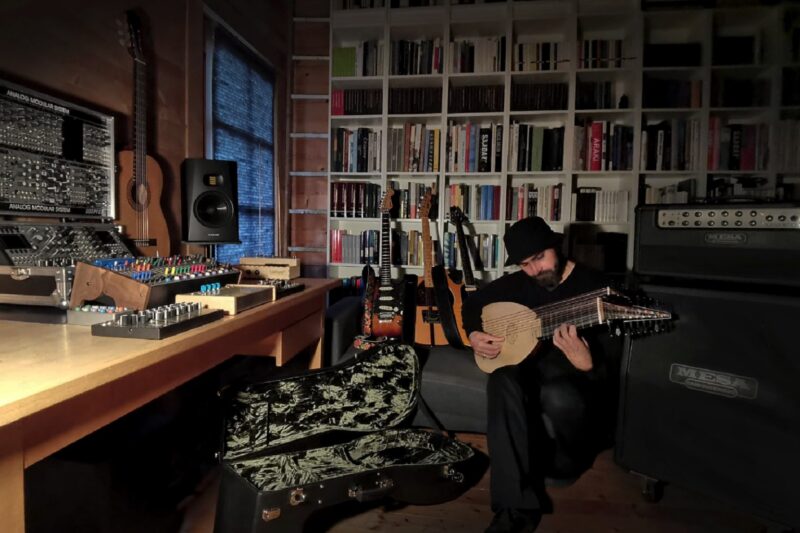 Who would you say your musical influences are?
Briefly, I would say these incredible artists:
Classical music: Bach, Britten, Boulez, Cage.
Rock: Jimi Hendrix, Steve Howe (Yes), Prince, and Ryan Adams.
Bach is extremely important to me. I am particularly inspired and moved by the unique combination of clarity and complexity in his music — the foundations of his emotional universe. As a guitarist, I was particularly influenced by the Suite in G minor, BWV 995, and the Suite in E minor, BWV 996.
Benjamin Britten stands out for me as an exemplary musician exemplifying contemporary guitar composition. In particular, I have grappled with Op. 70: Nocturnal after John Dowland intensively. Currently I am working on a homage to this piece with the Modular System.
Boulez also plays a very special role with, thanks to a single, incisive concert and sound experience in March 2001; Dérive 1 & 2 and sur Incises. At that time, this completely unexpected, almost radical listening experience shook me to the very foundations of my conception of composition, a resulting product from the sonic structures that unfolded in space, as the music itself is based on Boulez's specific conception of structuring musical time.
The contrast and the connections between music that is more linear and pulsating, and music that has a more static effect and is determined by the sound, plays a significant role (check Boulez on "Music Today", 1963 for more).
20 years later, after a lot of work with the Modular System, unexpected perspectives and possibilities opened up that allowed me to tread musical and compositional paths that had seemed completely closed to me until then. For some time now, I have also been dealing with the compositional method of the medieval hoquetus in connection with Dérive 2, in particular.
Cage has also been extremely significant for me, both from a very personal perspective and in relation to music and art. Initially this is especially true with regards to his experiences with Zen Buddhism, described in For the Birds, which is about the attitude of accepting non-controllable events. Cage's radical and groundbreaking method of including chance in musical practice —
the consequences of which can be felt within the development of art and music —
should not be underestimated. This was not initially reflected in my musical practice since I neither saw a way, nor felt the need to expand the need for precision and perfection — as one finds in classical guitar playing — through the use of chance or by radically changing my compositional practice.
Chance plays a very specific role in my current compositional practice now with the Modular System. More specifically, I've been using random functions via Make Noise's wonderfully named module, Wogglebug. It generates various kinds of random voltages that are either audible as noise or usable as control voltages for a wide variety of parameters, like on a tonal level or to manipulate other control voltages. The Wogglebug is inspired by previous Grant Richter modules from Wiard, all versions of which in turn are based on the Buchla 265 / 266 modules, which otherwise go under the name of Source of Uncertainty.
Within rock music, Jimi Hendrix has been a massive influence on me. I still find the guitarist Steve Howe of Yes to be incredible, and generally the bands of the 70s stand out due to those great musicians (Led Zeppelin, early Genesis albums, partly King Crimson). Prince I've always revered as a musician. If you're looking for comparisons, in terms of songwriting, you could hear a special blend of echoes of Prince and Ryan Adams.
On my modular journey, I've been accompanied in a particular way by Todd Barton, a pioneer of electronic music, famous for his Krell patch. One of my very first extensive, modular attempts was a variation of this patch played on the Make Noise O-Coast and the Landscape Stereofield.
I sent him the video of the performance, and his extremely kind words were a wonderful gesture and precious treasure for me. This variation has a certain significance for me, in regards to the investigation of complex, partly chaotic real-time systems, and also because of the fact that an instrument is played through physical interaction.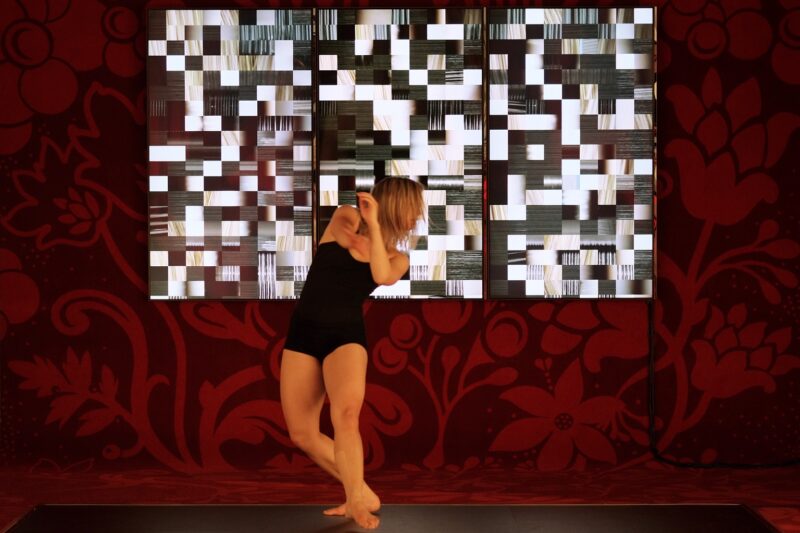 Do you have the feeling that as an artist that you are taken seriously in today's scene, or do you think it is necessary to opt for something more "down-to-earth"?
That's a complex question, from a personal perspective and in terms of artistic social relevance. To sum up, the notion of having to do something more "down-to-earth" was always palpable for me, but in the end the urge to make music prevailed. Through philosophy there was also a kind of reconciliation for me through the realization that art, along with the other sciences, is equally important and valuable in this "down-to-earth" way of understanding and shaping the world.
Where do you compose your pieces, and what does an ideal setting look like for you to get creative?
Composing is fundamentally always connected to an inner urge, whether it's music for classical guitar, folk-pieces, songwriting, or experimenting with the Modular System. This urge to compose requires the most undisturbed concentration possible. You have to have the feeling of being surrounded only by the music. In a way, the ideal setting for composing is absolute silence.
What do you have planned for the near future?
As I already mentioned, I am currently working with my Modular System along with a colleague, and recently I started with the Buchla Easel Command. It was initially more within the realm of sound exploration, although now it's become increasingly focused towards musical compositional possibilities. What was particularly challenging, and great in the early stages was that, depending on the different contexts of the planned placements of the installations from my perspective as a composer, completely different approaches to the sonic concept came into focus with my investigations.
With the TU Munich collaboration, more precisely the Human Robot Interaction and Service Robotics , AI and Real Time Systems faculties, more analytical, structural phenomena and problems made themselves present, for which I used particularly modules from Joranalogue and the Mordax DATA Oscilloscop. The proximity, in turn, to the Alte Pinakothek in Munich, or rather the University of Music, adds to this historical context.
In the course of the project, the focus has broadened and shifted towards more genuine musical and compositional work with the electro-acoustic instruments. I am particularly looking forward to the planned collaboration with other artists from the field of ballet.
Currently, in addition to the work in the context of the joint project, I am working on a personal homage to the afore-mentioned Nocturnal by Benjamin Britten. The final part of Nocturnal, "Slow and Quiet", will first be recorded as a "reel" via the Make Noise module Morphagene. Integrated into the modular system via the Morphagene reel, the variations (Musingly, Very Agitated, Restless, Uneasy, March-like, Dreaming, Gently rocking, Passacaglia) are realized with the Modular System as 'variations on variations', so to speak, through corresponding modulations of the reel.
In addition to the very personal homage to these formative musical paths, which are for me groundbreaking in trying to connect these musical universes with the electronic sound worlds, I am also working on approaches to investigate what I call hocketing. With this I am referring to the musical origin of the medieval hoquetus compositional method, exemplarily represented in the context of Ars Nova by [Guillaume de] Machaut, and to compositional interpretation and implementation in the field of New Music, such as that of Boulez and Birtwistle.
Parallel to this, I am playing and practicing classical guitar again in preparation for the arrival of my baroque lute.
Thank you very much for this most interesting interview!