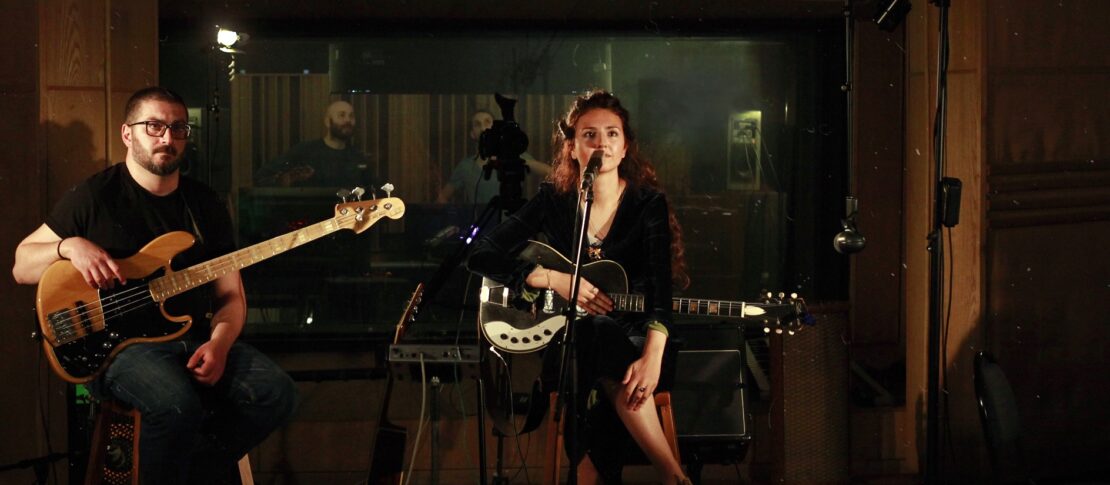 Georgian singer-songwriter, composer and producer Sophie Villy discusses her acoustic world-building and how she crafts new inspirational tools for children.
Compassion is a theme that resonates heavily throughout Sophie Villy's work. It manifests itself through her delicate guitar playing, minimalist arrangements, and gently delivered vocals. The award-winning artist was brought up in a creative, musical environment in her home country of Georgia, before moving to Kiev, Ukraine during the 2008 Russian conflict. It's here she developed into the singer-songwriter we know today, a career that was firmly established with the release of her debut album Mother Fish – a multi-cultural folk-record that embodied her sociopolitical views, shaped through her experiences moving throughout the region.
Alongside her self-titled artist project, Villy has also found success scoring for various feature films from across the globe, the most famous of which Lost in Escapade won Best Original Music at Spain's Euro Film Festival. More recently, the Georgian musician has been focusing on her latest project, Soulscope, a creative environment to help encourage the burgeoning imaginations of local children.
Planet Georgia
"There has always been music around me," says the 30-year old musician about her upbringing. "All my memories, even from the age of three, are sorted in my head through the sounds and songs I was listening to." Both of Villy's parents were avid music lovers, and thanks to the influence of their record collection featuring the likes of The Beatles, The Rolling Stones, Ray and Charles, she was already playing the piano by the age of 15. "My dad taught me how to play the very first chords. We were singing together all the time," she recalls. "My family gave me the freedom to create, develop my ideas and be let me choose to be on my own."
It wasn't obvious at first, that being a musician was going to be her career choice however. During her time at school, Villy was traveling throughout Europe as a professional high diver, competing in a wide variety of international tournaments. "People were really shocked when we would come back to Tbilisi with lots of gold, silver, and bronze medals," the singer reminisces. "It was an incredible experience and years full of joy!"
After suffering a serious knee injury however, Villy took to focusing her energies on music, and within a short amount of time, her records started to receive wider recognition, winning her accolades from The Guardian, the BBC, and KCRW Radio. Following 2012's "Mother Fish", the Georgian songwriter released her second album "Dress" in 2014, a record that was awarded album of the year by Ukrainian cultural publication comma.
The success of her music took her on regular showcase tours across Europe and the United States. No matter how far she traveled however, her Georgian heritage always managed to play an integral part in her music and character, something she describes as being important in an artist's life. "The way you think and feel is connected in some way to your origin," she says, when pressed on how her heritage influences her music. Indeed, clues to Villy's background are littered throughout her music, whether referring to her upbringing, or through the commentary on the prior turmoil that beset her native country.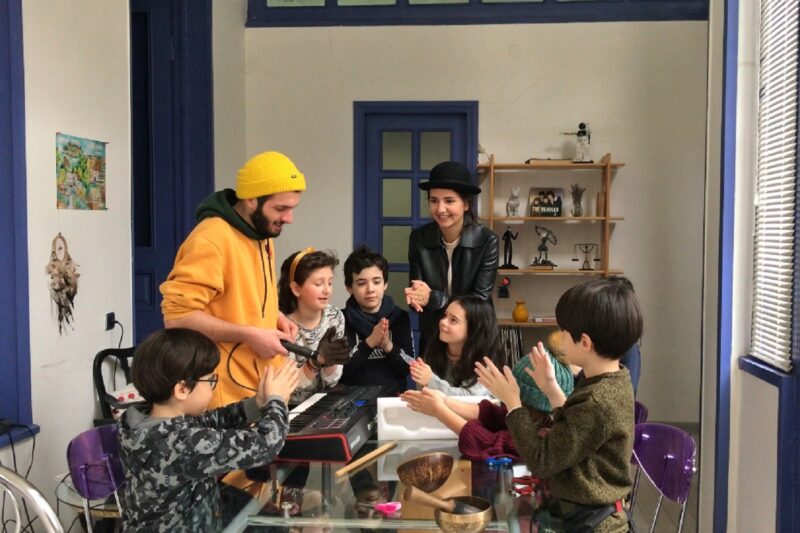 Finding Soulscope
Following the release of her third album "Planet A", the singer set about establishing her next project, Soulscope. Established in 2018, and designed for children between six and 13 years of age, Soulscope is a self-discovery space that helps manifest creativity and inspiration through a program of activities that includes singing, playing instruments, songwriting sessions, and much more. "I think children need our support at the beginning of their exploration of this world, and one really great way to do that is through music," she says about the project. Soulscope was designed to be a reprieve from our chaotic times, and to keep children away from the distractions that social media pose. "There's too much stress today for humans, especially for children. They are so fragile; they need support and an environment where they can fully realize their potential and make their dreams come true."
Every week, special guests from different artistic fields are invited to share their experiences and work with the children. Along with the more creative activities, such as sculpting, painting, and meditation classes, the children are also exposed to music from different genres and eras, helping foster an open-minded approach to artistry. "Seeing the positive changes and their happy eyes makes me think that we're on the right path," she says about the course's achievements. "Soulscope is just a way to touch different opportunities, try something new through art and music, and find something that will stay with you forever."
Within Soulscape some children have even started composing their own songs songs, writing lyrics, and like Villy, creating unique musical worlds. Even though the goal was never to fashion the children into professional musicians, the bi-product of working next to such a prodigious talent has definitely been rubbing off on them. "What's most important is that they've all become friends with each other and with their inner selves," Villy says about the end-result.
In the end, the project is ultimately a form of therapeutic healing. "The more we look inside of ourselves, the better we feel," Villy says about the benefits. "Creating and doing anything you love makes you feel happy. Music and art are one of the best ways to keep yourself happy and positive, though avoiding chaos and negativity." No surprise then that adults are even pushing for attendance. "We all spend too much time watching garbage. If we could spend that time reading or playing music, we'd be much happier and healthier."
Towards the end of June, the children will have throw an acoustic graduation gig where they'll perform songs from different eras, and share Soulscope's new anthem, which was composed and written by seven year-old student Saba Induashvili. Villy meanwhile is currently working on the follow up to Planet A. Without being able to work in the studio during the pandemic, the artist is currently focusing on releasing new singles and video projects this summer before the full project is introduced to the real world at some point in the near future.
Follow Sophie Villy on Social Media: