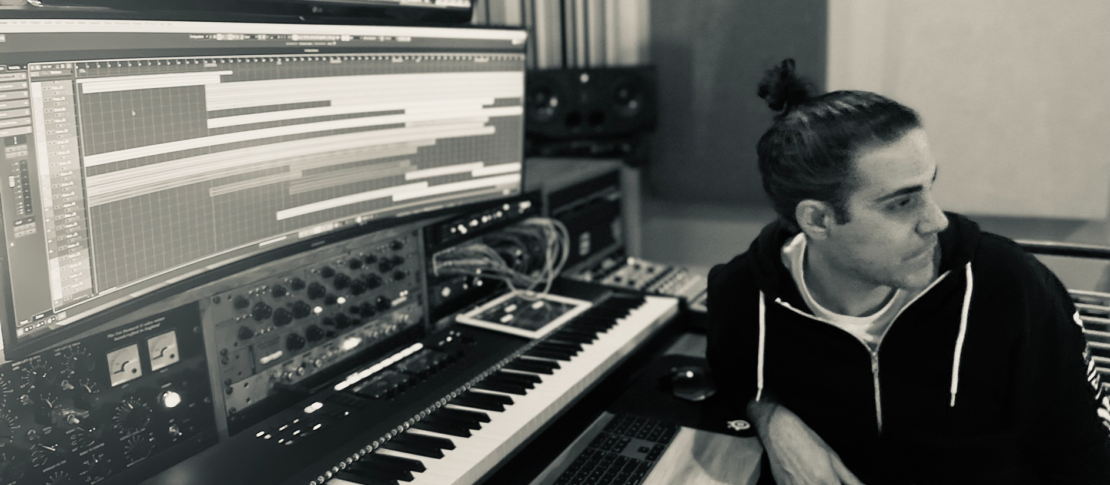 A Composer's Guide To Break Into The Industry
I began my career as an audio engineer in 2005. I got my foot in the door as an intern at a recording studio in South Florida called "Power" Station and eventually worked my way to the top to become the chief engineer. During that time, I learned a lot about mixing, analog outboard gear, large format consoles, tape machines, instrument tracking, acoustics, and even mastering. These skills proved incredibly useful when I started composing music, particularly in achieving a larger-than-life sound without relying solely on arrangement and production techniques.
Though I always enjoyed writing music as a hobby, it wasn't until eight years later, feeling burnt out from engineering, that I decided to move to Austin, TX, and pursue a full-time career in composing music. Initially, I focused solely on game music. I'm a big gamer, always have been, and combining my passion for music and games seemed like the most natural path to take. Unfortunately, breaking into the gaming industry proved difficult, and I struggled to find steady work outside of very small indie projects with little to no budget. After years of frustration and many small games that failed to get off the ground, I started drifting away from game music and began to explore opportunities in the film and TV industries.
Navigating the industry has always been a challenge, especially for those like myself who lacked connections or support when starting out. However, my career can be divided into three phases, each with its own lessons and insights.
Phase 1: Small Projects
During the first phase of my journey, I took a leap of faith and moved to Austin, TX with no connections and no real knowledge of the industry. I gave myself a year or two to establish a career for myself as a composer. I knew if I failed to do so, I could always go back to audio engineering. The first few years were very challenging, and I took on countless numerous small independent projects – from short films and games to movie trailers and commercials – many of which never made saw the light of day.
I made very little money from my work, as many of the projects had little to no budget and sometimes only paid a couple hundred dollars, if I was lucky. However, I knew I had no choice but to take on these opportunities. I needed the experience and the credit to build up my portfolio body of work. With this mindset, I took on any opportunity that came my way, and regularly updated my website, SoundCloud, and composer reel with my latest works. It took years of hard work until I finally had my first breakthrough.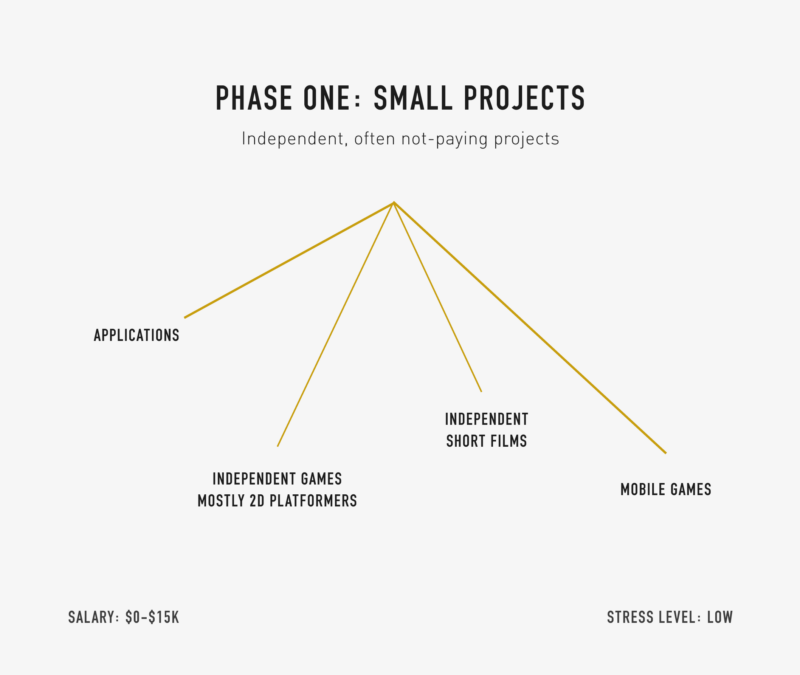 During this stage, I would make it a priority to:
Get really good at what you do.

Write. Always write, even when there's no work.

 Listen to your favorite artists and analyze what makes their music stand out.

Pull the track into your DAW and break it down instrument by instrument. Analyze it and try to replicate it as closely as possible, from the instrumentation to the mix. Re-score your favorite scenes and trailers. It's great practice and experience for scoring to picture.

Networking.

Attend local Dev Beer Nights and meetups in your area to connect with people in the industry. It's an excellent way to expand your network and form valuable relationships. Also utilize social media platforms, such as LinkedIn and Reddit, to establish new connections and find potential job opportunities.

Reach out to other composers and pick their brains.

I get a lot of emails from folks with different questions and I love helping out as much as I can. You can learn a lot from talking to people in your industry with more experience than you.

Consider every opportunity that comes your way.

Take what you can get and view each project as a step towards success, whatever success means to you.

Avoid having an ego and be willing to accept unpaid work in the beginning. While I'm not advocating that you should work for free, as a beginner with little to show for, you will likely work with small indie teams or companies that have limited budgets. The type of work and compensation you'll get will increase with time, as you get more experience and make a name for yourself.
Phase 2: Larger Projects
The second phase of my career started when a producer from Rooster Teeth, a local production company in Austin, searched the internet for a composer to join their team for "Red vs. Blue". My name popped up on the front page of Google search results for "composer in Austin, TX," likely due to my diligent website updates (which pushed its ranking on Google). After listening to my music on SoundCloud, he invited me to their facility for an interview,  and then offered me the gig to compose music for Red vs Blue Season 13 a few days later.
Before I knew it, I was involved in some capacity in almost all of their shows, from composing to sound design to mixing. With a semi-steady income and a bit of breathing room, I began to build connections in the industry and expand my network, which in return yielded more work coming my way. While I wasn't working on anything for Rooster Teeth, I started taking on bigger projects on the side and making a name for myself (albeit a small one).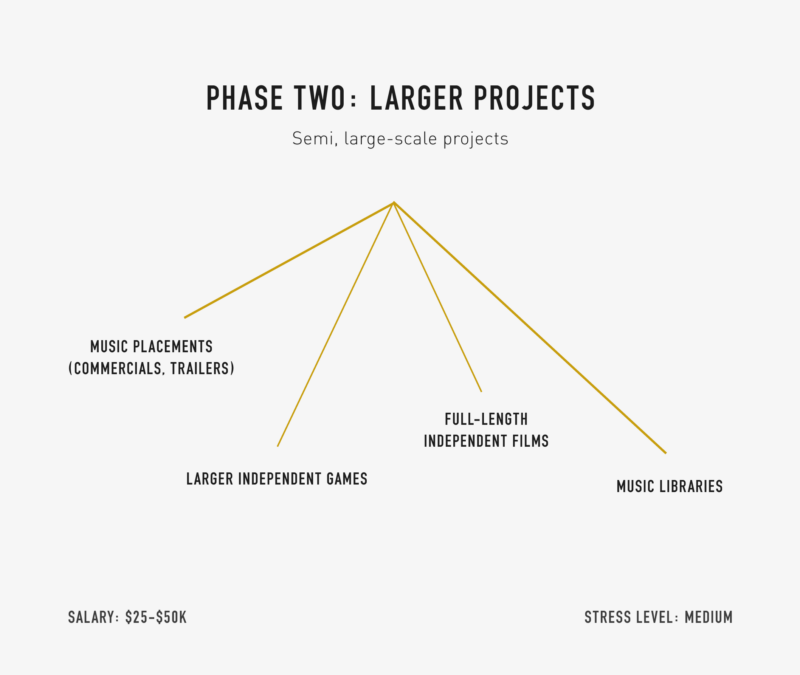 During this stage, it's a good idea to concentrate on:
Getting your ducks in a row before you contact people for work.

Make sure you have a professional-looking website (

Wix.com

is great and easy to work with). Have a short composer reel and/ or music examples on there for potential clients to check out. 

Reach out to bigger clients

. With some decent work and experience under your belt, it's now time to reach out to bigger companies and game developers. I suggest not cold emailing them. Instead, write a custom track for them, or re-score one of their trailers or a cut-scene from one of their games. It's more personalized and shows you went the extra mile. It will leave a much better impression on them.

Negotiate to keep the rights to your music.

I highly recommend this whenever possible, particularly when working for little or no compensation. You should aim to be able to release and sell your music independently and keep 100% of the profits. While AAA companies usually prefer to own the music outright, smaller companies and game developers are typically more flexible.

Passive Income.

You are probably sitting on a good amount of original music by now, putting some of that music on royalty-free websites can help you make a decent passive income.

Social Media.

Start establishing some sort of social media presence. You should have quite a few projects to share audio/ video clips from by now. Create cool and interesting posts about those projects. Maybe do a track-by-track breakdown of some of the cues. Maybe do a quick behind-the-scenes of how you got a certain sound for one of your tracks. You never know who's watching those posts. Could be a AAA game audio director or big film producer that happens to be looking for a composer!
Phase Three: The Big Stuff
The third phase of my career began around the time I was composing for the animated show, gen:LOCK. With a multimillion-dollar budget and an AAA cast that included Michael B. Jordan, David Tennant, and Dakota Fanning, it was easily the biggest project I had worked on to date. The show aired on HBO Max and is still available on the platform today. But that was only the beginning. About a year later, I was given the opportunity to compose music for "Doom Eternal: The Ancient Gods", which quickly became the highlight of my career – a AAA game that has millions of fans, myself included. Finally, I broke into the elusive game industry that I had been dreaming of for almost a decade.
During those years I also had my first theatrical release, was nominated for best TV/Film composer in Austin, TX (did not win, unfortunately) and scored multiple art exhibitions (by Fractal artist Julius Horsthuis) that showcased in state-of-the-art museums domestically and internationally.
I have also recently completed the score for a two-part animated film for DC Comics/ WB called "Justice League x RWBY: Super Heroes and Huntsmen".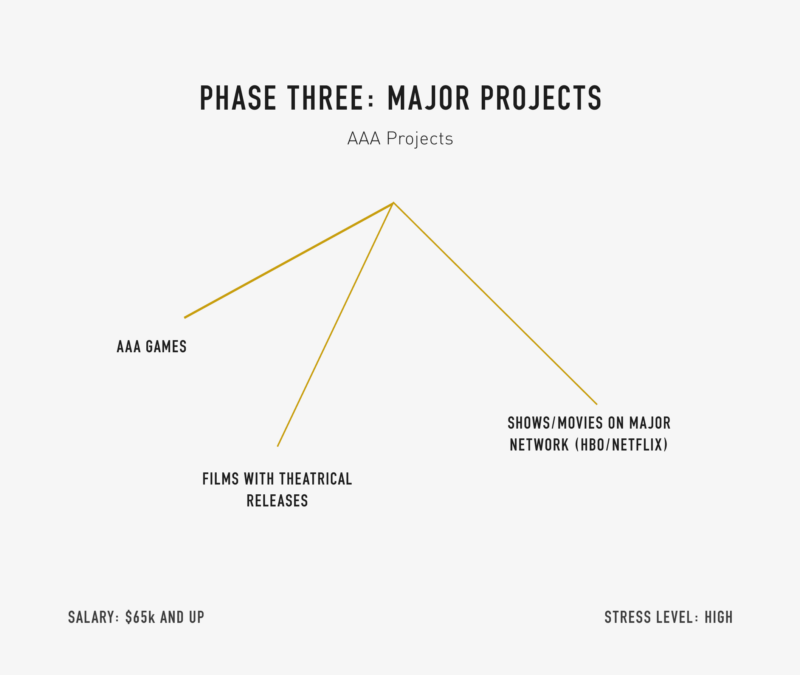 Bottom line: Make your own luck.
To succeed in this industry, you'll need a combination of talent, drive, persistence, and of course, a little bit of luck.  Luck can play a significant role in determining who makes it and who doesn't. In my opinion, there are two types of luck. There's "dumb luck" and the type of luck from the saying "you make your own luck". Let me explain:  
The first is "dumb luck," the kind that can propel your career at a 90-degree angle seemingly out of nowhere. I once heard a story about a composer who ran into Hans Zimmer in a coffee shop and was subsequently brought on board Zimmer's team of composers. Talk about luck! Another composer broke into the AAA game industry without prior experience, simply because they were friends with a famous composer who gave them the gig because they were too busy. Of course, these individuals were super talented, or else they wouldn't have been given those opportunities. Still, stories like these can make you want to give up when you're just starting out.
The second type of luck, "you make your own luck," is just as important. You never know where your big break will come from, but one thing is certain: it won't come unless you position yourself in the right way to "get that lucky break." Some of the steps you can take to increase your chances are:  doing great work, making connections, leaving a positive impression on people you work with and meet in the industry, having a solid online presence, creating a great work reel and website, and getting as much exposure as possible via social media. Put your best work out there, and eventually, someone big will stumble upon one of your projects, videos, tracks, etc., and offer you the gig that will launch you toward your breakthrough.
Follow David Levy on Social Media: