ADAM Audio and Sonarworks unveil details of A Series collaboration
Industry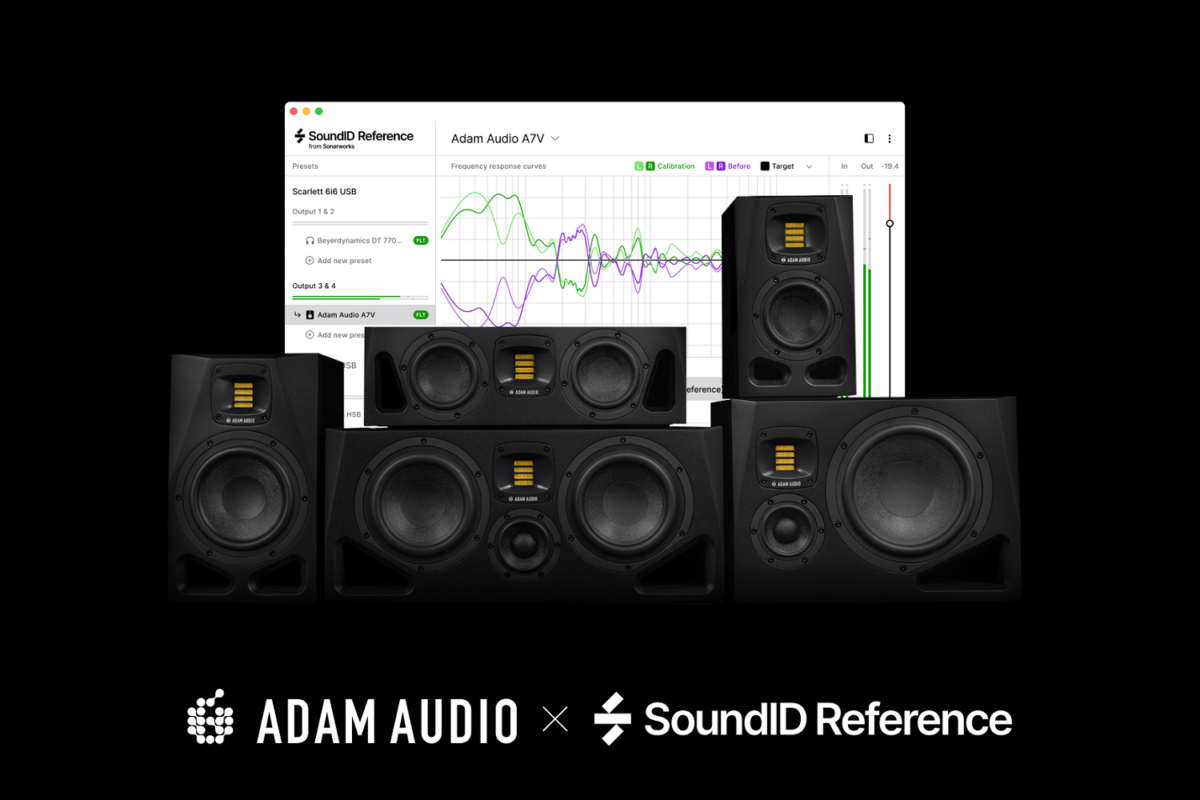 ADAM Audio and Sonarworks unveil details of A Series collaboration, including an extended 60-day trial
Berlin, Germany (October 25th, 2022) – To mark the global availability of the A Series, ADAM Audio and Sonarworks are proud to unveil details of their collaboration on the studio monitors, the successor series of the multi-award-winning and widely popular AX Series.
The ADAM Audio A Series delivers highly accurate, transparent sound across a full line of monitors. The line also boasts a wealth of voicing and room adaptation options that can be controlled remotely and in real time via A Control, a free-to-download software application from ADAM Audio (available for Windows and MacOS). A Control also facilitates a highly anticipated feature of the series, delivered in collaboration with calibration experts Sonarworks. Via A Control, users can upload and store SoundID Reference calibration profiles directly on the DSP of A Series monitors without the need to run the SoundID Reference application or any additional DAW plugin.
Each A Series monitor contains an embedded platform on the loudspeakers' DSP that can host calibration profiles created in SoundID Reference. This powerful software measures the acoustics of your space and generates a unique calibration to help counteract problematic frequencies and resonances. Typically, this calibration profile requires a VST or the SoundID Reference application to run, contributing to CPU usage and latency. The A Series integration nullifies CPU usage and significantly reduces latency by storing the calibration profiles directly on the loudspeakers' DSP. Once transferred to the speaker, you can continue to benefit from the SoundID Reference calibration without the need for any software or network cables - a great example of the "set and forget" philosophy.
In order to help as many people as possible experience this new technology, ADAM Audio and Sonarworks are happy to share details of an extended 60-day SoundID Reference trial for A Series customers. The trial license is available to A Series customers who register their A Series speakers in the MyADAM area of adam-audio.com. It offers the full functionality of SoundID Reference, including the ability to export filters so they can be imported to A Control and onto the loudspeakers' DSP. A Series customers will be provided with the license by email by the team at ADAM Audio. (Please note that a measurement microphone is required to perform the measurements necessary to create the filter set in SoundID Reference.)
ADAM Audio A Control is a key component in this innovative collaboration. Designed internally by ADAM Audio, the free of charge application provides A Series customers with a modern speaker management and equalization system. As well as facilitating the transfer of SoundID Reference filters to the loudspeakers, users can also create their own corrective filters across 6 bands of parametric equalization or make changes to the voicing and room adaptation settings found on the backplate. All changes made in A Control can be heard in real-time from the listening position, allowing users to be confident in their equalizations and toggle between unfiltered and calibrated audio.